How Being A Father To 12 Kids Has Affected Nick Cannon's Dating Life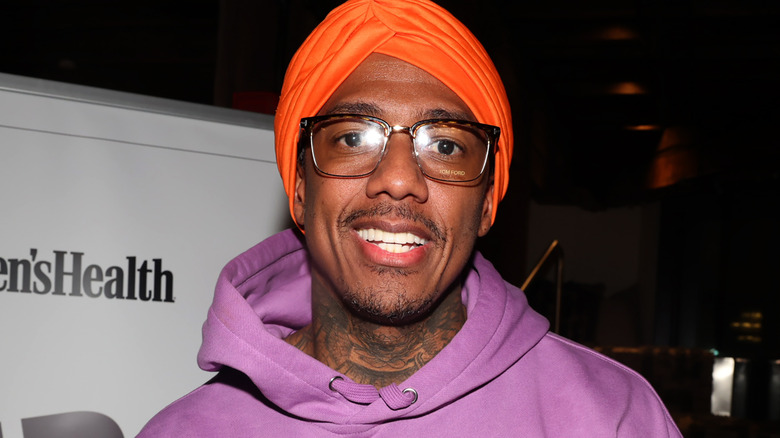 Shareif Ziyadat/Getty Images
Nick Cannon is steadfast in his apparent goal of dethroning the Duggar family for television's biggest brood — and it has undoubtedly impacted his romantic pursuits. The "Masked Singer" host started his journey to fatherhood with his now ex-wife Mariah Carey when the couple welcomed twins Monroe and Moroccan in 2011. But after Cannon and Carey split, he expanded his brood in a very, unique way. As of this writing, the star has 12 children with six different women — Monroe, Moroccan, Golden, Powerful, Zion, Zillion, Zen, Legendary, Onyx, Rise, Beautiful Zeppelin, and Halo Marie Cannon. Sadly, Cannon tragically lost his son Zen in 2021 to a rare form of brain cancer.
The star's most recent additions to the family came in December when model Alyssa Scott — Zen's mother — and Cannon welcomed their second child. "December 14, 2022. Our lives are forever changed. Zen is in every breath I take. I know his spirit was with us in the room that morning," she wrote in the heartfelt Instagram post. "I will remember the sound of her crying out with her first breath and feeling her heartbeat against mine. My sweet girl, I got my surprise!! We love you Halo Marie Cannon!" Not too long before Halo's birth, Cannon welcomed his first child with model Bri Tiesi.
With 12 kids (and counting), it must be hard for Cannon to find time for much else. And in a recent interview, the star revealed the impact his growing brood of kiddos has made on his dating life.
Nick Cannon doesn't have time to date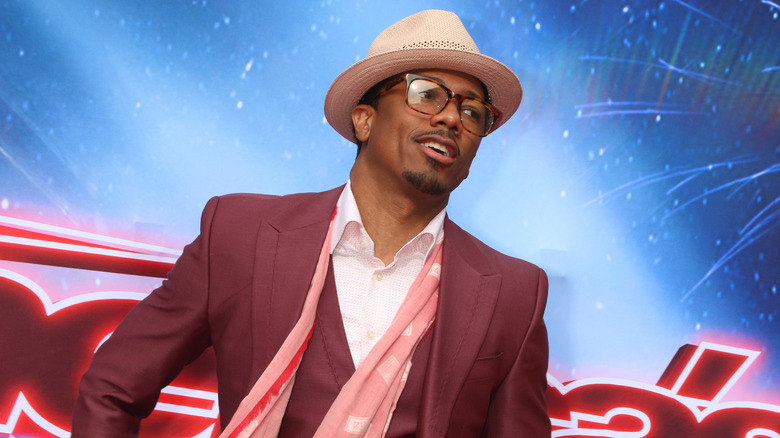 Kathy Hutchins/Shutterstock
Nick Cannon is a little too busy to date. The television personality has been pretty candid when speaking about his lifestyle and choice to have many children with several different women and how it has affected his dating life. In an April appearance on "The Howard Stern Show," Cannon spoke about the topic and why it's tough for him. "I'm not out there like that. I'm not dating. I'm really trying to focus on myself and my children. ... My bandwidth doesn't even allow me to kind of be in that space," he told Stern. "It sounds wild, but my main focus is either my children or work," he added, stating that he has a "healthy balance" between his kids and his career. Cannon also noted that at the advice of his therapist, he remained celibate for nine months, but it didn't quite work because he "had like more kids after that."
His interview with Stern is not the first time Cannon has spoken frankly about dating with so many kids. In March, the star chatted with "Stepping Into the Shade Room," sharing more views on his love life and how dating works in his equation. "My focus now is my children and then my business. I literally don't have time," he confessed. "I don't have that energy. I don't have that bandwidth. I feel like I'd do a disservice to my family if I'm out here looking for love." At least he's honest about it! 
Nick Cannon is an open book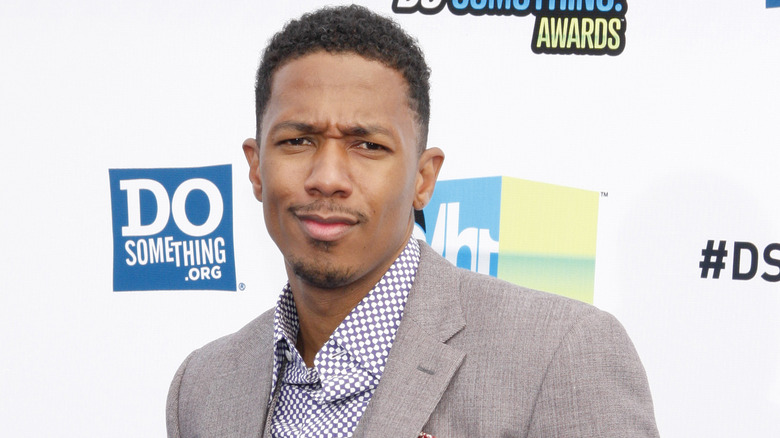 Tinseltown/Shutterstock
Dating is a hot topic in Nick Cannon's life, but so is his unconventional lifestyle. It appears as if every interview consists of familiar questions, and Cannon usually fields them with total honesty and without hesitation. In addition to dating questions, the star is often quizzed over his choice not to adhere to monogamy. "One of my therapists coined what I do as consensual non-monogamy," he told DVSN. "Because to even pretend like I'm in a monogamous relationship — that would be misleading."
The star echoed similar sentiments in a 2021 interview with the Vermilion County First. In the tell-all, he called the idea of marriage a "Eurocentric" concept, along with the idea that you're supposed to have only one partner for life. "The idea that a man should have one woman. We shouldn't have anything. I have no ownership over this person," the singer added. Cannon also made sure to note that all of the women he's had children with have been open and okay with his lifestyle. "If we're really talking about how we co-exist and how we populate, it's about what exchange can we create together," he added. "I understand the institution of marriage, but if we go back to what that was about ... it was to classify property."
Cannon regularly features photos of his children on social media, and it's easy to see that he's a doting father. So while there's no time for dating, life seems pretty good for Cannon.