Honey Boo Boo Channels Her Pageant Roots In Prom Makeover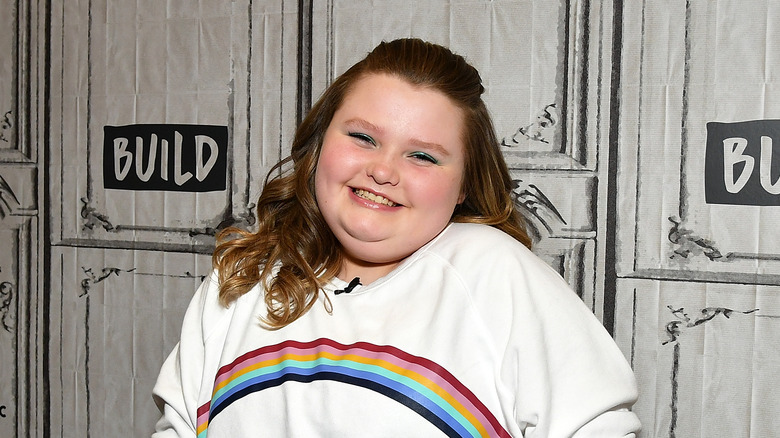 Slaven Vlasic/Getty Images
Prom season is in full swing and Honey Boo Boo just unveiled a dazzling prom look! If you've been keeping tabs on Honey Boo Boo — whose legal name is Alana Thompson — then you know that the last few weeks have been quite hectic. In March, the 17-year-old reality star was sitting shotgun when her boyfriend, Dralin Carswell, was arrested for running from authorities. Carswell, who is four years older, was charged with a DUI, per Us Weekly. His driver's license was also expired, per In Touch. 
Weeks later, Honey Boo Boo had the internet divided as to whether or not the new accent she was sporting was just a teenager experimenting with identity or an attempt to co-opt Black culture. Plus, Honey Boo Boo's sister is currently battling cancer — a difficult blow no matter your age. Fortunately, the high-schooler recently enjoyed a weekend away from public scandals and enjoyed being a regular teenager. How? She went to prom, of course! And based on her attire ... she's definitely embracing her pageant roots again.
Honey Boo Boo is pageant ready
Honey Boo Boo is officially ready to make her grand entrance! Even though Honey Boo Boo has shied away from the "Toddlers & Tiaras" pageant image that helped catapult her and her family into the public eye, she fully embraced the glam aesthetic for her prom. According to TMZ, who got their hands on the exclusive photos of Honey Boo Boo's big night, the teenager donned a floor-length, pink dress with a flared train. In true Honey Boo Boo fashion, the gown was completely covered in bling for a bit of extra shine. 
Of course, no prom is complete without the prom 'do to match. Honey Boo Boo wore her hair in long, blonde ringlets that framed her soft, pink makeup. For those who would like to copy her striking hair transformation, look no further. The reality star actually revealed the magic behind her glamorous hair on her Instagram account. "If y'all ain't booking @jhanaecoleman then what are you doing ? 🤩 she did tf outta my s*** wig from @glamxtencollection," she wrote. Proving just how excited she was about her look, Honey Boo Boo also posted a TikTok video where she had a jam session in a car before revealing her new look.