Kate Gosselin's Most Cringe-Worthy Fashion Moments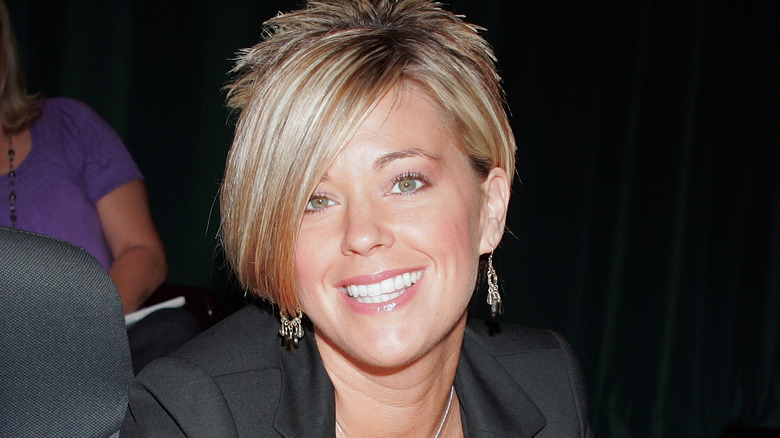 David Livingston/Getty Images
When Discovery Health profiled Kate Gosselin and her family in the 2005 special "Surviving Sextuplets and Twins," the mother of eight favored function over fashion. Viewers quickly learned why plain T-shirts and athletic pants were wardrobe staples for Kate when she had to rush one of her sextuplets, Alexis Faith, to the bathtub after the tot suffered a blowout of epic proportions.
Kate was employed as a nurse, so she also didn't have to dress up for work. But after her family's TLC reality series "Jon & Kate Plus 8" became a hit, her look became more high-maintenance. The day she traded her brunette pixie cut for a heavily-highlighted, blond reverse mullet lives in infamy, and Kate's, um, unique hairstyle would even later get its own name: "The Karen." When she decided that she wanted to swap it for long locks in 2010, that hair transformation took 20 hours.
Kate also started overhauling her wardrobe. While speaking about her style evolution in a 2008 "Jon & Kate Plus 8" episode, she explained why she didn't look as polished at the start of her reality career. "I had no clothes and I was fat," she said. "I had that, you know, butt in the front." Jon Gosselin chimed in to say that his now-ex started dressing differently after she got a tummy tuck. But by dressing like a celebrity, Kate became less relatable to her fans — and she also risked landing on the Fashion Police's radar.
Kate Gosselin's Kentucky Derby hat was a big neigh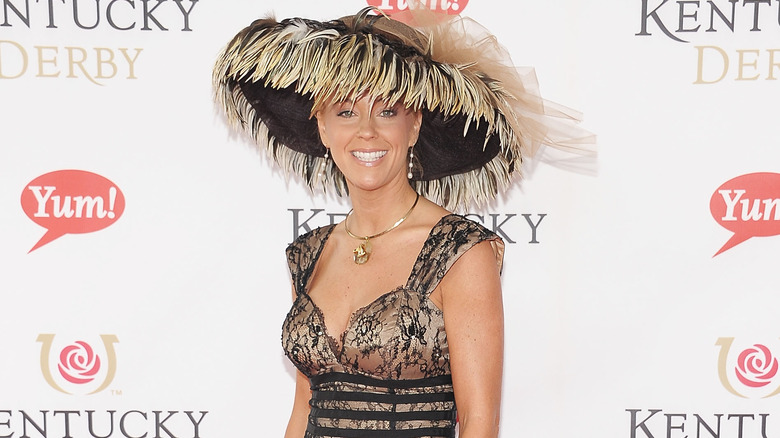 Michael Loccisano/Getty Images
The ESPN web page isn't somewhere you'd expect to see celebrity style calamities, but Kate Gosselin once led the post parade of its retrospective piece, "Worst Kentucky Derby Fashion." Wearing stylish hats to horse racing's biggest event in North America is a time-honored tradition that lets Yanks feel like Kate Middleton for a day. But when Gosselin attended the Derby in 2011, her headwear didn't exactly scream royal; instead, it bore a striking resemblance to something you'd see sprouting from moist soil. Its shape, earthy color scheme, and feather trim gave it a slightly fungal appearance. Radar joked that Gosselin was possibly attracted to the mushroom cap because its flaxen feathers reminded her of her old side-swept bangs.
Celebitchy, meanwhile, suggested that the hat looked like a lampshade of the variety that you might find in a saloon girl's upstairs boudoir. Gosselin's outfit even fit with that theme: a nude satin mini dress with a low neckline and lace detailing that brought to mind a negligee. But the black horizontal stripes that started below the bust were reminiscent of the stylized shadows of Venetian blinds that often paint femme fatales in film noir. In other words, there was just way too much going on.
On Twitter, Gosselin revealed that her over-the-top topper was the "1st hat in history 2 b worn by me." And it had everyone hoping that it would be the last.
The reality star's DWTS fashion disaster
In 2010, Kate Gosselin competed on Season 10 of "Dancing with the Stars" and didn't make it far. But it's probably for the best that she and her pro partner, Tony Dovolani, were the fourth couple eliminated. For one thing, Gosselin had Dovolani so stressed out that he was ready to subtract himself from the "Kate Plus 8" star's equation to extend her 15 minutes. Then, there were her outfits. MTV News found them so subpar in comparison to the other contestants' costumes that the outlet joked that the show's costume designer was purposely doing her dirty.
One of the most memorable of the few looks that viewers got to see was the red dress that Gosselin wore when she performed the Paso Doble to the Lady Gaga song "Paparazzi." While reminding everyone that she was famous enough to get papped, Gosselin attempted to play the role of a glamorous star. But her dress' bodice looked like she'd borrowed one of her kids' kindergarten nap mats and let her brood go to town on it with glitter (which is something the mess-obsessed mom would never do). Black, opera-length gloves failed to up the sophistication factor, and Gosselin's side-pony wig and garish red lipstick also did her no favors.
When Gosselin was eliminated from the competition, judge Bruno Tonioli had fashion on the brain. "I think Tony could have had more life out of a frock on a coat hanger," he quipped.
A designer defended her Fashion Week presence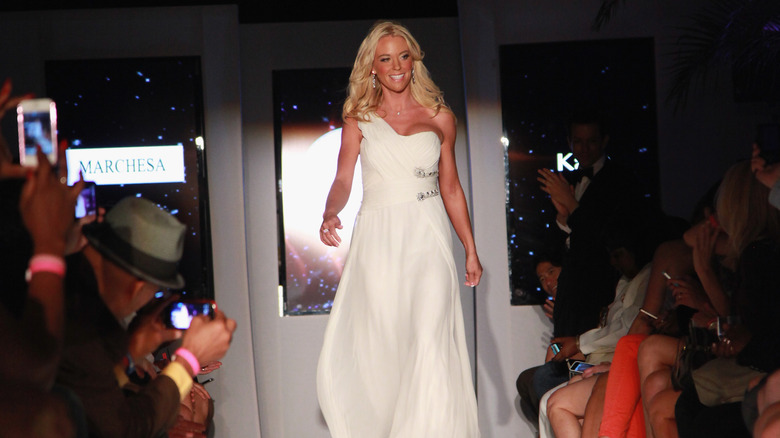 Taylor Hill/Getty Images
Cindy Crawford. Naomi Campbell. Kate Gosselin? In 2012, Kate Gosselin joined the pantheon of style stars who have walked the runway at New York Fashion Week, and she looked pretty darn good while doing it. Gosselin glowed in a flowy white gown with a one-shoulder neckline and a side strap detail. 
The man who got the TLC star her ticket to NYFW, designer Derek Warburton, told HuffPost that Gosselin's modeling gig brought out her haters in full force, and he found himself on the receiving end of their vitriol on social media. "I responded saying, 'Listen, we are not paying her. She is doing this out of the goodness of her heart,'" Warburton stated. "What's remarkable is every time we get a nasty tweet about Kate, she writes and apologizes." Gosselin's catwalk debut in NYC came during the "Real Fashion, Real Women" event, which benefited the Bottomless Closet charity. Gosselin was among a group of celebs Warburton reached out to about modeling outfits for the show, presumably to raise the fundraiser's profile. The volunteer work just happened to come with some major perks for Gosselin: getting to attend New York Fashion Week and wearing a gorgeous dress.
When tweeting about the event, Gosselin seemed somewhat more concerned about looking her best than getting her fans to donate to Bottomless Closet. "Drinking lots of H2O in between everything esp 2day!" she wrote. "Putting my best foot forward 4 Real Fashion Real Women Charity Show tomorrow."
The outfit that was roasted by Joan Rivers
In the 2009 TLC special "You Ask, Kate Answers," Kate Gosselin explained why she's a fan of high heels. "Height makes you look thinner!" she said. But when she decided to rock a pair of red platform heels for a June 2011 outing, she landed on the "Fashion Police" posse's list of fashion offenders. Gosselin was photographed pumping gas in the eye-catching shoes, which she paired with a white tank top and short Daisy Dukes. "Maybe Kate just did a client in a car and she's at a car wash trying to remove that congressman smell," Joan Rivers quipped. Ouch.
A similar outfit also made an appearance when Gosselin was manning the grill during a family trip to Florida, but she opted to go barefoot while cooking some Korean barbecue for her kids.
There was no chance of any paparazzi photographing Gosselin in the backyard of her rental home, but whenever photogs were around, one writer claims that Gosselin always had to be camera-ready. In his book "Kate Gosselin: How She Fooled the World," author Robert Hoffman recounts what happened after Gosselin realized that a paparazzo was following her when she was looking somewhat disheveled. "Kate had rushed home to fix her hair, put on makeup, change her clothes into something glamorous, and put on high heels," he writes. "Kate is so consumed by her public image and appearance that she wasted an hour driving back home to change."
Going barefoot in NYC
Kate Gosselin's experience wearing high heels paid off when she took her kids on a trip to New York City for a 2010 episode of "Kate Plus 8." During a literal ice cream run, she pulled off a rather impressive feat; after grabbing some ice cream cones for her kids, she sprinted back to the tour bus where they were waiting. She had rivulets of their rapidly melting treats streaming down her arms, putting her stylish outfit at risk. Gosselin later boasted about being faster than the two production assistants she tasked with helping her. "Yeah, I do recall that they were in my wake, and I was running in heels," she said.
But Carrie Bradshaw she was not; Gosselin eventually found herself wishing that she had some more practical footwear to change into. During the group's boat ride to the Statue of Liberty, she received special treatment and was allowed to climb a ladder to the area where the vessel's controls were located. She had the gall to complain about how hard that was to do in heels, and by the time they arrived at Liberty Island, she'd ditched her shoes. In photos published by the Daily Mail, a scowling, barefoot Gosselin is pictured sucking on a lollipop while carrying her heels. 
Gosselin also decided to kick off her shoes and inexplicably stick her bare feet in front of the camera when filming her tearful divorce announcement in 2009. 
Kate Gosselin's coupon blog confession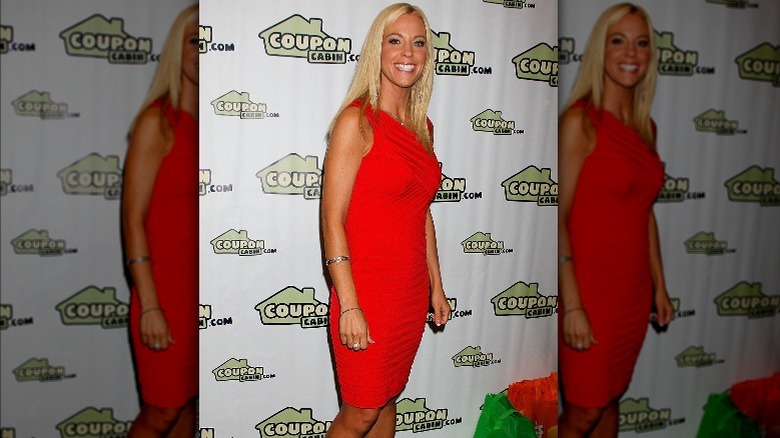 Laura Cavanaugh/Getty Images
Kate Gosselin's reality notoriety helped her land a side gig in November 2011: sharing money-saving tips with other moms on her own Coupon Cabin blog. However, most of her readers probably didn't possess the means to experiment with a method she tested out for making it easier for her to shop. "Some TV personalities pay a personal shopper to do their shopping for them. I have hired one here and there when I was in an extreme pinch, but I find better sales and fits all on my own!" she wrote. How relatable.
Gosselin confessed to being a shopaholic who has to fight to be frugal. "It adds difficulty when I am running hard and feeling skinny (girls, you know what I mean) and wanting to go shopping and buy new stuff right then!" she humble-bragged. For special occasions, it helps to be a TLC personality; Gosselin found her dream vow renewal gown on "Say Yes to the Dress."
Gosselin also blogged about saving money on her kids' Easter treats by giving them cheap candy she had frozen the year prior, according to "Kate Gosselin: How She Fooled the World." Meanwhile, she reportedly splurged on herself by going shopping in Las Vegas. But Gosselin didn't have that extra blogging income to spend on new clothes for long. In October 2012, Coupon Cabin fired her. "Kate Gosselin and her contributions do not align with the authenticity which we set out to build," the company's CEO explained.
Her failed kids' clothing line collab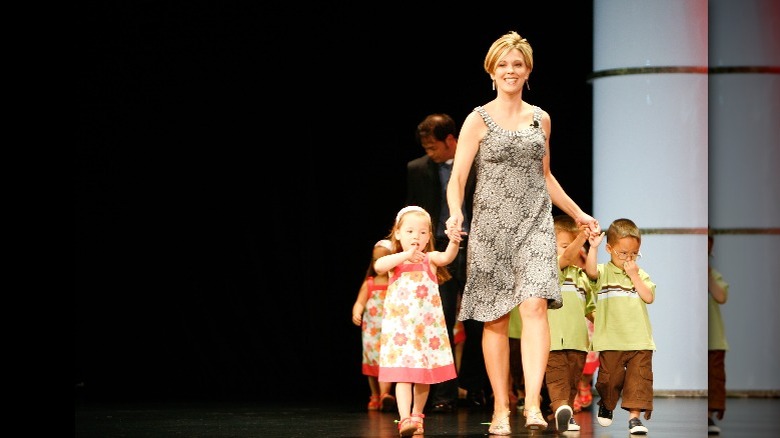 Amy Sussman/Getty Images
Kate Gosselin and Jon Gosselin's divorce drama caused one of Kate's business deals to meet the same fate as their marriage. In a May 2009 appearance on "The Rachael Ray Show," Kate hyped her collaboration with the children's clothing brand Healthtex. "I'm proud to have partnered with Healthtex [for] their exclusive line at Walmart coming up," she said. Kate provided her sartorial input for at least one outfit, which Ray's audience members got to take home as a gift. But that July, a Healthtex rep told Radar, "Our project is on hold while [Kate] focuses on her family."
We'd be remiss if we didn't note that Jon's divorced dad look was the catalyst for another clothing collab catastrophe. It all started when he was gifted some apparel from Ed Hardy brand creator Christian Audigier, per TMZ. Jon was soon photographed rocking his free tees, which featured designs inspired by American traditional tattoos — think hearts, roses, skulls, and assortments of animals with wings or sharp teeth. Audigier told E! that he and Jon even spoke about collaborating on a kids' clothing line together. 
But in 2013, Hardy himself, the tattoo artist who created the colorful graphics featured on Audigier's clothes, told the New York Post that Jon ended up killing the entire brand instead. "That Jon Gosselin thing was the nail in the coffin," he lamented. So, no toddlers showed up at preschool looking like they were ready to party with the "Jersey Shore" cast.
Her Emmys ensemble failed to impress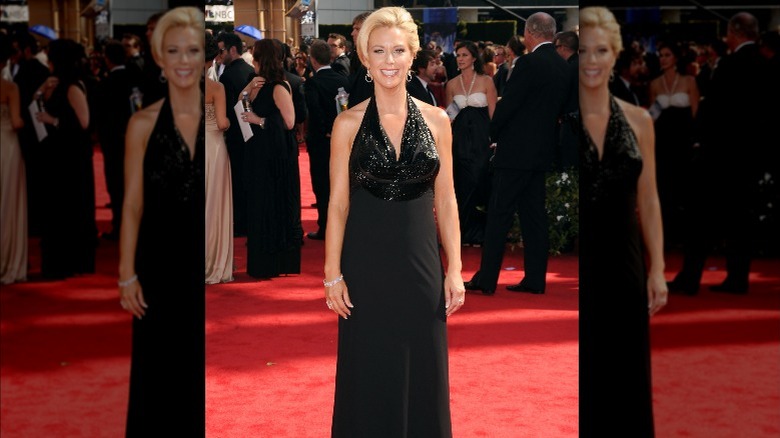 Jason Merritt/Getty Images
Kate Gosselin scored an invite to the Emmy Awards in 2010 and even got to participate in host Jimmy Fallon's opening number. But the gig required her to rock the same red "Dancing with the Stars" dress that landed her on Today's list of the worst costumes of Season 10. Inexplicably, Gosselin ended up dancing on the Emmys stage, where she was joined by Fallon, Tina Fey, Jon Hamm, Nina Dobrev, Randy Jackson, Jorge Garcia, and the cast of "Glee." 
The "Kate Plus Date" star also walked the red carpet in a less ghastly gown, but the black halter dress she chose for the event was too much of a snooze-fest. The only portion of the garment that was sequined was its cowl neck. This made it look like her kids had started an art project, got bored, and decided to have a sequin fight instead. Entertainment Weekly suggested that the look was more suitable for playing craps in Sin City. Meanwhile, in their Vulture live blog, The Fug Girls observed that the swath of fabric hanging over Gosselin's chest made it appear as though her girls were grinning.
But Gosselin was invigorated after her big Emmys night and immediately set her sights on future red carpet appearances. "Doing that little part in the skit was so amazing for me, being around so many wonderful actors. I so want to give it a try!" she warned Hollywood in an interview with Entertainment Weekly.
Kate Gosselin's controversial consignment clothing dumps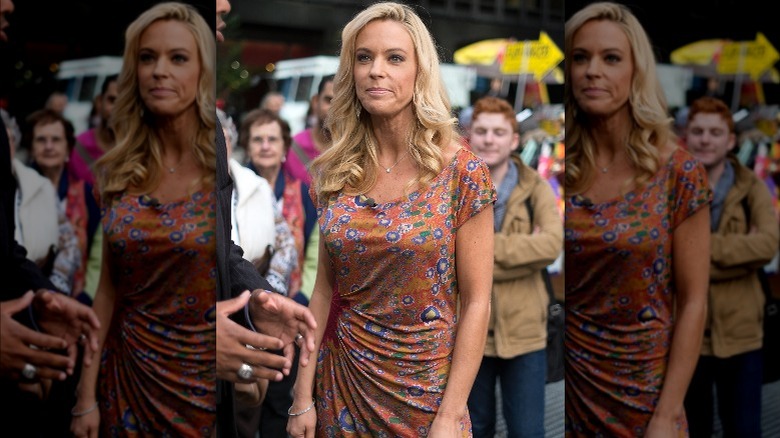 D Dipasupil/Getty Images
In one of her Coupon Cabin blog posts, Kate Gosselin shared a secret for saving a little cash while refreshing the contents of her closet. "I strictly adhere to the 'if you haven't worn it in a year, you're not going to' rule and I consign my clothing to make money to update my wardrobe when necessary," she wrote. Former Us Weekly reporter Robert Hoffman confirms that Gosselin is a fan of consignment shops in his tell-all, "Kate Gosselin: How She Fooled the World." While he was trailing the reality show star, he claims that he saw her take some of her children's old clothing to a consignment store near her home in Pennsylvania. According to Hoffman, Gosselin had been given the clothes for free, so she was making pure profit by selling them. "The worst part of this story is that, on the way to that consignment shop from her house, Kate had to drive by — in her $69,000 Toyota Land Cruiser — a giant Goodwill Industries distribution center and retail store," Hoffman writes.
Gosselin's reselling of her kid's clothing might explain why she was so obsessed with keeping it spotless. "Jon and Kate Plus 8" viewers might remember the absolute meltdown she had when her kids got gum on their clothes. Or when she wouldn't let them color with markers at a marker factory because she was afraid that they would stain the cute outfits she had dressed them in.
Fishing for freebies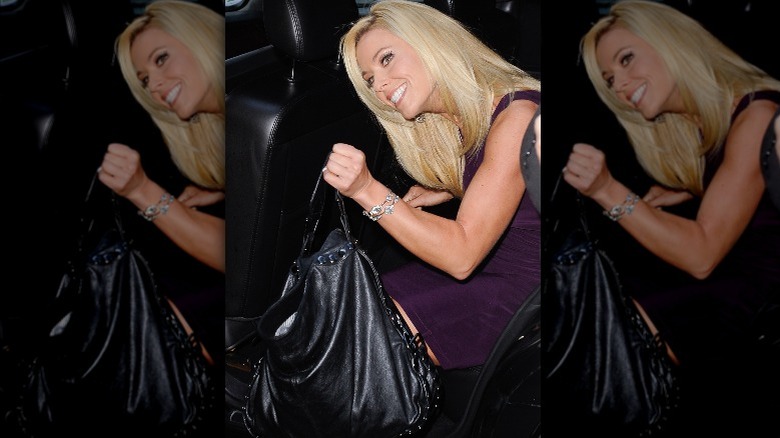 Ray Tamarra/Getty Images
Kate Gosselin knows that savings-savvy moms love a good free gift card. On her Coupon Cabin blog, she advised her readers, "Treat yourselves once in a while — you deserve it (especially if you have saved up, have a stash of personal holiday gift cards, etc) but don't go hog wild, moms!" The advice she couldn't share was how to get free gift cards loaded with large sums of money from clothing retailers. In "Kate Gosselin: How She Fooled the World," Robert Hoffman claims that he obtained an email from Gosselin thanking an Ann Taylor Loft rep for a gift card and asking, "[Is] a card refill on the horizon?" The rep purportedly wrote back saying that Gosselin could receive another gift card in exchange for promoting the clothing chain and inquired about the amount she would like loaded on it. In an email to her publicist, Gosselin reportedly revealed that she was spending $500 or more at the store each week because she didn't want to repeat outfits for book signings. 
It's probably a good thing Gosselin found some way to save money on her wardrobe when she could. In 2022, The U.S. Sun obtained legal documents from 2019 showing that Gosselin had confessed to taking $100,000 from her kids' trust fund. "I will have to keep borrowing from it to survive," she said. 
Per InTouch, Gosselin eventually went back to work as a nurse, and we're just guessing that no one is sending her gift cards for her scrubs.