Felicity Huffman's College Cheating Scandal Strained Her Marriage To William H. Macy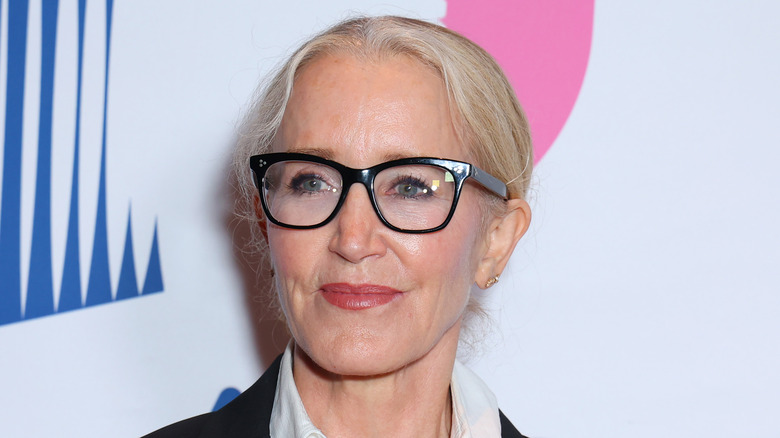 Leon Bennett/Getty Images
Many relationships suffered thanks to the college admissions scandal, including Felicity Huffman and William H. Macy's marriage. As most of us know by now, the "Desperate Housewives" star was one of several parents who participated in a college admissions scandal, which many later dubbed "Varsity Blues." In the viral scandal, wealthy parents paid for their children to get into prestigious colleges by posing as student athletes or faking test stores. Court documents reveal that Huffman paid $15,000 to college admissions mastermind Rick Singer to arrange for someone to correct daughter Sophia Macy's SAT scores after she took the test to boost her scores. "Ultimately, Huffman's daughter received a score of 1420 on the SAT, an improvement of approximately 400 points over her PSAT," the documents stated. Court documents did not include William H. Macy in the lawsuit, and he wasn't charged. 
In 2019, ABC News reported that a judge sentenced the "Desperate Housewives" star to 14 days in prison as well as a hefty fine — $30,000. In addition, Huffman had to serve one year of probation and put in 250 hours of community service. But, she made sure to take ownership of her actions. "I accept the court's decision today without reservation. I have always been prepared to accept whatever punishment Judge Talwani imposed," Huffman said in a statement. "I broke the law. I have admitted that and I pleaded guilty to this crime. There are no excuses or justifications for my actions. Period."
During that difficult time, Huffman's marriage to Macy undoubtedly suffered.
William H. Macy and Felicity Huffman were arguing a lot amid scandal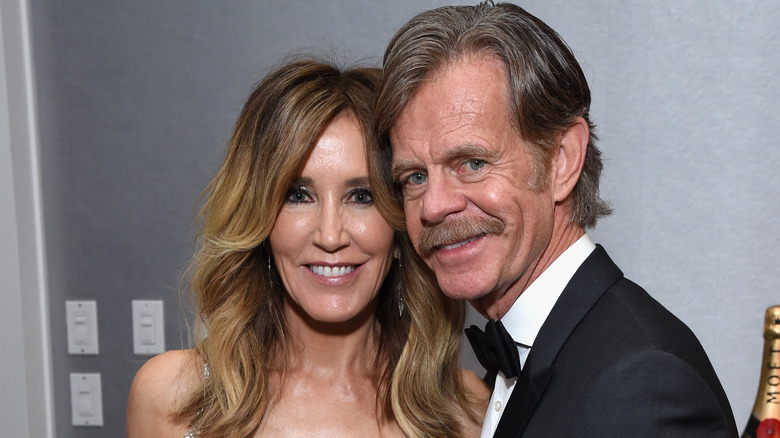 Michael Kovac/Getty Images
The Varsity Blues scandal wreaked havoc on many aspects of Felicity Huffman's life, including her marriage. As the scandal played out in the press for what seemed like an eternity, dealing with all the backlash and scrutiny caused a strain on Huffman's marriage to William H. Macy. In 2019, a source shared details on why it weighed so heavily on the couple and caused a rift in their marriage. "This situation has been very trying on Felicity and William's marriage. They love each other, but they've been arguing a lot," an insider told Entertainment Tonight. The source added that Huffman and Macy have a "strong" marriage but the scandal "put a tremendous amount of pressure on them." "Their close friends were stunned by the news because they've always seemed like honest, good people, people who would never lie and cheat to get what they wanted," the insider added. "They almost seemed to pride themselves on their honesty."
And if her marital problems were not enough, the scandal also seemed to put a lot of stress on Huffman's relationship with her daughter. "My daughter knew absolutely nothing about my actions, and in my misguided and profoundly wrong way, I have betrayed her," she said in a statement via E! Online. "This transgression toward her and the public I will carry for the rest of my life. My desire to help my daughter is no excuse to break the law or engage in dishonesty." Ugh, what a mess! 
Felicity Huffman is getting back on track
There's no doubt that the college admission scandal rocked Felicity Huffman and William H. Macy's world, and while it took some time to pick up the pieces and move forward, it looks like that's what they have finally done. In 2020, Deadline reported that Huffman would appear in an untitled comedy written by Becky Hartman Edwards. The comedy centers around a triple-A baseball team and Huffman had reportedly signed on. However, the show's IMDb page still shows that the series is in pre-production. So, while that should have been Huffman's first gig post-scandal — what happens with the show remains to be seen. However, Huffman stars in another series titled "The Good Lawyer." In the show, Huffman plays the role of lawyer Janet Stewart, and it's a spin-off of the show "The Good Doctor." So — this marks Huffman's first real role following the highly publicized scandal.
Macy has remained busy with other projects like "The Dropout," and "Maybe I Do," just to name a few. The star has also shared a few photos of himself and Huffman (post-scandal) on social media, including on a safari trip where he included several photos and a lengthy caption. "Felicity and her brother had ridden across the Maasai Mara on previous safaris, but we were in Laikipia, which is the hill country in north west Kenya," he explained after giving fans a run-down on their trip. Despite a tough time in their marriage, it looks like they weathered the storm.