How Lionel Richie Really Feels About Daughter Sofia's New Husband Elliot Grainge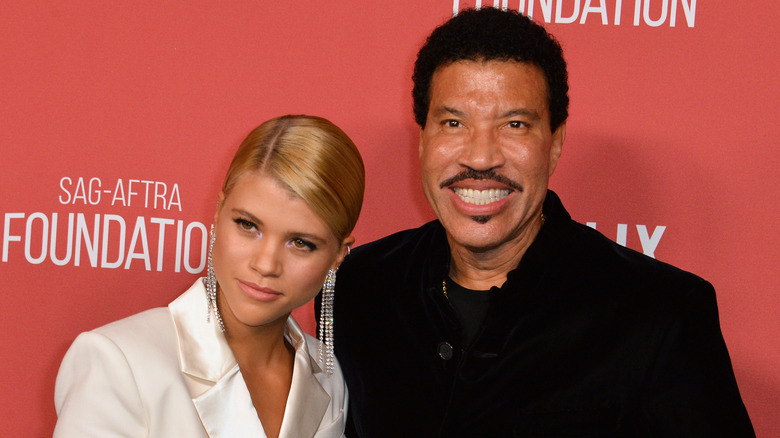 Featureflash Photo Agency/Shutterstock
Lionel Richie has a lot to say about his daughter Sofia Richie's lovers. While he's not exactly an overbearing dad who loves to meddle in his children's affairs, he is still very protective of Sofia. After all, she is his youngest kid.
When Sofia began dating Scott Disick in 2017, Lionel couldn't help but express apprehension over the relationship. Not only is Disick significantly older than the model (he is 15 years her senior), but he has also been involved in a string of controversies that paint him in a bad light. "Have I been in shock?! I'm the dad, come on," Lionel told Us Weekly when asked about Sofia and Disick being an item. But he also decided to wait and see if the relationship would last. "She's 19. When you're 19, you know everything. Is it going to be for life? I don't know," Lionel shared with The Daily Telegraph. "But for right now, it's just a phase and I'm going to stand real still in the corner, get me a good drink, and not make too much noise."
Whether or not it was a phase, Sofia and Disick ended up parting ways anyway. She moved on to Elliot Grainge, a music executive who a source says is the "total opposite" of Disick. They told Life & Style, "She found a guy who enjoys being out of the spotlight and she's happier than ever about that." But was Lionel happy about him, too?
Lionel Richie 'didn't have to vet' Elliot Grainge
Lionel Richie had full confidence that Elliot Grainge would take care of Lionel's daughter, Sofia Richie. As it turns out, way before Sofia and Elliot struck up a romance, the "Hello" crooner already knew who Elliot was. In fact, Lionel has known him since he was a kid.
"I'll tell you a story, I've known Elliot since he was 9," Lionel told Entertainment Tonight. "So interestingly enough, I didn't have to vet the kid. I know who he is!" He also shared that he's been friends with Elliot's dad, Universal Music Group CEO Lucian Grainge for "a very long time," so they already had a strong connection. "I love him," Lionel added.
A source also told Hollywood Life that Lionel is impressed with Elliot's business acumen. Unlike other privileged kids, he appears to be determined to make it out on his own. "Elliot is such a stand-up guy and really driven. His dad has all the money in the world so he could have chosen to be a trust fund kid but that's not his style," they explained. "He studied business and after he graduated he launched his own record label. He's very ambitious and very smart." So it's not surprising that he's been given the two thumbs up by Sofia's family and friends. "Everyone in Sofia's life is happy about this, they all think he's a great choice," the source added.
Lionel Richie is happy about Sofia Richie and Elliot Grainge's marriage
Lionel Richie didn't even have any qualms about Sofia Richie marrying Elliot Grainge, either. When the two got engaged, the music legend poked fun at his then-future son-in-law for having the jitters when he asked for Sofia's hand in marriage. "He was a nervous wreck," he shared with Access Hollywood. "Poor guy. I thought he was going to pass out.But her's" But he was more than happy to entrust his daughter to Elliot. "He's wonderful. They're deeply in love ... that's what you really want as a dad."
And while Lionel was emotional about giving Sofia away on their wedding day, he couldn't be happier for his youngest daughter. "Baby Girl got married. When I say that ... it's a great feeling," the "American Idol" judge told Extra. "I know his people, so it really is a real wonder to see them in love and just as happy as I've ever seen my little girl and Elliot." He also expressed delight about Elliot becoming part of the family, too. "It was a moment where, yes, I was letting her go, but I was also gaining a family," he continued. "The family is getting huge right about now, but we are happy."