Selena Gomez's Sister Gracie Teefey's Close Friendship With North West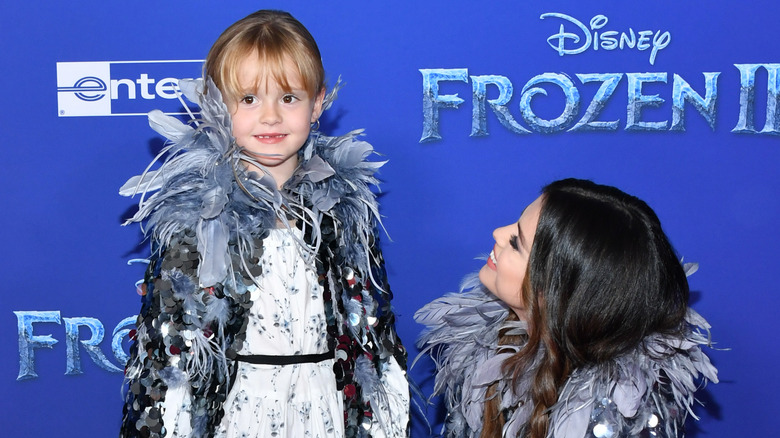 Amy Sussman/Getty Images
Selena Gomez has always had a complicated relationship with the KarJenner clan. Her ties with the family date back to 2009, when Khloé Kardashian tweeted that she thought Gomez was the "prettiest, sweetest girl" and that she "might be obsessed with her." She also dished that "my little sisters love her" at the time.
Gomez appeared to be chummy with both Kendall and Kylie Jenner when they attended Coachella together in 2014, but she reportedly unfollowed them on Instagram shortly after when rumors emerged that the two were flirting with Gomez's then-boyfriend, Justin Bieber. "It got messy," an insider told Us Weekly at the time. "She was pissed and overreacted." To this day, they still don't follow each other. What's more, when Taylor Swift and Kim Kardashian beefed after Kanye "Ye" West dropped his private conversation with Swift regarding his "Famous" track, Gomez publicly sided with the "Anti-Hero" singer. She also got into a convoluted TikTok-fueled feud with Kylie and Hailey Bieber, although they insisted everything's good between them.
Only time will tell if Gomez will end up making good with the KarJenner crew, but her little sister Gracie Teefey looks like she's getting along with the family just fine. As it turns out, Teefey is best friends with Kim Kardashian's eldest daughter, North West.
Gracie Teefey is one of North West's best buddies
It looks like Gracie Teefey and North West are not privy to the drama happening with their families, since the two youngsters are often seen hanging out on TikTok. The first indication that Teefey was close to Kim Kardashian's first kid was when she appeared in a TikTok posted by Penelope Disick, daughter of Kourtney Kardashian and Scott Disick. At the time, Teefey, West, Penelope, and another one of their friends posted a fun-filled cover of Carly Rae Jepsen's "Call Me Maybe," which coincidentally mimicked Selena Gomez and Justin Bieber's cover of the same song from years back.
In February 2023, at the peak of Gomez's supposed beef with Kylie Jenner and Hailey Bieber, Teefey and West shared a four-part video of the two of them making pasta on West's TikTok account. The two documented the process of cracking eggs and mixing flour, all while applying lip gloss and munching on veggies in between. They didn't show the final product, but it was probably tasty!
West and Teefey were spotted hanging out again when they attended Katy Perry's Las Vegas residency with their friends and Kim Kardashian. They were invited to the stage to dance and do cartwheels and splits which they, of course, delivered! Looks like it's nothing but fun and laughter when the two are together!
Selena Gomez and Gracie Teefey are BFFs, too
If Gracie Teefey isn't hanging out with North West, she's probably spending quality time with her big sister, Selena Gomez. Despite being more than two decades apart in age, the sisters have developed a close bond. Teefey occasionally appears on the singer's social media posts and even served as her red carpet date to a few events, including the Golden Globes.
"I will forever let my sister know she is strong, bold and beautiful," Gomez wrote in a birthday post dedicated to Teefey. "She will be raised to know her voice matters. She is going to understand the importance behind being a leader and inspire others by her truth."
And now that Teefey is growing up, there's a growing list of things that she and Gomez bond over. "Nothing, absolutely nothing like a sisters love," the "Lose You to Love Me Singer" shared. "Until they steal your clothes, make up and skin products but whatever she cute." And it turns out that Teefey is quite the fashionista! "I thought I'd have a little more time with my clothes, but that's just not the case," Gomez told Vogue. That's a little Selena in the making if you ask us!