Dennis Quaid's Wife Laura Savoie Is Nearly Four Decades Younger Than Him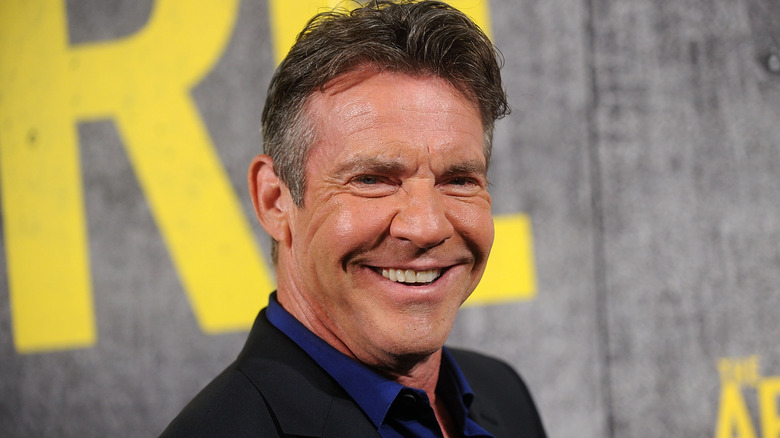 Brad Barket/Getty Images
Dennis Quaid has been married four times. With each subsequent marriage, the age of his wife has decreased. His first wife was actually older than him, as Quaid tied the knot with his "Our Winning Season" co-star P.J. Soles in late 1978, when she was 28 and he was 24. They divorced in 1983. Four years later, Quaid and Meg Ryan started a romance while filming the 1988 neo-noir "D.O.A." They married in early 1991 when he was 36 and Ryan was 29.
In 2000, Quaid's second marriage collapsed amid allegations Ryan had had an affair with Russell Crowe. Their divorce was finalized the following year. After briefly dating Shanna Moakler in 2001, Quaid met his future third wife, Kimberly Buffington, in March 2003 during a dinner party hosted by mutual friends in his native Texas. Quaid married the real estate agent in July 2004. He was 50 then, while Buffington was 32. By now, Quaid had gone from an age gap of minus four to plus 18.
If we add Moakler into the mix, Quaid widened his age gap record to 21, as she turned 26 in March 2001 while he turned 47 that April. However, that doesn't even come close to the age gap he would have with his fourth wife, Laura Savoie. In June 2020, Quaid tied the knot with Savoie at age 66. His bride was just 27, meaning they are 39 years apart. In fact, Savoie is a year younger than Quaid and Ryan's son, Jack.
Dennis Quaid feels the age gap is irrelevant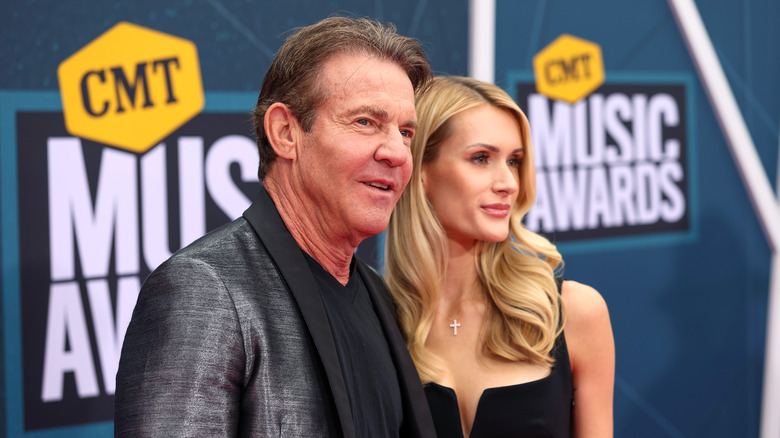 Jason Kempin/Getty Images
Dennis Quaid and Laura Savoie's relationship moved rather fast. Quaid proposed in October 2019, only a few months after meeting Savoie, who was a Ph.D. student at the University of Texas, during that summer, according to Extra. Unsurprisingly, the news raised questions about their age difference right away. But "The Parent Trap" actor didn't mind the coverage. "That was really a laugh," he told The Guardian in November 2019. "I thought it was wonderful, actually."
What other people think isn't his concern. "I can't comment on the way they feel." Whether he minded it or not, he has had to defend their relationship ever since. "I didn't go out looking for an age gap or someone really younger than me," he explained. "I met her at a business event and then the relationship developed. You have no control over who you fall in love with."
He also noted that their age has never even been a factor. "It really just doesn't come up," he told People in June 2020, after news of their secret wedding surfaced. "There's just something timeless about us." In some aspects, Savoie believes Quaid's age is an asset. "The wisdom that Dennis has," she told People, helps her when she needs guidance. For Savoie, meeting Quaid when she did felt like perfect timing. "We both had to go through things to be who we are now and who we are now was ready for each other," she added. 
Dennis Quaid and Laura Savoie might start a family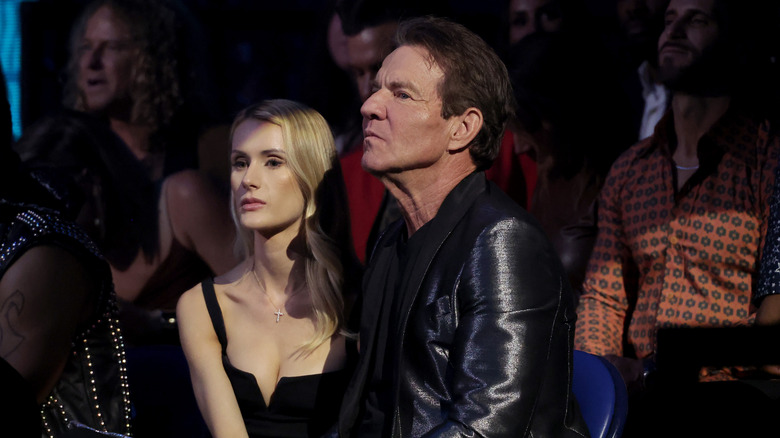 Mike Coppola/Getty Images
Dennis Quaid and Laura Savoie are enjoying each other's company, but the future could hold more. With Savoie on the cusp of 30 as of this writing, many wonder whether she'll want children. When asked if they were planning on welcoming a "quarantine baby" in April 2020, Dennis Quaid didn't say no. "Let me get married first," he told Us Weekly. But, the protective measures against COVID-19 have since been lifted, and no baby Quaid has been born, which is pretty good indication that Savoie is in no hurry to become a mom. 
For now, Savoie has Quaid's teenage twins to keep her occupied. Thomas and Zoe, whom Quaid shares with his third wife, Kimberly Buffington, spent quite a bit of time with Savoie during the pandemic. "My kids are here and that keeps us on a regular schedule," Quaid said. And the children appear quite at ease with their stepmom, even in the early days of her relationship with their father.
In December 2019, all four went looking for the perfect Christmas tree in Los Angeles — and they seemed to be having a great time, the Daily Mail noted. That continued to hold true during lockdown, which actually had a positive effect on them. "[The quarantine is] bringing us closer together," he said. They proved it once again following their wedding. "Dennis and Laura are on their honeymoon right now and his children are with them," a source told Us Weekly in July 2020.