What We Know About Katy Perry's Political Views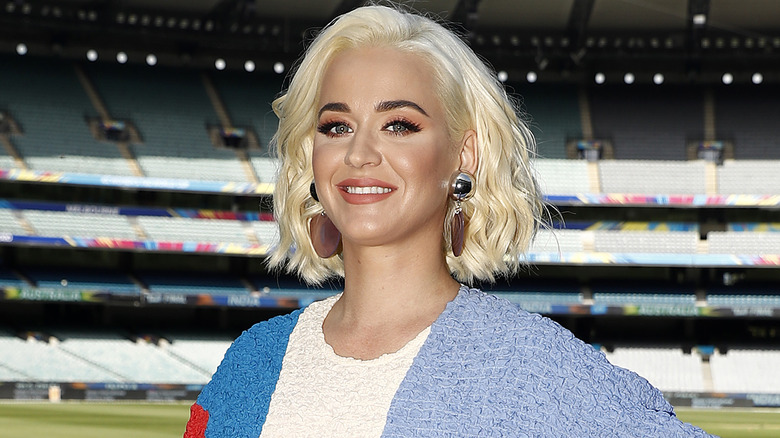 Ryan Pierse/Getty Images
Katy Perry is always ready to roar about her political views. The pop singer has been incredibly vocal about government issues throughout her career. From participating in campaigns to encouraging followers to vote, she has used her platform to make a difference in the world.
Perry's involvement in politics goes all the way back to when she was a young kid growing up in a conservative household. She told Vogue, "...my house was church on Sunday morning, church on Sunday night, church on Wednesday evening; you don't celebrate Halloween; Jesus gives you your Christmas presents; we watch Bill O'Reilly on TV. That was my whole childhood and youth and early teens." The "Teenage Dream" singer even revealed that, as a kid, she would often be a part of the individuals standing outside events with religious poster boards and pamphlets. She also was not allowed to "interact with gay people."
While her parents maintained a conservative viewpoint, Perry's views on politics have continuously changed throughout the years. However, at the core, the musician is proud to live in a country that allows herself and others to believe in what they want. In 2016, while speaking at an election party, Perry shared, "What a great country this is that gives us the freedom to express our differences, our opinions, our hopes, and our fears." So, what do we know about Perry's political history? Let's look at the details of her political past.
Katy Perry leans Democratic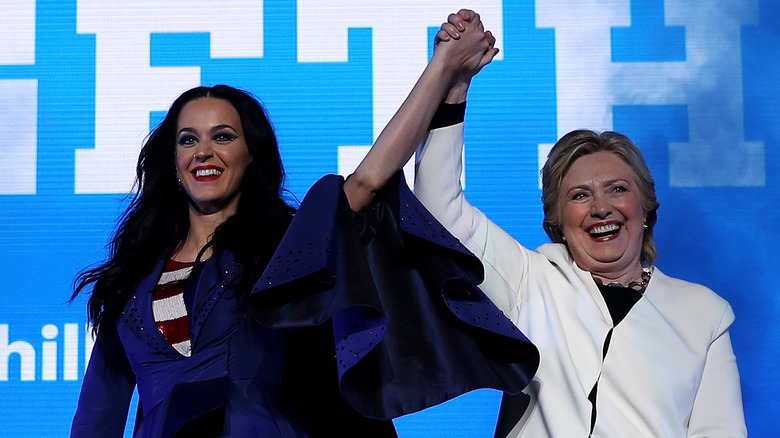 Justin Sullivan/Getty Images
There have been plenty of political issues that have proven Katy Perry leans on the liberal side. In 2016, the pop singer shared an Instagram post revealing she gave a generous donation to Planned Parenthood. Perry wrote, "I am making a public donation to Planned Parenthood for the teenage me who made several visits to first a clinic in Santa Barbara and then Los Angeles, CA to educate myself on my sexual health."
In addition to supporting Planned Parenthood, the "Dark Horse" singer has also advocated for gun control. In 2021, Perry shared a video from the Sandy Hook Promise, an organization created to help end gun violence. The singer wrote, "For too many kids, The Teenage Dream is shattered by school shootings. Gun violence shouldn't be part of growing up. Please share this important PSA from @sandyhookpromise #TheTeenageDream."
Besides just supporting liberal ideals, Perry has also campaigned for Democratic candidates. In 2016, Perry advocated for presidential candidate Hillary Clinton. The "Last Friday Night" singer frequently encouraged followers to vote for the former secretary of state through Instagram takeovers and even joining her on the road. Even though Clinton lost the 2016 election, that didn't stop Perry from coming back in 2020 to encourage the public to vote for Democratic candidates Joe Biden and Kamala Harris. With Perry's history of backing liberal issues and candidates, you would think she is a true Democrat at heart, but that's not entirely true.
Katy Perry confused fans with L.A. mayor vote
Throughout her political involvement, Katy Perry has become a big advocate for the Democratic party. However, things began to shift when the "Last Friday Night" singer revealed who she was voting for in the 2022 Los Angeles mayoral race.
In November 2022, Perry revealed on Instagram that she was voting for businessman and billionaire, Rick Caruso. The pop singer captioned the post, "I am voting for a myriad of reasons (see the news) but in particular because Los Angeles is a hot mess atm. #letsgocaruso #yestomeasure28 #yestomeasure1 #doyoubutjustuseyourvoteok." Perry received instant backlash for showing her support for Caruso because of his past political decisions. According to BuzzFeed News, Caruso has made several donations to anti-abortion candidates and has had more conservative views on homelessness than fellow running mate, Karen Bass. Not just that, but many were rubbed the wrong way when Caruso changed his affiliation from the Independent and Republican parties to the Democratic party just months before entering the race.
Caruso ended up losing the race. However, with his political history, fans were shocked to see Perry vote for him in the 2022 mayoral election. One Twitter user wrote, "It is crazy to me that Katy Perry felt so strongly about voting for Rick Caruso and *posting about it* that she alienated and turned off a bunch of fans (pretty much every gay I know was appalled) and for WHAT?? He lost!!!" Although Perry never commented on the backlash, it's clear that the musician isn't afraid to share her political beliefs.