Met Gala 2023: Solo Stars Welcome A Drama-Free Red Carpet (& We're Here For It)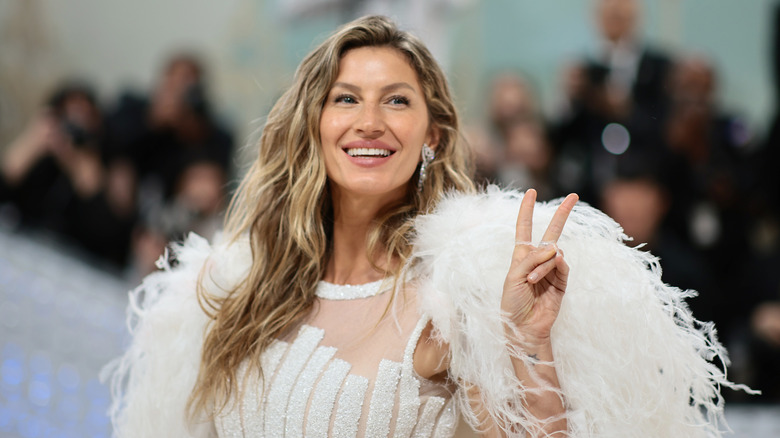 Dimitrios Kambouris/Getty Images
Judging by last night's Met Gala appearances, the biggest names in fashion, entertainment, and beauty want you to know that they're nobody's arm candy. As you'd expect from fashion's biggest night, stars will often prep for months beforehand (though Twitter doesn't always think those extra dress fittings equate to an on-point outfit)! This year's theme of "Karl Lagerfeld: A Line of Beauty" was no exception. There were seemingly endless interpretations of the iconic designer's style, ranging from Cara Delevigne's literal take on Mr. Lagerfeld to whatever statement Lil Nas X was trying to make on the red carpet. But the real star of the show (even more so than the "Montero" singer's bare butt) were all the single ladies.
Both coming off highly-publicized splits, Kim Kardashian and Gisele Bündchen wowed without famous exes by their side. Beyond shapewear and pearls, Kardashian's solo red carpet was a rare opportunity for her to shine all by herself. Kanye, who? Pete Davidson, who? For once, we got to focus on what the reality star brings to the carpet, rather than who she's hanging onto. As for Bündchen, her feathered cape gave Victoria's Secret Angel circa 2005, but that's not why we're happy to see her. After sixteen years of playing second fiddle to her Super Bowl-winning husband, the spotlight's back solely on the model and her mega-watt smile. These ladies are an ad for forty, flirty, and thriving, and the red carpet has never looked better than when it's drama-free.
Stars made a statement all by themselves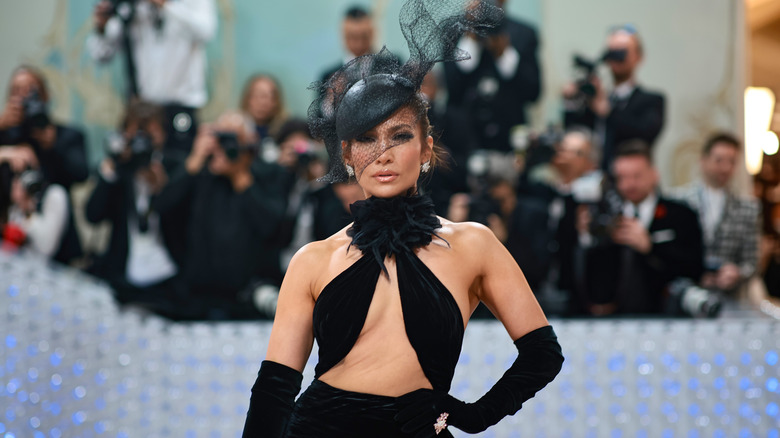 Dimitrios Kambouris/Getty Images
After last year's Met Gala debut with Pete Davidson, Kim Kardashian made it the point in 2023 that a man isn't needed to complete an outfit, and that shining bright like a diamond sometimes means posing by yourself. No offense to Mr. Lagerfeld, but that was the real theme of the evening. Even A-listers who are coupled up opted to show face solo for a refreshingly drama-free evening — pivot to Jennifer Lopez Affleck. 
Because the Ben of "Bennifer" was absent, it gave us more room to admire J.Lo's high-drama accessories. Whether it's his viral Grammy's frown or his love for Dunkin' Donuts, Affleck is often stealing Jen's thunder. Last night was therefore a welcome opportunity for us to celebrate the national treasure that is J.Lo, without analyzing Bennifer's every move. 
Then there was Kendall Jenner, who chose not to give weight to those Bad Bunny love rumors when she walked the red carpet all by herself, no pants in sight. By quieting the chatter about who she is or isn't dating, Jenner kept our attention on the more important things in life: her love for Karl Lagerfeld and her very disciplined squat routine.
When personal drama detracts from fashion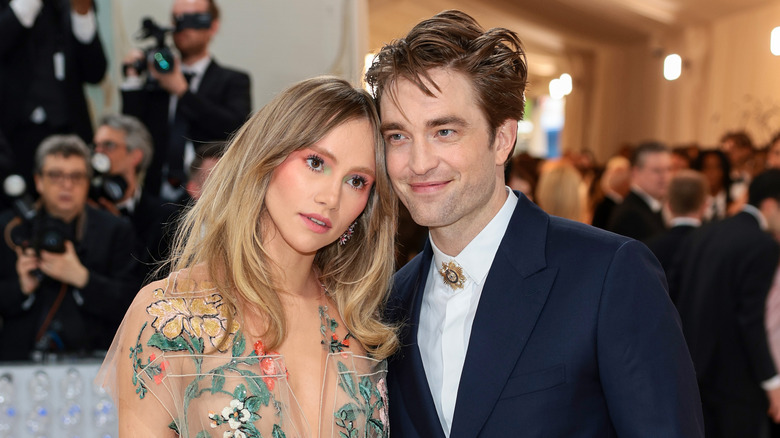 Dimitrios Kambouris/Getty Images
When J.Lo, Gisele Bündchen and the KarJenners showed up solo, it put the focus on fashion rather than their personal lives — and isn't that what the Met Gala is all about? Contrast that with the A-listers who strolled into the Met with their significant others, and immediately had us distracted with their distraction as a unit. No shade to A$AP Rocky, but anyone Rihanna brings as her plus one is just that: a distraction from RiRi. With A$AP's barrier-hopping antics in NYC grabbing headlines just hours before the event, it's clear Rih's late arrival to the Met would've packed a bigger punch solo.
Brooklyn Beckham and Nicola Peltz were also on hand to raise our blood pressure. From headlines about Peltz feuding with Victoria Beckham to news that Brooklyn has gotten a giant tattoo of his wife's face, these two are synonymous with drama. And while we thought we could rely on Suki Waterhouse and Robert Pattinson to get papped separately — the two are notoriously private, after all — their Met debut might be the one time they let us down. Now, we're busy trying to figure out what their very public appearance means. Engagement? PR stunt? A breakup on the horizon!?
We're just as shocked as you are that the KarJenners are bringing the drama-free glam with their solo appearances, but this is the hand we've been dealt. We'll see you next year for (hopefully) less romance and a lot more ruffles.