Jon Bon Jovi Brushes Off Age Criticism Over Son's Engagement To Millie Bobby Brown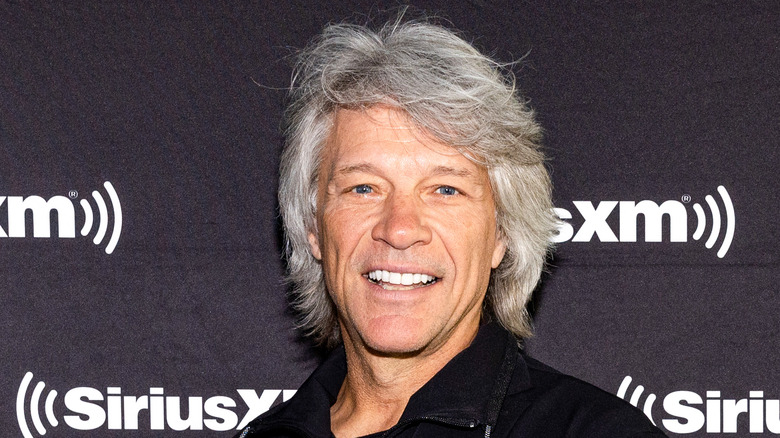 Emma Mcintyre/Getty Images
Aside from being a bonafide rock star, Jon Bon Jovi is also a big family man. The singer and his wife, Dorthea Bongiovi, have four children together — Stephanie, Jesse, Jake, and Romeo. And out of all of his children, his son, Jake Bongiovi, has been in the spotlight the most — thanks to his relationship with "Stranger Things" star Millie Bobby Brown. The pair first sparked dating rumors in 2021 when Jake posted a photo of himself and Brown posing in the backseat of a car. "Bff," he wrote on the upload that went viral on the web. 
After Jake's initial post, he and Brown began what we can only describe as a social media love-fest, sharing plenty of sappy and sweet posts dedicated to one another. "Love is all you need ... happy new year everyone," Jake wrote in a January post to kick off 2023. On April 11, the pair shocked Hollywood by announcing their engagement. "I've loved you three summers now, honey, I want 'em all," Brown wrote in an Instagram post that included a photo of the pair as a newly-engaged couple as Brown showcased her ring. Jake shared a similar post on his page with a simple caption that read "forever." After the engagement, many people took to social media to express their concern about the couple's age. "Millie Bobby Brown is way too young to be engaged omg," one person wrote. 
But what does Jake's dad Jon of his son's young romance? 
Jon Bon Jovi doesn't think that age matters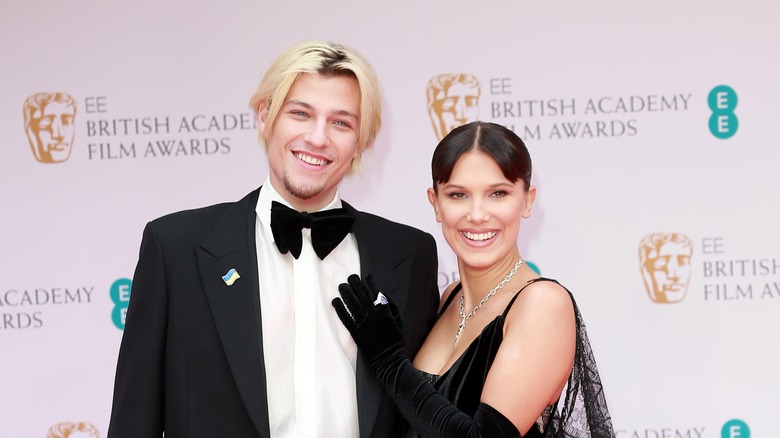 Fred Duval/Shutterstock
You know what they say... Age ain't nothing but a number. While many people have been criticizing Jake Bongiovi and Millie Bobby Brown's engagement due to their ages (he's 20 and she's 19), Jake's father, Jon Bon Jovi, is not giving into the noise. In early May, the singer sat down with Andy Cohen on his popular Sirius XM show, "Radio Andy," where Cohen congratulated him on the engagement. Cohen explained to listeners that Jon and his wife, Dorthea Bongiovi, have been together since high school, and he asked the rocker if he had any worries that Jake got engaged at such a young age.
"I don't know if age matters. If you find the right partner and you grow together, I think that would be my advice really: growing together is wise," Jon told Cohen. "Growing together. I think that all of my kids have found the people that they think they can grow together with, and we like 'em all." Cohen also asked Jon if he had ever watched "Stranger Things," and he revealed that he has "of course" seen episodes.
Jon has spoken several times about his long-standing marriage with his wife, Dorthea, including in a 2020 interview with People. "I was immediately drawn to her from the minute I saw her, and that never changed." he gushed after revealing that he used to cheat off her in history class. Ah, young love for both Bongiovi men!