From City Councilman To Judge Jerry: Jerry Springer's Career Timeline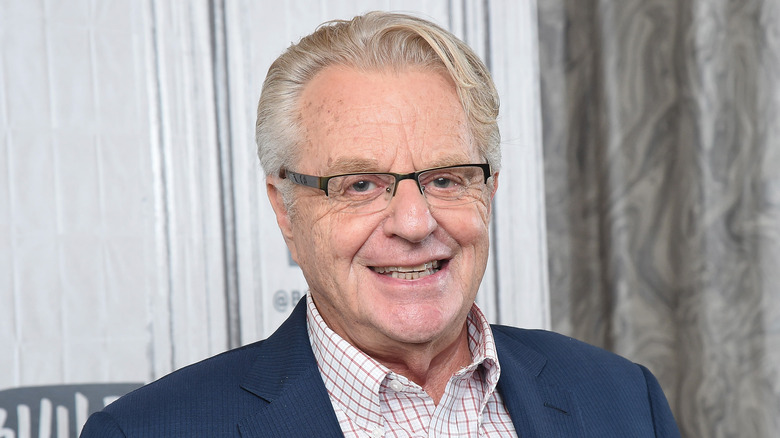 Gary Gershoff/Getty Images
When Jerry Springer died of pancreatic cancer in 2023, the internet was flooded with tributes to the legendary talk show host. It's safe to say that almost everyone in the country had seen at least one episode of "The Jerry Springer Show" at some point in their lives. After all, it aired for almost three decades and was so popular that the Los Angeles Times dubbed its host the "millennials' babysitter." But what many folks may not have realized was that the dramatic show wasn't Springer's only contribution to pop culture. In fact, it wasn't even the only big job he ever held.
Born in 1944 in a London tube station, Jerry Springer immigrated to the United States when he was just 5 years old. The child of Polish Jewish immigrants, he hadn't always intended on being a celebrity. Truthfully, he almost fell into the role after a series of failed career attempts in his younger years. Here, we've mapped out Springer's career path in its entirety, from his early days as a lawyer to his meteoric rise to fame in the early '90s and everything that came after. It's sure to give you a much more rounded look at TV's first shock jock.
Political beginnings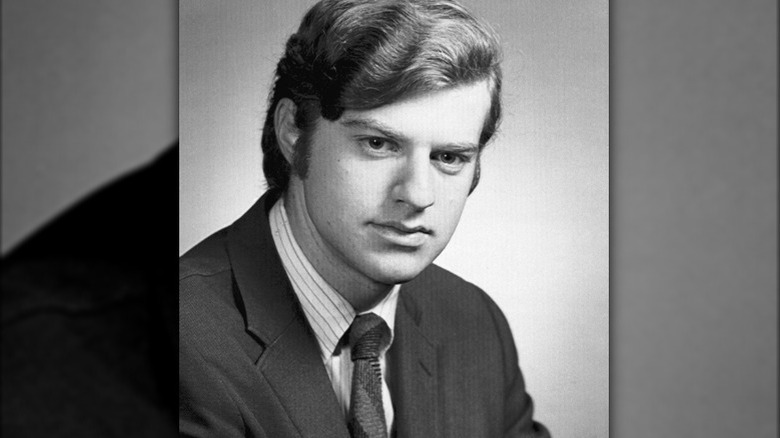 Bettmann/Getty Images
Believe it or not, Jerry Springer didn't set out to be a major celebrity — as a young man, he actually had his heart set on becoming a public servant and entering the political arena. In 1965, he graduated from Tulane University with a degree in political science, following that up with a law degree from Northwestern University in 1968. His first job out of college was on Robert F. Kennedy's presidential campaign (he'd met the New York senator at a dinner party near the end of his time at Northwestern), though it was short-lived given RFK's assassination in June 1968.
After the campaign shut down, Springer took a job at a law firm in Cincinnati, Ohio. And while he seems to have enjoyed this job, at least as far as we can tell, he was still anxious to make a more lasting difference. So in 1970, he ran for Congress. A progressive at heart, he actually had a decent chance at winning, until his campaign was thwarted when his Army unit (he had been a reservist for quite some time) was called up. In the end, he lost that race by a slim margin to the Republican incumbent, but it made little difference — a year later he was elected to city council, and was off to the races.
The city council years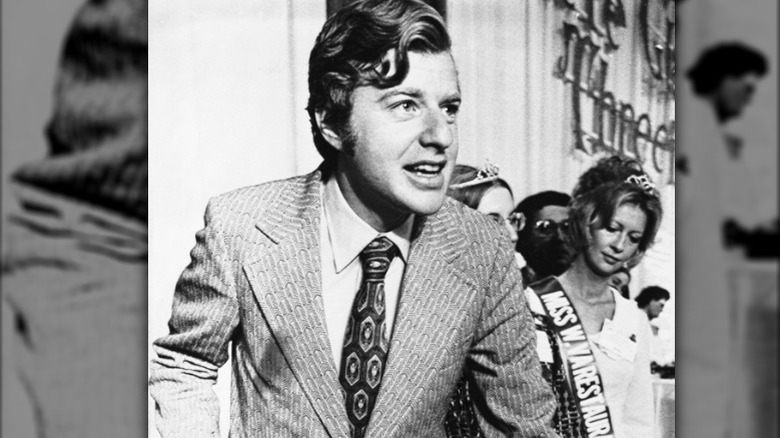 Bettmann/Getty Images
Jerry Springer spent much of the '70s serving on Cincinnati's city council. By all accounts, he was widely liked by his constituents for his down-to-earth approach and the way he prioritized the issues that really mattered to them. His former aid, Tim Burke, recalled Springer's unique style of leadership to The Enquirer, telling stories of his boss doing things like wrestling a bear, stealing a bus, and voluntarily spending the night in a local jail in order to bring awareness to important causes. But all that came to a (temporary) end in 1974 when he was caught up in a scandal.
That year, Springer resigned from his position following reports that he'd paid for sex. It turned out, the New York native had visited a health club in Northern Kentucky on at least two separate occasions, employing sex workers both times. According to a local news station, WCPO Cincinnati, the reaction from his fellow council members was mixed — some fully supported Springer hanging onto his seat, while others were adamant he be ejected from their ranks. Ultimately, he resigned in order to avoid criminal charges.
In the end, though, Springer's resignation hardly mattered. He was re-elected to his position in 1975, holding on to it until he became mayor in 1977.
Mr. Mayor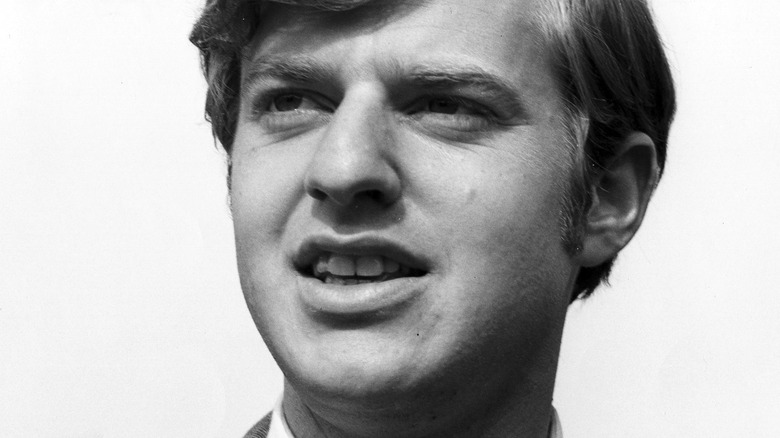 Cincinnati Museum Center/Getty Images
In 1977, Cincinnati's city council selected Jerry Springer to serve as mayor for a one-year term (at the time, this particular position was not a publicly elected one the way it is now). His tenure was successful, if largely uneventful, and seems to have sparked a desire in him to try for bigger, more influential positions. So in 1982, he launched a campaign for governor, hoping to win the Democratic nomination.
The bid, unfortunately for Springer, was an unsuccessful one. His sex scandal, and the fallout from it, had a lot to do with the failure. His opponents dug into the scandal relentlessly, accusing him of misconduct far beyond what he was actually guilty of. The attacks got so ruthless that he was forced to air a TV commercial in which he cleared the air once and for all. "Nine years ago I spent time with a woman I shouldn't have. And I paid her with a check," he told voters, via The New York Times. "I wish I hadn't done that. And the truth is, I wish no one would ever know. But in the rough world of politics, opponents are not about to let personal embarrassments lay to rest."
Despite his failure to nab the nomination, Springer wasn't disillusioned with politics entirely. He'd consider running for Senate twice in the early 2000s and debated a second gubernatorial run in 2018. While he never went ahead with those campaigns, he remained incredibly involved in Ohio's local politics until his death.
The move to TV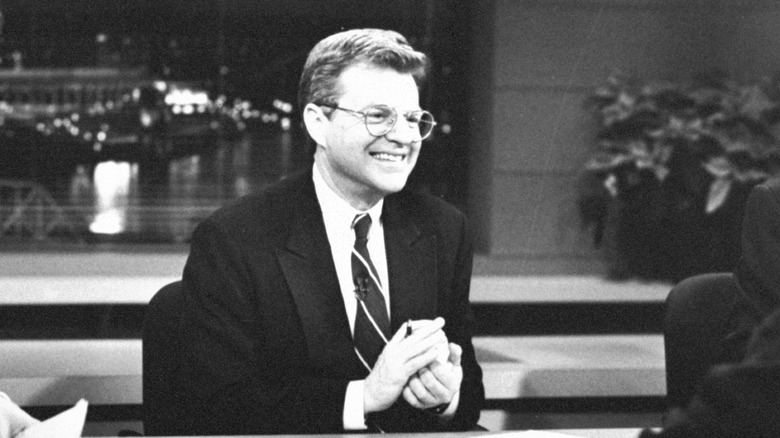 Steve Kagan/Getty Images
After failing to win the gubernatorial nomination in 1982, Jerry Springer decided it was time for a career change. During his tenure as mayor, he'd had a regular series on a local radio station called "The Springer Memorandum," in which he broke down all sorts of local issues and the government's reactions to them (a la FDR's "Fireside Chats"). These short bits had been so well received that he was offered a similar opportunity at a local news station, giving mini editorials at the end of each nightly broadcast. Ever the businessman, Springer spun this gig into a full-time role and began anchoring WLWT-TV's nightly newscast in the early '80s.
Over the next decade, he became one of the area's most popular anchors. His former co-host, Norma Rashid, remembered him to The Enquirer as a hard-working, brilliant, and loyal journalist. "He was the wild card in every deck. He was unapologetically himself," she told the outlet. "When he said something, you knew he meant it. He was kind to everybody. He was compassionate to everyone. He was a great guy. Nothing short of one of the best humans I have ever known."
His work behind the newsdesk won him 10 local Emmy awards, and perhaps even more importantly, opened the door for the job that would eventually make him a household name: "The Jerry Springer Show."
The early Jerry Springer years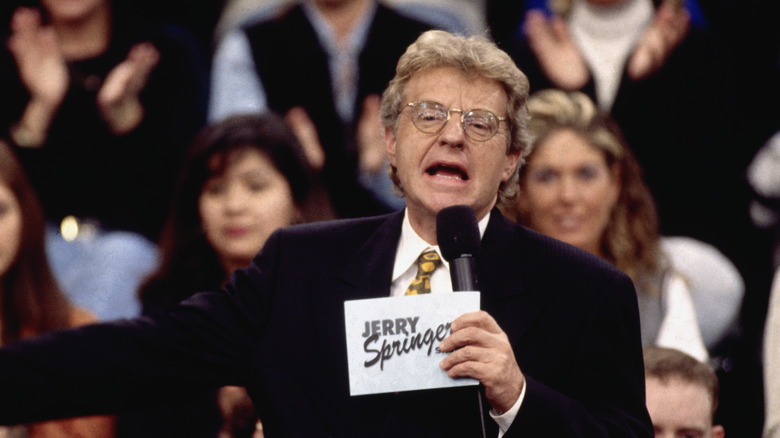 Ralf-finn Hestoft/Getty Images
"The Jerry Springer Show" premiered on September 30, 1991. According to Springer, who spoke to Cincinnati Magazine back in 1992, he hadn't sought out the daytime series — it just fell in his lap. "[The CEO of Multimedia] just invited [me] to lunch one day and said 'We're doing it and you're the host,'" he revealed, noting that he was working hard to channel the guilt he felt over his unearned good fortune into motivation. "I'm going to work real hard because I don't want to look like a fool. I want to do well," he told the outlet.
It was likely this desire to prove himself that drove the content in the series' early seasons. NPR noted that in the early years, Springer was trying hard to fashion himself as the new Phil Donahue. Those first episodes featured interviews with politicians and thought leaders like Ollie North and Jesse Jackson, and tackled tough topics like the AIDS crisis, homelessness, and racial equality. It was good content — but boring. Ratings were low in those earliest seasons, and critics (including one who wrote for NPR) warned Springer to keep his day job because they didn't see a future for the show.
But that all changed in 1994, when Springer did, in fact, quit his day job as the anchor at WLWT-TV and moved the show from Cincinnati to Chicago.
The transition to shock TV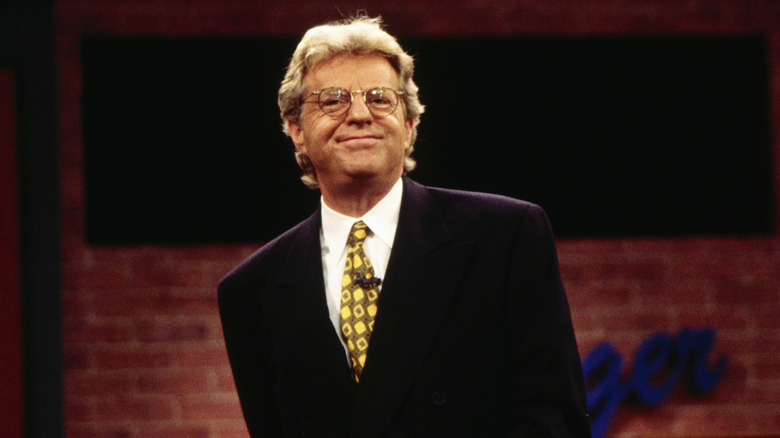 Ralf-finn Hestoft/Getty Images
When "The Jerry Springer Show" moved to Chicago in 1994, the entire vibe of the series changed. Gone were the segments on hard-hitting issues and interviews with respected members of society. In their place were all-out fistfights and sit-downs with some of America's strangest citizens (like the lady who married the horse, or the woman who had 200 sexual partners). In short, this is when "The Jerry Springer Show" became the sleazy, drama-fest that so many millennials were raised on.
Over the years, there have been plenty of folks who have argued that this new iteration of Springer's show was the end of "good" television. In a 1998 "Weekly Wire" article, former ABC President Bob Iger said, "The whole industry does in fact suffer when lines are not drawn and the likes of Jerry Springer's trash are allowed to fester. It's not just the negative publicity that hurts broadcasters, but the ways in which Mr. Springer and others like him lower programming standards and increase the pressure on others to be more shocking, more violent and more titillating to grab viewers' attention. For that our entire society suffers."
And while he never divulged his true feelings about the series while it was on air (the show ran for 27 seasons, from 1991 to 2018, and aired almost 5,000 episodes), in the months leading up to his death, Springer finally shared his true thoughts, telling podcast host David Yontef, "I've ruined the culture" (via Insider).
Foray into reality TV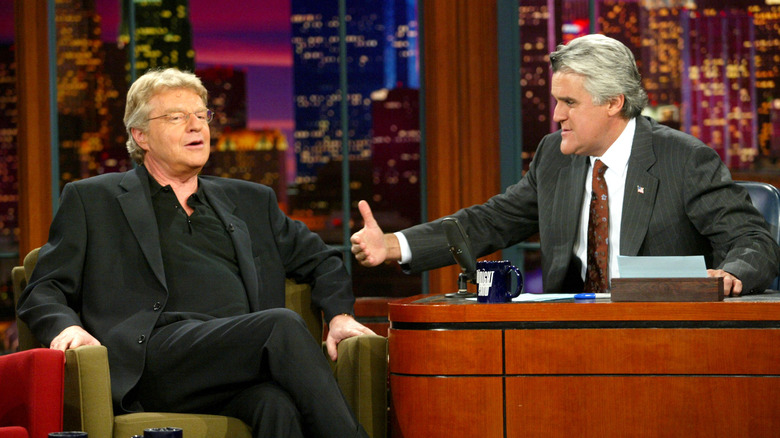 Kevin Winter/Getty Images
As if having a widely watched daily series didn't keep him busy enough, Jerry Springer took on several reality TV projects during the early '00s. There was "The Springer Hustle," a short-lived VH1 series that gave audiences a behind-the-scenes look at the making of what TV Guide once famously called "the worst show in this history of television." Each half-hour episode focused on a group of producers as they toiled over the minutiae of the episodes, from landing the most outrageous guests to keeping the shooting schedule on track.
Then, there was the "America's Got Talent" hosting gig. Following Regis Philbin's departure after Season 1, the daytime host stepped in to emcee the competition. He'd lead this (often, literal) circus for two years, before departing to focus on other projects. Among those other projects was a Game Show Network dating show called "Baggage." This series had prospective singles reveal some of their worst faults, like shoplifting and consulting psychics, in order to win dates with fellow bachelors/bachelorettes. Springer told USA Today he was the perfect host for the show, which ran for five seasons, because "I'm like the crazy old uncle. People feel comfortable telling me their secrets, [knowing] that I won't be judgmental." He also told the outlet, "I just keep finding jobs. I'm really lucky and I know that ... Being a host is what I'm comfortable doing. I've been doing it forever, joking around with guests, having fun."
Jerry Springer: Judge and Jury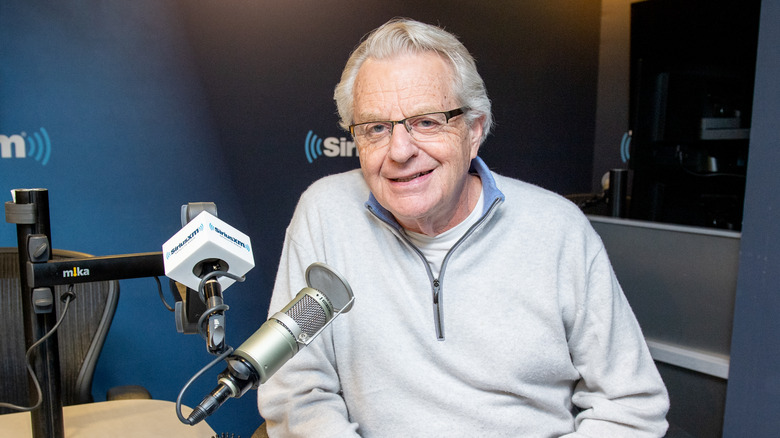 Roy Rochlin/Getty Images
But Jerry Springer wasn't just stumbling into all of these opportunities the way he had early on in his career. More often than not, he was making them for himself. Take "The Jerry Springer Podcast" and "Judge Jerry" for example.
In 2015, he launched "The Jerry Springer Podcast," a weekly show that was a mix of comedy, political chatter, and music from underground artists. Springer, of course, was the face of the series, but he co-hosted with Jene Galvin and Megan Hills. Their discussions often felt like a debate among jurors, with each personality taking turns weighing in on whatever topic was on trial that particular day (Donald Trump, affirmative action, the importance of personal character, etc.) so that they could come to a unanimous verdict that was meant to guide listeners in their own thinking. The show came to an end in 2022.
Then there was "Judge Jerry." After "The Jerry Springer Show" wrapped, Springer found himself looking for another daytime opportunity. This courtroom show, he felt, would be a perfect fit — allowing him to mix his actual law training (remember that Juris Doctor degree from Northwestern University?) with an audience that already knew and loved him. While the show was still fairly lighthearted, the verdicts were real (as was the case with "Judge Judy") leaving Springer to tell the New York Post that the three seasons he spent behind the bench was "the first grown-up job he'd had in 30 years."
TV, movie & stage performances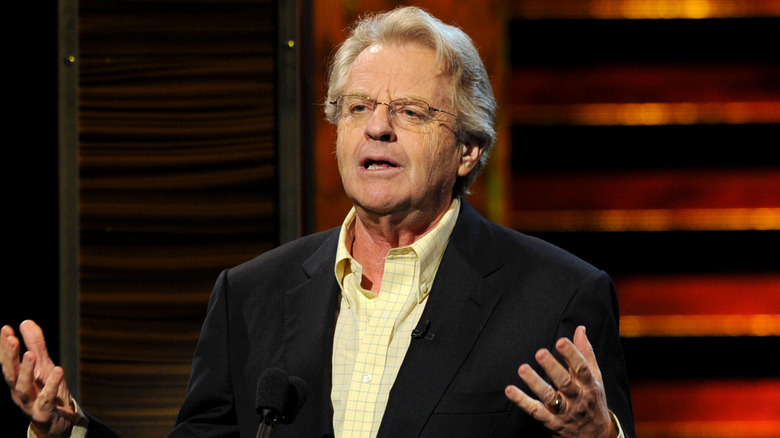 Kevin Winter/Getty Images
If we haven't made it abundantly clear yet, Jerry Springer was a consummate hustler. Because while he was anchoring the news, hosting "The Jerry Springer Show," recording a podcast, and handing down verdicts on "Judge Jerry," he also managed to complete a half-dozen other projects in TV, movies, and on the stage.
In 1998, he starred in his first feature film, "The Ringmaster," a fictional tale that was essentially an episode of "The Jerry Springer Show." The movie followed two messy families as they set out to solve their differences on a daytime talk show. The host (played by Springer, of course) struggles to keep the drama in check and wrestles with his dubious claim to fame. The same year, Springer wrote an autobiography, also called "Ringmaster," that detailed his early years and real-life meteoric rise.
When he wasn't busy running the show, Springer also performed in it. In 2006, he competed on "Dancing with the Stars," making it to the seventh week before getting eliminated. In 2022, he sang his heart out as the beetle on "The Masked Singer" (this would be one of his last television appearances). And way back in 2009, he spent several weeks as Billy Flynn in "Chicago," at Atlanta's Fox Theater.
And that's not even everything. A full list of the projects he completed would take forever to get through, so we've just included some of the highlights. To us, these accomplishments prove that no matter what his detractors may say about him, Springer had no shortage of talent or drive.
A lasting legacy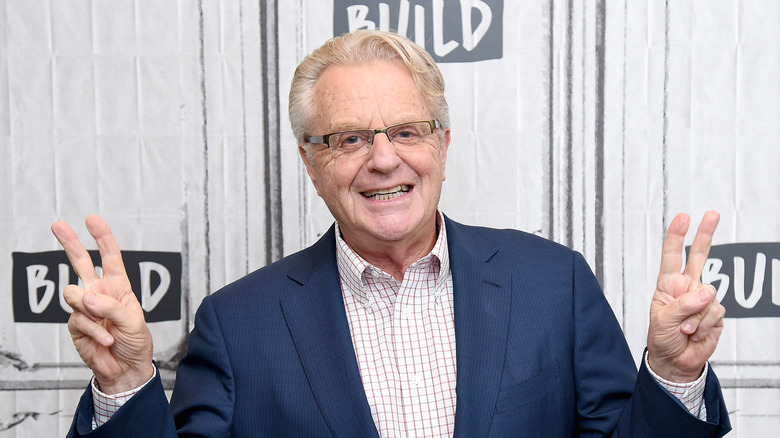 Gary Gershoff/Getty Images
Opinions on Jerry Springer's contributions to culture remain split. Some folks recognize him for the visionary he was because, in spite of the fact that many "Jerry Springer" episodes didn't offer a whole lot of value, they undoubtedly changed the way we make and watch TV. Following his death, Forbes wrote that Springer's daytime show, "revealed the public's appetite for overblown, unscripted, and no-holds-barred TV." And where do we most often see those needs met today? In reality TV. It's likely that none of our favorite Bravo or E! reality series, like "Vanderpump Rules" or "Keeping Up with the Kardashians," would exist if it hadn't been for Springer's trailblazing ways. However, there are plenty of others who can't look past the low-class drama and will always think of the host as David Sedaris so vividly described him in The New York Times as "the new Satan."
As for what Springer himself would have wanted his legacy to be, we can't say with total confidence. But his sign-off phrase — "Take care of yourself, and each other"— which he closed every newscast with, gives us a pretty good hint. He likely would have wanted to see everyone spend their lives doing things that are fun (like engaging with the world's wackiest people, as he did on "The Jerry Springer Show") and things that are meaningful — like fighting for social change and justice, the way he did during his political career, so that we can leave the world a better place than we found it.