Why Justin Theroux Doesn't Talk About His Ex-Wife Jennifer Aniston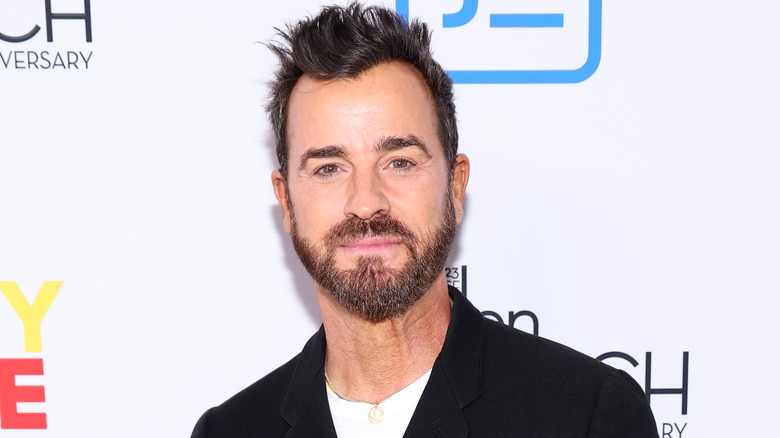 Paul Morigi/Getty Images
Justin Theroux is not one to talk about the past, especially when it comes to his exes. You might be curious as to which ex the "Mulholland Drive" actor refused to talk about. Well, it was none other than "Friends" actor, Jennifer Aniston. Many may remember that Theroux and Aniston had a years-long romance that began in 2011, per People. After three years together, the couple eventually tied the knot in 2015.
Theroux had no problem talking about Aniston while he was married to her. In 2016, he shared his admiration for the high-profile actor with The Sunday Times. He said, "She has lived through a lot of bulls***...I'm very proud of her for that, for the way she handles herself. So in a weird way, it's an honor to stand behind her. Truly, in that sense, she's amazing." It seemed as though the couple was madly in love, but just three years into their marriage, the pair decided to call it quits, per People.
Theroux was discreet when asked about the divorce. He told The New York Times, "The good news is that was probably the most — I'm choosing my words really carefully — it was kind of the most gentle separation, in that there was no animosity."
Justin Theroux shut down Jennifer Aniston conversation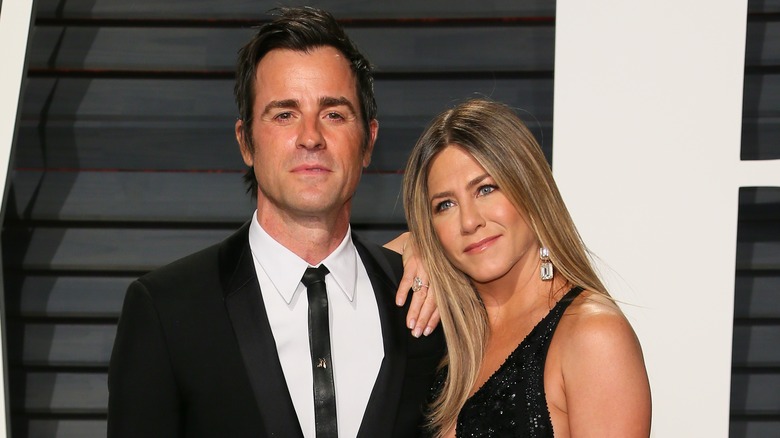 Jb Lacroix/Getty Images
Justin Theroux is not going to sit down and talk about all things Jennifer Aniston, no matter how badly people may want him to. Instead, "The Girl on a Train" actor is keeping the details of his former romance with the "Friends" actor behind closed doors. Theroux told Esquire in 2023, "...I want all of my relationships to exist within the four walls of whatever room we're in. And I'm not trying to be evasive, but I talk to Jen — I don't talk about Jen." Theroux knows that anything he says about his ex-wife will undoubtedly make headlines, and for that reason, he chooses not to entertain the idea. He said, "Me saying anything, even if it was something loving, it would just turn into a thing. So it's a classic no-comment situation for me."
Theroux even revealed to Esquire that now that he knows what it's like to be in a high-profile relationship, he's not sure that is what he wants in the future. He said, "And having been in a public relationship, it's much more fun not being in a public relationship." Since his split from Aniston, he has been rumored to be dating several women including Emma Stone and Elizabeth Hurley, per Who's Dated Who. Just like Aniston, many of the speculated romances involve other celebrities. So, maybe Theroux isn't truly opposed to the idea of being in a public relationship after all.
Justin Theroux doesn't talk about Jennifer Aniston but will hang out with her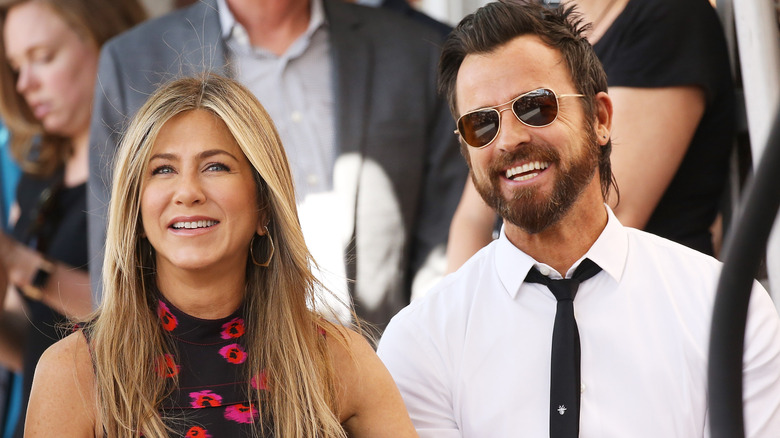 Michael Tran/Getty Images
Justin Theroux may not be up to having a conversation about his ex-wife, Jennifer Aniston, but that doesn't mean the two don't get along. In fact, the pair hang out regularly. In November 2019, just a year after their split, Theroux was back at the Thanksgiving dinner table with Aniston. According to Harper's Bazaar, Theroux and several of her friends gathered for a Friendsgiving celebration. "The Girl on a Train" actor even shared the special occasion on his Instagram story. He captioned the post, "Very very thankful for these friends and these nights."
Before he was against talking about Aniston, the actor even revealed that he and his ex are constantly communicating, per Esquire. He shared, "We don't talk every day, but we call each other. We FaceTime. We text ... It would be a loss if we weren't in contact, for me personally. And I'd like to think the same for her." Aniston must feel the same because she and Theroux can't seem to let one another go.
In April 2023, the former couple caught up once more alongside fellow actor Jason Bateman and his wife Amanda Anka, for a dinner in New York, per the Daily Mail. All of Theroux and Aniston's hangouts have been friendly as the two exes seemingly continue to get along despite their breakup.