The Juiciest Moments From King Charles' Coronation That No One Will Forget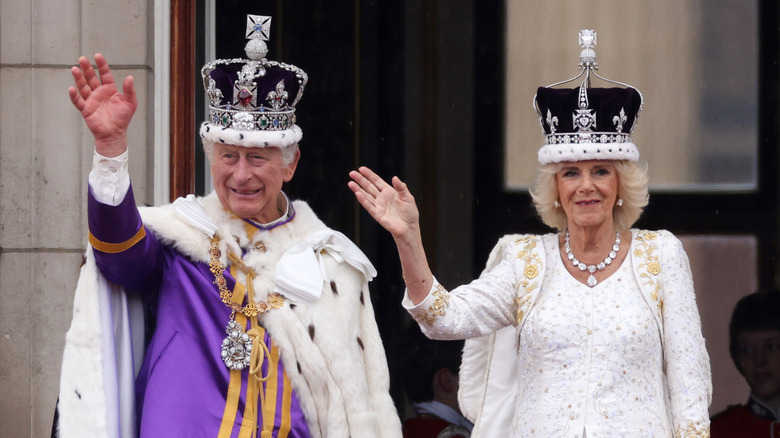 Dan Kitwood/Getty Images
There have been some major changes in the royal family over recent years, but one thing that's stayed consistent amid all the upheaval is their penchant for the dramatic. It seems that almost everything they do, whether it's a simple ride on the London Underground or the prestige of Jubilee celebrations, is surrounded by pomp and circumstance. So you can only imagine how over-the-top King Charles' coronation was — particularly because it was the first in 70 years.
King Charles is England's 62nd monarch. He technically ascended the throne on September 8, 2022, the day his mother and predecessor, Queen Elizabeth II, died. However, his coronation, or crowning ceremony, wasn't until May 6, 2023. The religious and legal event took place at Westminster Abbey in London (where these ceremonies have been held since 1066) and was overseen by the Archbishop of Canterbury. Below, we've rounded up some of the most dramatic, juiciest, and memorable moments from the day. From family squabbles to key points of the service, these singular moments are sure to be remembered for years to come.
Prince Harry's arrival ... and swift departure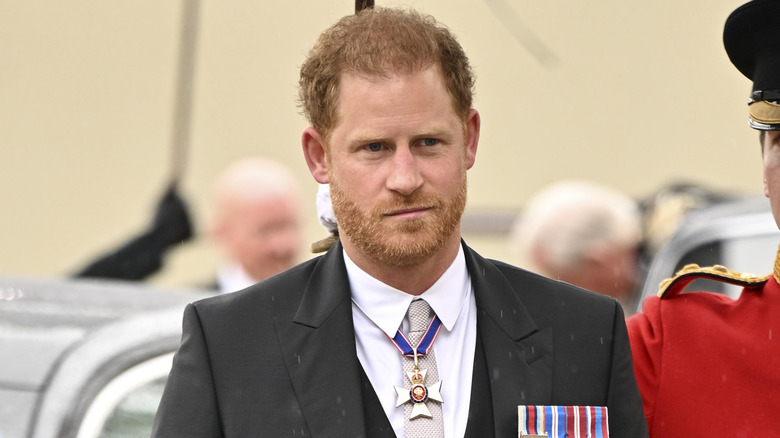 Wpa Pool/Getty Images
The drama began before the king was even on the scene with the arrival of Prince Harry. Given everything that's happened between him and the Mountbatten-Windsors in recent years (Megxit, the falling out with Prince William, the publication of "Spare") there was plenty of speculation as to whether or not Harry would even show up for the event. In the end, though, he did decide to attend.
The prince arrived alone to little fanfare (Meghan reportedly stayed behind in California to celebrate Prince Archie's birthday). He wasn't in the royal robes that many of his relatives wore, nor did he don a military uniform like Princess Anne. Instead, he wore a simple morning suit designed by Dior, blending in with all of the other non-royal guests. Far from his estranged brother who sat in the front, Harry took his seat in the third row, where he chatted with his cousins, participated in the ceremony, and left quite quickly when it was over. And by quickly, we mean he went immediately to Heathrow airport to fly back home, forgoing an opportunity to appear on the balcony with his family or attend the following day's coronation concert, per BBC.
In fact, he seemingly had very little interaction with his immediate family members. According to Insider, he and William reportedly ignored each other all day, not even sharing a simple hello or glance of acknowledgment. There's also no indication that he had a private moment with his father, either before or after the events, though what happened behind closed doors is obviously unknown.
The divisive guest list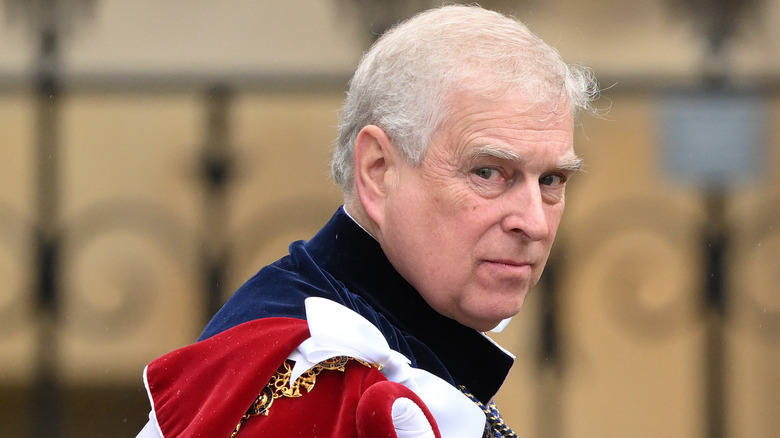 Karwai Tang/Getty Images
Prince Harry's appearance and quick departure wasn't the only guest list shocker. In the run-up to the coronation, there was plenty of chatter about who did, and didn't, get an invite. For starters, King Charles' younger brother, Prince Andrew, was included among the 2,200-plus attendees. Per Harper's Bazaar, due to his association with convicted sex offender Jeffrey Epstein, Andrew stepped back from public duties in 2019. But that didn't keep him from showing up on the big day. He had no formal role in the ceremonies, but his mere presence was enough to frustrate onlookers who booed him upon his arrival to the church.
While Prince Andrew made the cut, his ex-wife, Sarah Ferguson, did not. During an appearance on "Loose Women" she acknowledged that her divorce from the prince likely excluded her from the guest list. Instead, she planned to enjoy a tea party while watching the proceedings on television. She seemed to take the whole thing in stride, but many felt that her longstanding relationship with the royal family should have been enough to grant her a seat in the abbey.
And then, there were the grandchildren. Of course, Prince George was one of King Charles' pages — a fitting role for him given that he will one day be king himself. However, many commentators criticized Queen Camilla's grandchildren being given official roles in the ceremony, as it marked a break in tradition. Their outrage only grew when it was revealed that two of King Charles' grandchildren, Prince Archie and Princess Lilibet, weren't even invited.
Katy Perry couldn't find her seat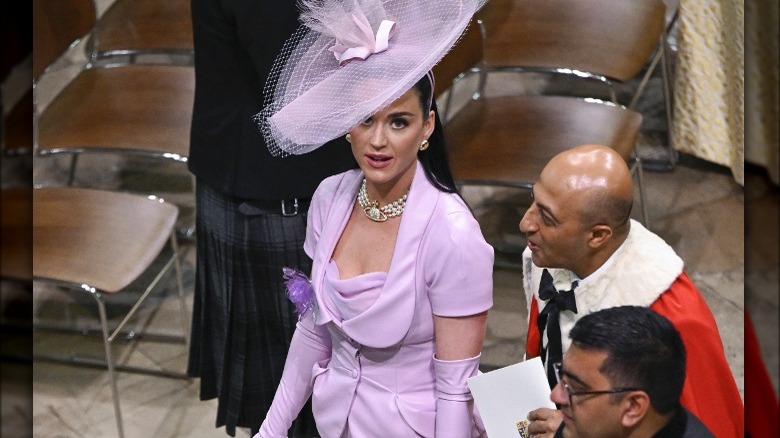 Gareth Cattermole/Getty Images
It wasn't just royal family members filling the pews of Westminster Abbey, either. There were thousands of guests in attendance, including foreign royals and dignitaries, celebrities, and ordinary citizens who were lucky enough to nab tickets. Among these folks were Dames Emma Thompson and Maggie Smith, First Lady Jill Biden (who was attending on behalf of her husband President Joe Biden), British television personalities Ant and Dec, and singers Lionel Richie and Katy Perry.
Ritchie and Perry were there because they were set to headline the Coronation Concert (a musical event that took place on the lawns of Windsor Castle the day after the ceremony). Their presence at the abbey wouldn't have been that notable given the sheer size of the crowd, except for the fact that Perry comically got lost on the way to her seat.
In a now-viral moment, Perry can be seen wandering along the rows of seats desperately looking for her assigned place. It's unclear whether it was the size of her massive lavender fascinator or just the general confusion of arrival that was preventing her from spotting her chair, but the hilarious moment was instantly shared millions of times on Twitter, with fans poking gentle fun at the songstress' predicament. For her part, Perry took it all in stride, later tweeting, "Don't worry guys, I found my seat."
King Charles served up total fairytale grandeur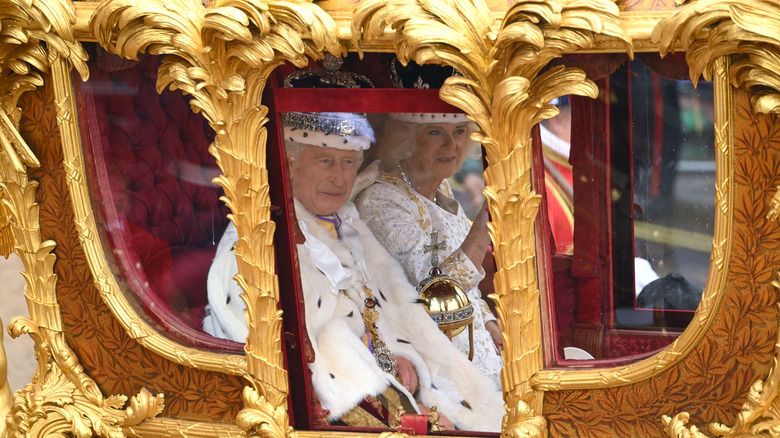 Wpa Pool/Getty Images
Once all of his guests had arrived and found their seats, King Charles made his grand entrance. He pulled up to Westminster Abbey in the Diamond Jubilee State coach, an ornate black and gold carriage drawn by six horses which was gifted to Queen Elizabeth II in 2012. The fairytale-esque entrance was just a small indication of how opulent and extravagant the rest of the day was going to be.
Stepping out of the carriage, Charles looked every inch the king, wearing the Robe of State, a long crimson cape lined with ermine fur over his military uniform. Ever environmentally conscious, he also donned a crimson surcoat that had once been worn by his grandfather, King George VI, back in 1937. It wouldn't be the only time during the day that Charles would re-wear something a previous monarch had worn.
In fact, Charles also wore the gold Supertunica that had been made for King George V in 1911, the Imperial Mantle designed for King George IV in 1821, and the belt, coronation glove, and Robe of Estate that had also been designed for his grandfather, King George VI. In fact, none of the garments that were used in the official proceedings were new, something that was intentional on the part of the king. It also caused quite a stir among royal commentators who are used to monarchs commissioning elaborate new vestments for an event like this.
A controversial, glittering ceremony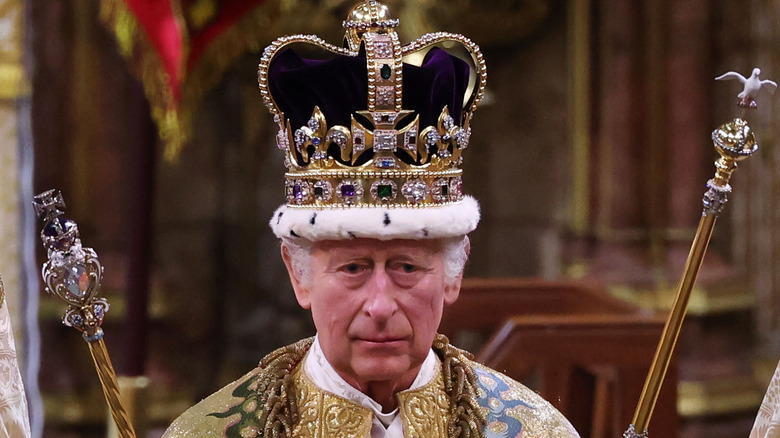 Wpa Pool/Getty Images
For the most part, the ceremony itself went off without a hitch. Much of the coronation was done as prescribed by the Liber Regalis, a 14th-century manuscript that details how the rite should be carried out. But just because the events were largely traditional, that doesn't mean they were boring or without controversy.
For example, King Charles changed the way homage was paid to him during the proceedings. Typically, all of the country's princes would pay homage, swearing loyalty and allegiance to the new monarch. However, only Prince William wound up doing so, stepping in on behalf of the entire royal family (possibly to avoid placing the spotlight on both Andrew and Harry). So instead of running a full "Homage of Peers," Charles replaced it with "Homage of the People," inviting ordinary citizens to swear their fealty to him. This would have been the first time in history that Britain's people were asked to do something like this, and the request didn't go over well. In the lead-up to the big day, the palace changed the moment in the ceremony from a demand to an invitation after receiving criticism for the gesture.
After the homages were paid, the oath was taken, and the king was anointed, the proceedings wrapped up with King Charles being physically crowned with the 5-pound, 17th-century St. Edward's crown. It was a moment that could have come straight out of "The Princess Diaries" for how cinematic and elaborate it was.
Camilla was finally crowned queen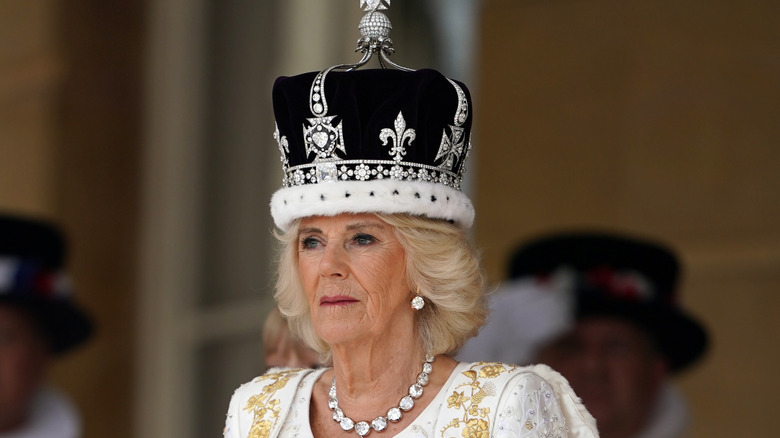 Wpa Pool/Getty Images
Once King Charles was officially crowned king, it was Queen Camilla's turn. And yes, you read that right — Queen Camilla, not Queen Consort Camilla. Given the dramatic nature of the start of King Charles and Queen Camilla's relationship (he was still very much married to Princess Diana when the romance began), it's always been unclear what she'd be called when he eventually assumed the throne. When the pair tied the knot back in 2005, it was agreed that Camilla would be called the princess consort when Charles was crowned. This was in accordance with a precedent established by Queen Elizabeth's husband Prince Philip who was the prince consort rather than the king consort. 
In Camilla's case, once Charles was on the throne, he was free to change his wife's official title to queen, should he have wished to. And so it was that when invitations for the coronation went out in April 2023, Camilla's title transitioned from queen consort to simply queen. King Charles acknowledged the change, saying that while he was "deeply conscious" of his mother's wishes, simplifying the title would just make things easier. And that was that.
Camilla's coronation ceremony was much simpler than Charles'. For example, there was no legal oath required of her nor was there any need to pay homage as she has no real power being a non-birth member of the family. Still, it concluded in nearly as dramatic a fashion as her husband's, with her being crowned with an upcycled version of Queen Mary's crown.
Prince Louis stole the spotlight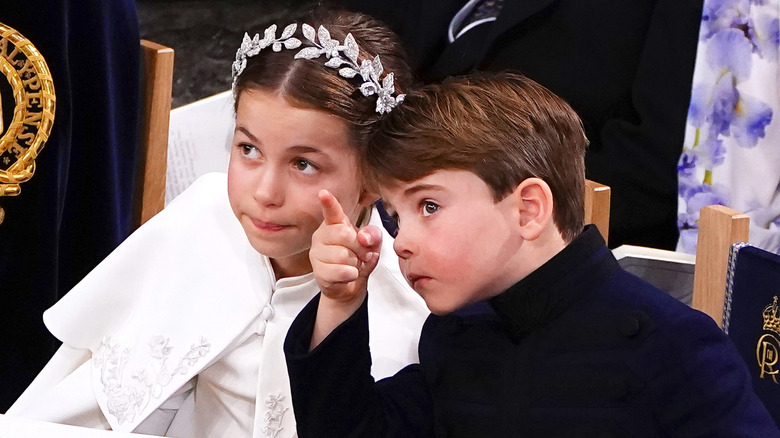 Wpa Pool/Getty Images
Given the significance of the day, you might assume that all of the attention would have been on King Charles and Camilla as they fully stepped into their new roles. But you'd be wrong. Charles' five-year-old grandson, Prince Louis, was the real star of the show, stealing the spotlight from the monarch on more than one occasion over the course of the day.
In the run-up to the ceremony, many wondered if Louis would actually be present for the coronation. There was some concern that the long, solemn event would be too much for the rambunctious kindergartener, who has a history of acting up during official appearances. In fact, Page Six even reported that the palace had a plan in place to pull him out of the church mid-ceremony if his behavior became an issue. Indeed, it appeared that Louis decided to take a break about halfway through. But, for the most part, he sat alongside his parents, Prince William and Princess Catherine, and older sister, Princess Charlotte, for the entire thing.
Despite the fact that he managed to stay with the family for most of the day, there were plenty of shenanigans coming from the young prince. At various points, he was spotted yawning, dancing, pointing things out to his seatmates, and making faces at the crowds. In fact, he was so animated that it appeared to have exhausted poor Charlotte. "She's very tired after yesterday," William told Hello! Magazine the next day. "... It was making sure her little brother behaved herself."
An expensive celebration on the taxpayers' dime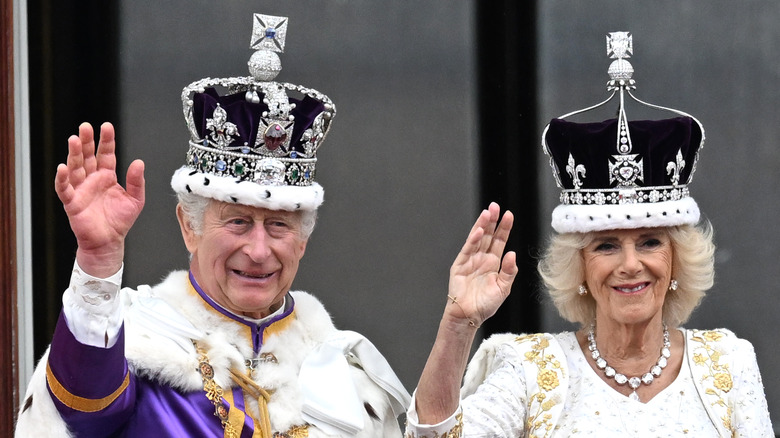 Samir Hussein/Getty Images
All of this drama doesn't come cheap. According to the BBC, the coronation was estimated to cost up to $125 million. This would easily make it the most expensive coronation of all time, well above the $1.5 million spent on Queen Elizabeth II's day and even more than George VI's $24.8 million ceremony in 1937.
The events were funded by U.K. taxpayers' money (although the palace did contribute an undisclosed sum), which just didn't sit right with many people given the country's current economic struggles. One woman perfectly summed up the nation's general feeling when she told the BBC, "We're struggling for heating and eating and they're splashing all this money out. It's a lot of money to pay out and I think, in this day and age, they need to do it on a low budget."
But not everyone was turned off by the event's enormous price tag. There were plenty of others who viewed the expense as a necessary evil, thinking that a bigger event would ensure more people would travel to London to witness it in person. This, of course, could mean huge profits for the hospitality and tourism industries, which are still struggling to recover from the continuing impact of COVID-19 and Brexit.
While it remains to be seen how, exactly, the coronation may positively affect the UK economy, it's safe to say that the day was a massive success. More than 18 million people in Britain alone tuned in to watch the proceedings, and the country also has a fully-fledged monarch again.