Matchmaker Cracks Tom Cruise's Attraction To Shakira Wide Open After Unlikely Hangout - Exclusive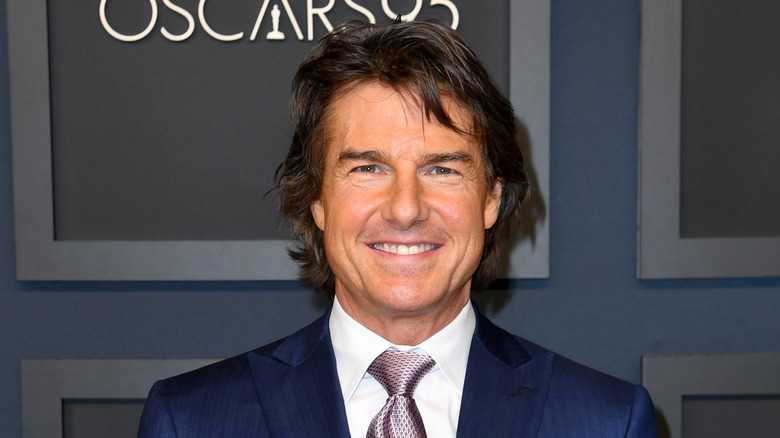 Jc Olivera/Getty Images
Tom Cruise and Shakira may be on a new track toward romance after being spotted at the F1 Grand Prix in Miami. According to Page Six, the two celebrities quickly caught fans' attention after hanging out in a private suite during the sporting event. A TikTok user even captured the two chatting away as cars raced by.
Shakira has become recently single after she and her ex, Gerard Piqué, called it quits in June 2022. Following their split, the couple released a statement sharing, "We regret to confirm that we are separating. For the well-being of our children, who are our highest priority, we ask that you respect [our] privacy. Thank you for your understanding." The pair has had quite a tumultuous fallout after they announced their split. Cheating allegations, diss tracks, and subtle jabs at one another surrounded their breakup. However, the "Waka Waka" looks ready to move on, and Cruise may be her next new romance.
Cruise and Shakira have a lot more in common than people may realize. Similar to Shakira, the "Top Gun: Maverick" actor had been involved in a very public breakup in 2012 with actor Katie Holmes. Not just that, but Cruise shares a child with his ex just like the musician. So, both the celebrities' surprise outing at F1 Miami Grand Prix and their potential romance make a lot of sense. As revealed in an exclusive interview with Nicki Swift, matchmaker and CEO of Exclusive Matchmaking Susan Trombetti agrees. 
Tom Cruise has a type and Shakira proves this
It's not surprising that Tom Cruise finds Shakira appealing, because she has similarities to his ex-wife, Katie Holmes, according to matchmaker Susan Trombetti. "I see a lot of Katie Holmes in Shakira's fresh face, so I could see it," Trombetti exclusively told Nicki Swift. "She's as naturally beautiful as Katie with a little spice added in, so I see the attraction definitely. He appears to have a type." The TikTok video posted of the two talking at the F1 Grand Prix only confirmed Cruise's attraction toward Shakira. "When I view the video of them together, what I see is that Tom is totally into her sexually because his hips are facing her," Trombetti said. "They are both engaged in conversation and clicking for sure."
Trombetti thinks that the potential relationship could go on for some time as "Tom is very focused on his women," she shared. With Gerard Piqué reportedly cheating on Shakira during their relationship, it is also possible that Shakira will find both comfort and safety in Cruise's arms, according to the matchmaker.
Tom Cruise and Shakira may be incompatible long-term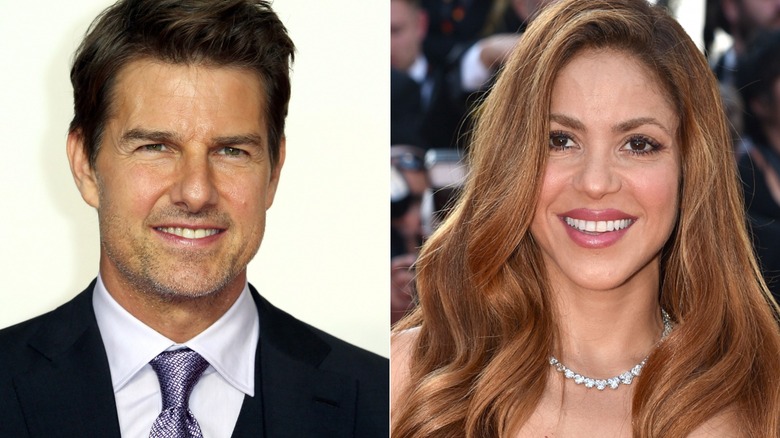 Lionel Hahn/Getty & Fred Duval/Shutterstock
If Tom Cruise and Shakira are looking to date to pass the time, they can certainly bond over their public relationship fails. "Anytime you have two celebrities that have been examined under a microscope with such intense scrutiny, you have commonalities there and compatibility," shared matchmaker Susan Trombetti exclusively to Nicki Swift. "They both get it and understand each other. Both of them have had messy public breakups and Tom's stuff has been blasted all over and criticized." Presumably, their similar pasts should allow them to form an authentic connection that wouldn't be as easy to cultivate with a regular person. Basically, it's "a solid basis to jumpstart a relationship," according to Trombetti.
But if Cruise and Shakira are looking for a lifetime romance (or at least a long-term one), then they may not be each other's best choices. In Trombetti's expert opinion, the "Hips Don't Lie" singer is "too independent to become part of Scientology," which is a huge part of Cruise's identity. "That's what he is looking for ultimately," she continued. "That's what he needs to see something through, and I don't see her being as malleable. Katie Holmes was at first and even she rejected it in the end." 
Plus, as Today pointed out in 2012, none of Cruise's former marriages lasted beyond the wife's 33rd birthday. (Shakira is currently 46.) While there's no proof this was intentional on Cruise's part, that's a heck of a coincidence!