John Stamos Almost Dated Kristen Bell Before She Met Dax Shepard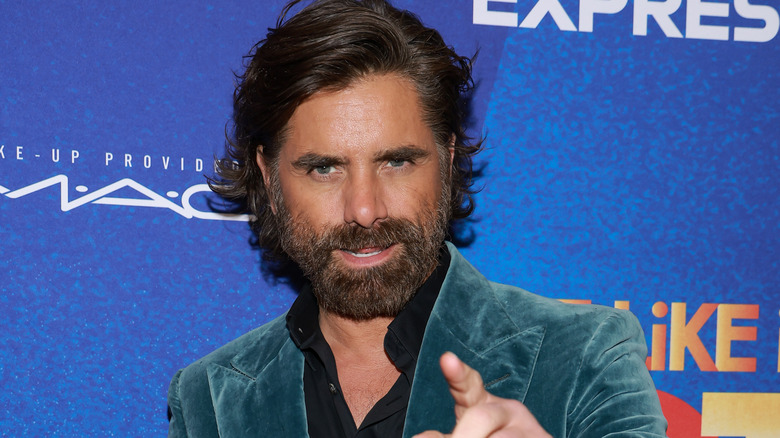 Jason Mendez/Getty Images
Kristen Bell and Dax Shepard are one of those couples that seem like a match made in heaven. And in many ways, they are, but they themselves don't believe so. "We don't believe in The One. We don't believe in the fairytale. We don't believe that you can meet someone and you have perfectly matching personalities," Shepard told Us Weekly. "My only fear is that people see us and think, 'Oh, I just need to find my Kristen Bell.' That's not true. You'll find your Kristen Bell but guess what, now the work starts."
Still, we can't help but gush over their romance since they appear to be head over heels in love for each other. "We nauseate ourselves with how mushy we are," Bell shared with Women's Health. She also said that being with the "Parenthood" star keeps her young because apparently, he makes her laugh "all the time." Speaking with Us Weekly, she dished: "He's obsessed with attention, so he's constantly making jokes to try to get me to give him more attention or to get me to giggle. And you know, he was a stand-up comedian, so I'm living with a comedian." If that's not love, we don't know what it is!
It's hard to imagine a world where Bell and Shepard aren't together, and interestingly, they probably wouldn't have gotten a chance if the "Veronica Mars" star ended up with *drum rolls* John Stamos.
Kristen Bell wanted to date John Stamos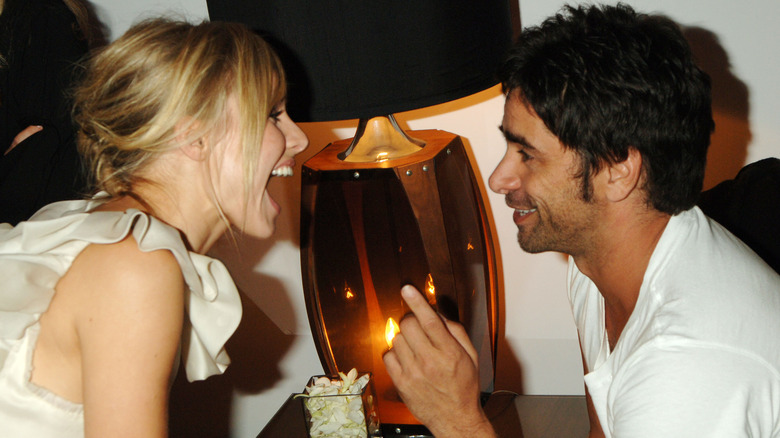 Jeff Kravitz/Getty Images
John Stamos once dished that he passed up on the opportunity to date Kristen Bell. In an appearance on Dax Shepard's podcast, "The Armchair Expert," the "Full House" alum told the story of how a colleague wanted to set him up with Bell back in the early 2000s.
"I was freshly divorced. There was some award show or party or afterparty or something," Stamos recalled. "And my press agent says, 'There's this girl that wants to meet you. You gotta meet her. She's in the theater. She's fun. You guys would be great together.'" And the girl in question? "It was Kristen," he said. Shepard appeared surprised by the revelation and thought how "great" it would have been if the two ended up giving it a shot. But Stamos said he believed he was too old for Bell (at 17 years her senior), so he turned the offer down.
As fate would have it, Bell would later meet Shepard a few years after the supposed set-up with Stamos. And funnily, it wasn't love at first sight. "The only thing I remember is that he talked so much. ... There were no sparks whatsoever," the "Bad Moms" star shared with "Today." They saw each other at a hockey game again a few weeks later, and the rest, as they say, is history.
Who did John Stamos end up marrying?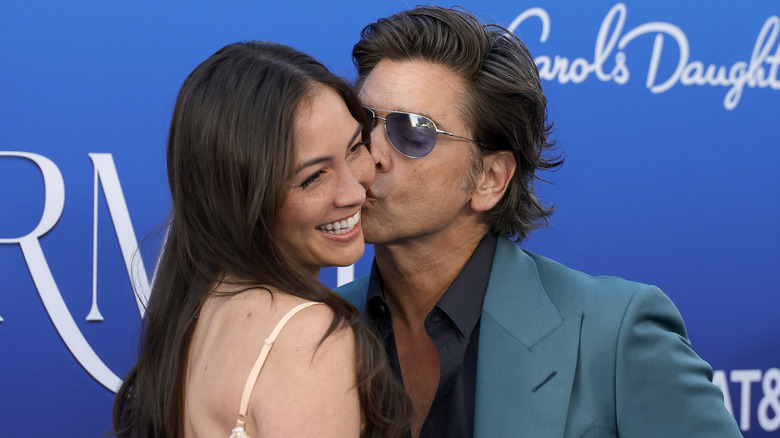 Frazer Harrison/Getty Images
John Stamos ended up backtracking on his initial rule of not dating women significantly younger than him. More than half a decade after his divorce from his first wife, he met Caitlin McHugh on the set of "Law & Order: SVU," who is 23 years his junior.
But the fact that they have a May-December romance never bothered Stamos one bit. For him, McHugh was his true match. "I've been waiting for the perfect girl for over a decade and she walked into my life," he told People. "I mean everybody knows that I've always loved family, and I wanted to have a family someday and get married again, and everyone's like, 'Why don't you just do it!?'"
The two married in 2018 and share a son together. And to this day, Stamos still couldn't quite believe how lucky he was to be with his wife. "I don't know what I did to deserve such a kind hearted, smart, beautiful souled partner like Caitlin," he wrote on Instagram for McHugh's 36th birthday. "but I'm not gonna question it." Aww!