Steven Tyler's History Of Health Problems Explained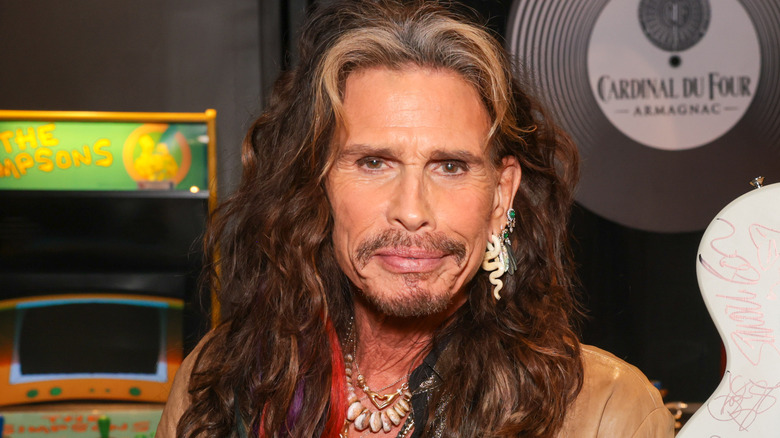 Tiffany Rose/Getty Images
Steven Tyler's name has been synonymous with Aerosmith since he started the band in 1970 with the lead guitarist Joe Perry, and he has gone on to live a very wild and colorful rock star life. While musicians are known to dabble in drugs and alcohol, Tyler and Perry took things to the extreme and soon became known as the "Toxic Twins." In a 2019 discussion with GQ, Tyler shared that he started smoking marijuana in the mid-'60s while growing up in New Hampshire. When he became the frontman for Aerosmith, he revealed, "Well, we would do cocaine to go up, quaaludes to come down. We would drink and then snort some coke until we thought we were straight." He stated, "I couldn't do enough. I couldn't get high enough."
There came a point when Tyler's team staged an intervention and forced him to go to rehab. "I went away in '84 and '86, and I didn't really get it. The early '80s were terrible, and drugs took us down. I was the first one to get treatment. There was a moment in '88 where management and the band pulled an intervention on me," he told Haute Living. After several attempts, the singer finally got sober, but living life as a rock star eventually led to some health issues for Steven Tyler.
Steven Tyler underwent chemotherapy to treat Hepatitis C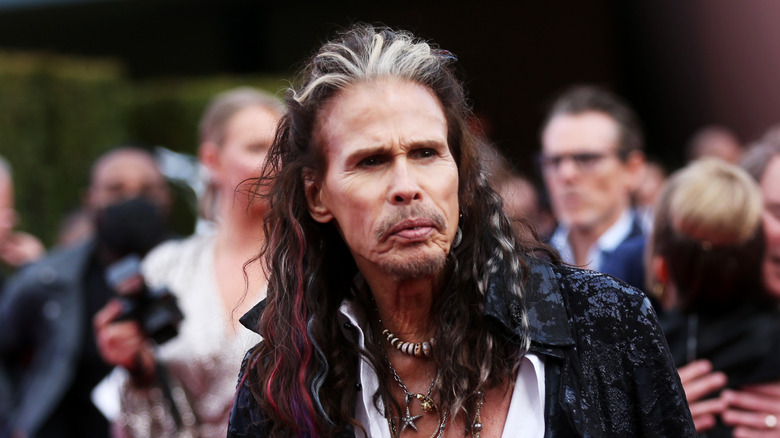 Phillip Faraone/Getty Images
Steven Tyler's road to sobriety was not an easy one. In 2006, Tyler revealed he had been diagnosed with hepatitis C three years prior. "I've been pretty quiet about this. The band took a break about three years ago and I've had hepatitis C for a long time, asymptomatic," he shared with Access. He followed his doctor's advice and underwent 11 months of chemotherapy. "So I went on that and it about killed me," Tyler added. At the time, he was married to Teresa Barrick, and the stress of dealing with his disease caused a strain between the two. They ended up divorcing after 17 years together. The light at the end of the tunnel was that the treatment worked, and Tyler is now free of the disease. "It is non-existent in my bloodstream as we speak so it's one of those few miracles that in doctoring where it's like a complete cure. It's gone," he marveled.
Unfortunately, Tyler became addicted to pain medication while being treated for hepatitis C, which led him down a road of cocaine and pills again. He checked himself into the Betty Ford Clinic and was sober for three years until a relapse in 2009, which caused a major catastrophe onstage.
Steven Tyler fell off the stage during a concert from being high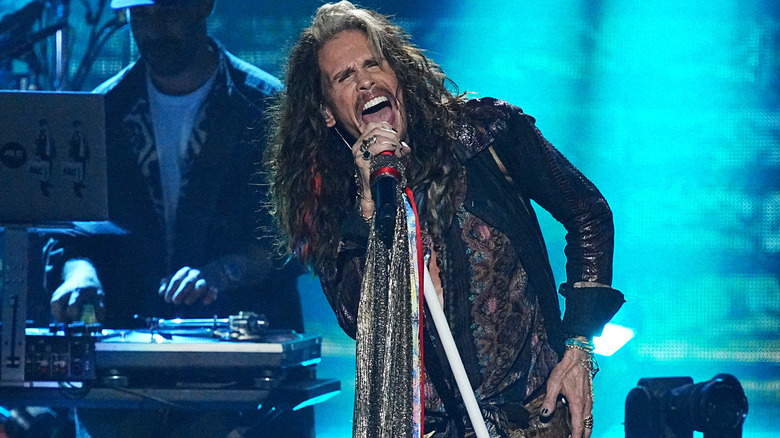 Jeff Kravitz/Getty Images
Steven Tyler is known for his infamous onstage strut, but his funky moves during a 2009 concert caused him to fall off the stage. The singer-songwriter ended up with a broken shoulder and stitches on his head. He later revealed on the "Late Show with David Letterman" that he was high during the concert and stated, "It's not any news here about my drug use and addictions in the past. ...  A couple of years ago, I was [snorting] Lunesta because of some problems with my feet. ... That shows you what kind of a drug addict I was, only the finest for me," he shared.
Tyler's 2009 stint in rehab helped him get sober again, but his foot pain forced him to have surgery, which resulted in a relapse in 2022. As reported by People, the band announced, "As many of you know, our beloved brother Steven has worked on his sobriety for many years. After foot surgery to prepare for the stage and the necessity of pain management during the process, he has recently relapsed and voluntarily entered a treatment program to concentrate on his health and recovery," they stated. The following month, Tyler's rep shared that he was "doing extremely well and looking forward to being back on stage." Aerosmith is set to tour starting in September for the last time. "Be there or beware as we bring all the toys out of the attic. Get ready," Tyler declared.