Why Jason Momoa Never Posted About Lisa Bonet On Social Media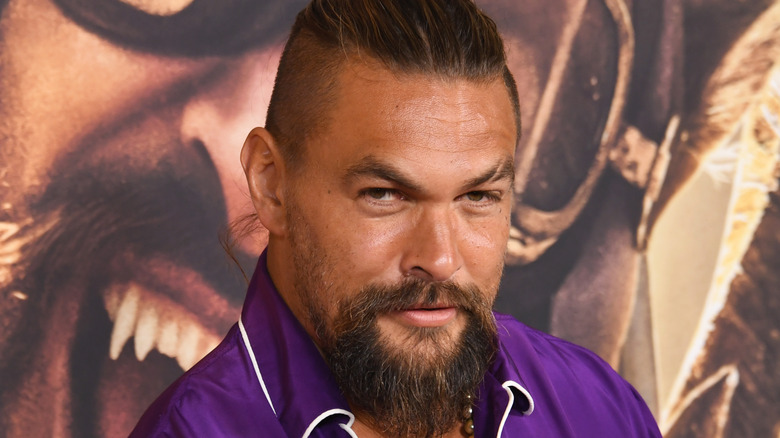 Jon Kopaloff/Getty Images
RIP to one of our favorite power couples, Jason Momoa and Lisa Bonet. The pair announced their shock split in January 2022, after 16 years together (and four as husband and wife). It's especially sad news for anyone who believes in soulmates, since Momoa was always candid in the press about how he thought Bonet was the only woman for him. During a 2017 appearance on "The Late Late Show with James Corden," the "Aquaman" star said he'd wanted to be with Bonet "ever since I was, like 8 years old and I saw her on the TV." Fast forward to Momoa's actual meeting with Bonet in 2005 at a jazz club and there were major sparks — or, more accurately — fireworks. The two later went to a café where they had "Guinness and grits, and the rest was history" (in Momoa's own words).
It's exactly the kind of Hollywood meet-cute you might see in a rom-com, so it's too bad that Momoa and Bonet weren't destined to be together for the long haul. However, throughout their nearly two decades together, there's very little social media evidence to highlight their long-standing relationship. And coming from Momoa, who shares everything from how his body looks in a loincloth to behind-the-scenes antics on the set of his movies, it feels weird that we didn't see much of his ex. Was Bonet's absence on his social feeds a red flag, or just a personal preference?
Lisa Bonet prefers to keep her personal life private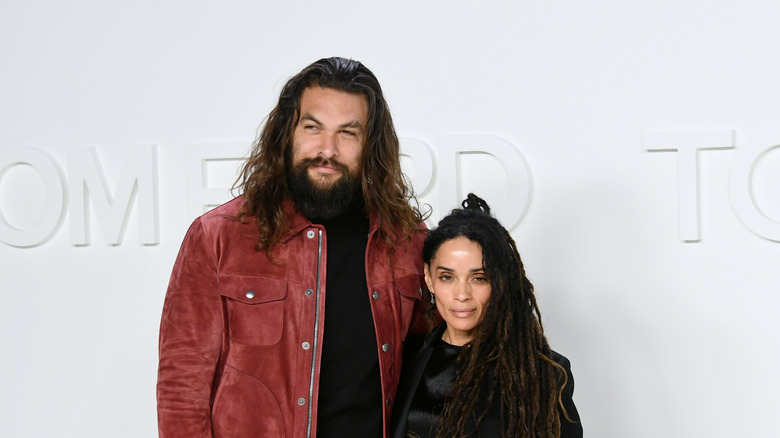 Mike Coppola/Getty Images
Okay, so we know that Jason Momoa is an open book. This is the same person who flaunted his bare butt on Instagram! There might be nothing that's off-limits for this man, except for Lisa Bonet. In 2019, the actor told Esquire that he was hesitant to put his personal life with Bonet online because "She's very, very, very private." Previously, he'd spoken about the importance of privacy around the pair's nuptials. "I thought it would have stayed [private] but some a**hole leaked it and I will find you," Momoa told ET in 2017. He went on to say that he'd hoped to keep the ceremony intimate and heartfelt, noting, "It's just a gathering of our families and celebrating our love."
This theme of privacy extended throughout the couple's divorce, too. "Mahalo to the fans and press for being generous and giving us space for the children," Momoa wrote in March 2022, when he supported step-daughter Zoë Kravitz at the "Batman" premiere. "It's hard enough separating in the public eye. We appreciate the continued privacy through these times aloha j."
Given Bonet's preference for privacy, it seems more gentlemanly versus weird that Momoa never blabbed about her on social media. It makes even more sense when you check out Bonet's Instagram, which is mostly just a collection of headshots. There aren't any photos of either of her exes (Lenny Kravitz or Momoa), and just a few of her children.
Where do Jason Momoa and Lisa Bonet stand today?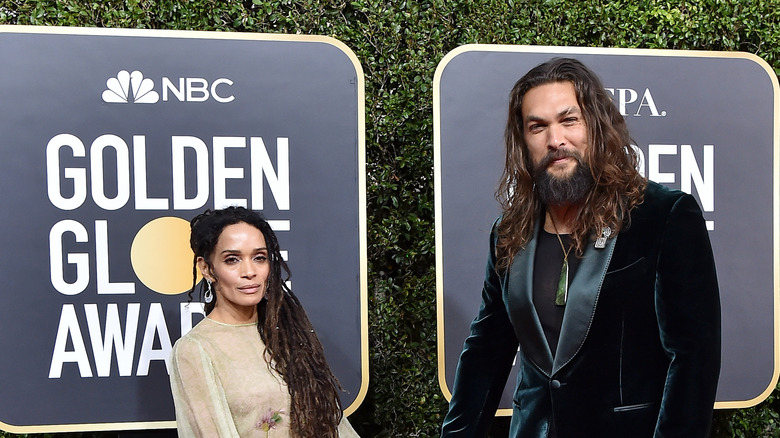 Axelle/bauer-griffin/Getty Images
In keeping with the spirit of privacy, Jason Momoa and Lisa Bonet haven't spoken much about their relationship today. Most of what we know we've gleaned from Instagram. When Bonet celebrated her birthday on November 16, 2022, her ex Lenny Kravitz paid tribute on the platform. "Happy birthday mama," he captioned a black-and-white shot of Bonet receiving cheek kisses from himself and Zoë Kravitz. Momoa then commented a string of red heart emojis (via E! News), proving that it's all love with this blended family.
That December, the action star was spotted delivering a Christmas tree to Bonet's home in Malibu, per People. "They are friends," a source dished. "They spend time together when Jason is in Los Angeles. Jason is handy and often did things around the house when they lived together." They added that the exes were "spending part of the holidays together with the kids."
Rumors are still making the rounds about a possible reconciliation, but TBH, it seems like the Internet is still in denial about the couple's split. Again, both parties have remained tight-lipped about where they stand today, but as an insider told People, "It's going to be some scandalous divorce where they trash talk each other. They are both very spiritual and believe in a higher power." In a world where so many of our favorite stars are splashed across the Internet, it's nice to see Momoa and Bonet keeping their cards close to their chest.