What Happened To Chef Tracey Bloom After Don't Be Tardy?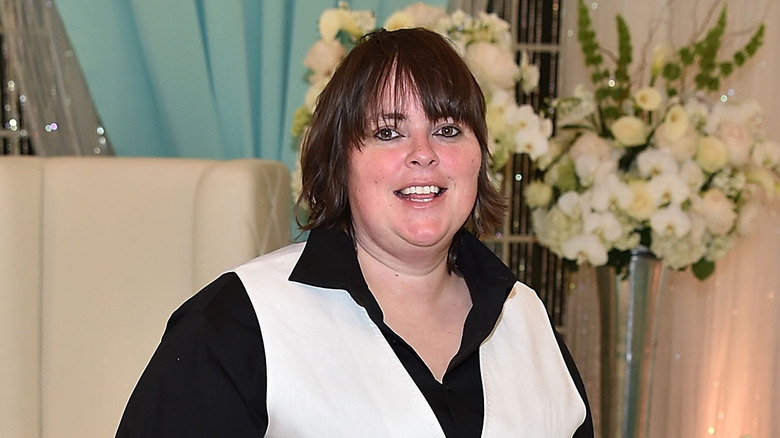 Paras Griffin/Getty Images
When "Don't Be Tardy" was canceled in 2021, Bravo fans didn't just lose weekly access to Kim Zolciak and her rambunctious family. They also lost access to the many people who helped keep their busy lives afloat. Of course, this includes Chef Tracey Bloom, who appeared on several seasons of the long-running reality show. IMDb clocks her total appearances at 43, between 2015 and 2020. Bloom served as the personal chef for Zolciak, Kroy Biermann, and their team of children. Bloom didn't just enjoy a working relationship with the family, of course. The New York native was right there to enjoy some of the family's most special moments, including Zolciak and Biermann's Season 6 vow renewal. 
The family is extremely protective of her, too. In 2017, Zolciak and her eldest daughter, Brielle Biermann defended Bloom against "fat-shaming" after a fitness bike company, Flywheel, reportedly wouldn't allow Bloom to use their services because of her weight. "It's just incredibly disheartening to know that such a large company is just disrespectful and fat-shames people," shared Zolciak to Snap Chat (via Daily Mail). "It's just so f***ing gross. Just wanted you guys to know," she added.
Given Zolciak and Biermann's ongoing divorce, it's pretty clear how the couple has been faring since their reality show was taken off the air. But how has Bloom been managing? Here's everything you need to know about the beloved chef's personal and professional endeavors since leaving Bravo.
Chef Tracey Bloom is still expanding her cooking empire
Chef Tracey Bloom has continued to flourish since leaving the chaotic world of reality television. For starters, Bloom has a YouTube channel where she posts her mouth-watering recipes. Bloom posted most of her uploads around two years ago, which coincides with the end of "Don't Be Tardy." She has more than 4,500 subscribers. Bloom authored a cookbook titled, "Cooking in Full Bloom," which she released in September 2022. "HERE IT IS," Bloom wrote on Instagram. "THIS HAS BEEN SO HARD, FUN AND AMAZING. THANK YOU FOR ALL THE KIND WORDS AND SUPPORT. PLEASE SHARE AND GET YOUR COPY TODAY. You can even personalize it and get your name or someone else's printed in the book. Woo!!!! Oh link in bio."
In November, Bloom conducted live cooking demos to promote the cookbook. She also hosts virtual cooking classes online. One year earlier, in  August 2021, Brielle Biermann revealed that she and Bloom were trying to open a restaurant together. "Tracey and I have been trying to but (sic) this little spot right around the corner of my house for years ... to turn it into our own pizza and burgers restaurant because we know what people want," said Biermann on the "S'More Date" podcast (via Reality Blurb). "It's not fine dining, I mean, it could be, but we kind of like burgers, and hot dogs, and pasta." So far, they've yet to secure a location. It's unclear if she still cooks for the Zolciak-Biermann family.
Tracey Bloom has fully embraced motherhood
It's been more than five years since Tracey Bloom announced that she had become a mother. "This has been the best year of my life!! HAPPY 1st BIRTHDAY SON #hisnameisKANNON," Bloom posted to Instagram alongside videos of her pride and joy. Despite Bloom's obvious contentment, she wasn't always sure she wanted to raise a baby. "One of the reasons I decided to become a mother was because of Brielle [Biermann]," Bloom shared with Bravo. "Brielle used to always say, 'You'd be a great mom.' And then when the opportunity arose to become a mom, I was like, thumbs up."
Well, it seems that Biermann was right! Over the past few years, Bloom has totally excelled at the whole parenting thing. Bloom celebrated Kannon's fifth birthday on Instagram. She wrote, "HAPPY 5th BIRTHDAY @kannonbloom you are EXHAUSTING. But always smiling. Always happy And always playing a prank or a joke. #mortalkombat is his theme song. He's obsessed. You're the only person that I've ever dressed on the regular. The only person who's nose and butt I've wiped on the regular. The only person I've had to make bedtime deals on the regular. You're also the only person I want to love on the regular. You are so beautifully exhausting and I LOVE every minute of it."
And while she regularly treats Kannon to fun adventures, he recently got an extra special treat when they visited their local fire station.