Jenna Bush Hager Breaks Down In Tears Over Hoda Kotb On Air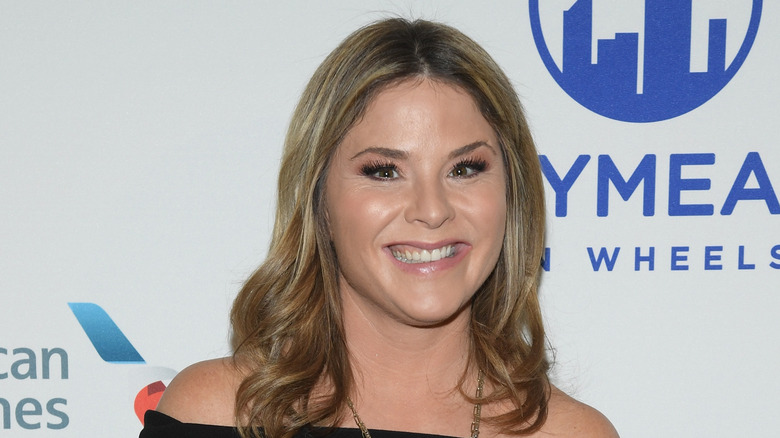 Gary Gershoff/Getty Images
Anyone who watches the fourth hour of "Today" knows that Hoda Kotb and Jenna Bush Hager are incredibly close. Sure, it was sad when Kathie Lee Gifford left the popular hour of the series, but Hager made the transition pretty simple for fans and Kotb, seeing as she had filled in plenty of times when Gifford was away. Over the past few years, fans have gotten to see Hager and Kotb's sweet on-air relationship, and it's safe to say that they are genuinely good friends. 
In October, Hager offered to pay matchmaker for Kotb on a segment of the series, and what true friend doesn't help a sister out when it comes to love life and dating? "I want to set you up," Hager told Kotb on a segment, and Kotb seemed down for it. "I want to be set up," she replied back before Hager added that she was totally game for the challenge. The two also go out of their way to beam over their friendship on social media. "Happy three years to the greatest @hodakotb!! I love you as much as YOU love NOLA and crawfish and Alicia Keys. Thanks for being the most generous and open-hearted partner," Hager wrote in a sweet Instagram post in April 2022 to celebrate their work anniversary.
There's no doubt that Kotb and Hager have also shared plenty of laughs and tears, like when Hager got teary-eyed when explaining how Kotb helped her get her big break. More recently, the pair shared another emotional exchange.
Jenna Bush Hager regrets not being there for Hoda Kotb
It's not unusual for tears to be shed during the fourth hour of "Today," and that's precisely what happened on May 10. Jenna Bush Hager and Hoda Kotb discussed the notion of being brutally honest, and that's when Hager got brutally honest about a situation that was tough on her. "When Hoda's daughter wasn't feeling well, I just wasn't there for her the way I wanted to be," Hager explained to Hoda Kotb and viewers at home. She continued, "I didn't know how to be, and I felt terrible about it. But I didn't know what to do, so I just said it. I said, 'I feel like I haven't been there for you.'"
Kotb appreciated that Hager was so honest about things, and she also got emotional in the exchange. "It was, first of all, one of the most beautiful statements. You've had so many beautiful statements, and it touched me deeply, and it meant everything to me that you said that," she told Hager, adding that she knows Hager "inside and out." The pair ended the exchange by sharing how good it feels to tell the truth.
"Today" posted the video on their YouTube page, and several fans commented to express their love for Kotb and Hager's relationship. "Great discussion, and I love honesty and trust. The relationship between the two is admirable," one person wrote. "Definitely appreciate this conversation. There's a way to deliver a message without being hateful," another added.
Jenna Bush Hager's love for Hoda Kotb runs deep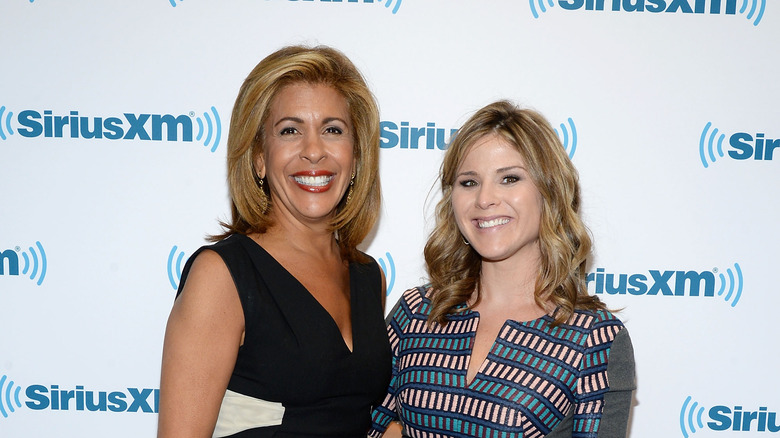 Ben Gabbe/Getty Images
As Jenna Bush Hager mentioned, Hoda Kotb's daughter Hope was hospitalized back in February 2023, resulting in Kotb stepping away from the show for a few weeks. At the time, Kotb kept the situation under wraps while colleagues gave heartfelt updates regarding the anchor's situation, including Hager. "We just want to let you all know that we heard you, and Hoda is ok. She's just got a family health matter that she's been dealing with," she said, per Us Weekly. Fortunately, Hager's partner in crime returned on March 6. "My youngest, Hope, was in the ICU for a few days, in the hospital for a little more than a week. I am so grateful she's home. She is back home," the NBC news anchor revealed to Savannah Guthrie.
Following Kotb's return, Hager opened up to ET about the impact her co-host's absence had on her. "Hoda makes my life full. And it's so interesting, but you don't really know until somebody's kind of gone, unexpectedly, how much you depend on them," she revealed to the news outlet. "I mean, I knew I adored her, but I wrote her when she came back, and I said, 'I don't even know if you know, how much you impact my life.'" Towards the end of her statement, Hager expressed her gratitude for having a "partner in television" that understands the importance of family and encourages her to appreciate "every single moment."