No One From Britney Spears' Entire Family Attended Her Wedding To Sam Asghari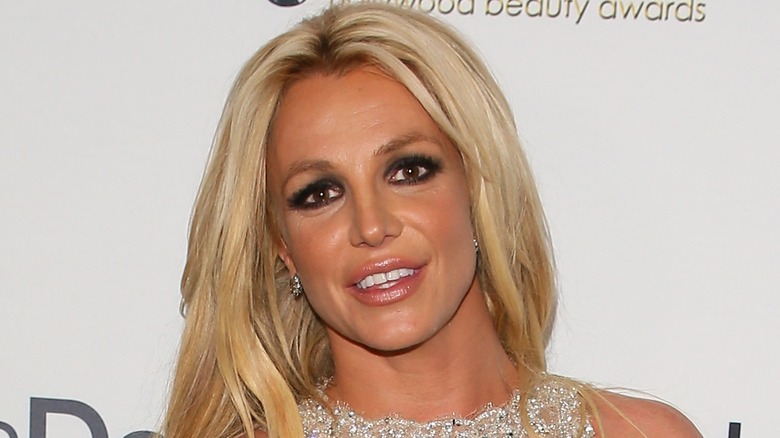 Jean Baptiste Lacroix/Getty Images
Some close relatives were not present for Britney Spears and Sam Asghari's wedding day. Back in September 2021, Spears posted via Instagram that she and Asghari had become engaged, which came after almost five years of dating, per Us Weekly. The couple tied the knot in a June 2022 ceremony that welcomed 60 guests, People reported. The star-studded gathering included attendees such as Selena Gomez, Paris Hilton, Madonna, Kathy Hilton, and Drew Barrymore. A source told the news outlet how Spears had been looking forward to hosting the big day.
"It's a huge deal to her that she is finally able to get married," the source said. "She wants it to be perfect." Spears took to Instagram to share a photo of herself and Asghari in their wedding attire, calling the occasion "the most spectacular day." The pop icon added, "The ceremony was a dream and the party was even better !!! So many incredible people came to our wedding and I'm still in shock !!!" Among the family members who were at the ceremony were Asghari's sisters, Maddie and Fay, as Newsweek wrote. However, it's been noted that not all relatives were there for the event.
Britney Spears' sons were reportedly her only family members invited to her wedding
Britney Spears' family members were not present for her wedding to Sam Asghari. When Spears and Asghari got hitched in June 2022, Us Weekly confirmed that no family members from Spears' side attended. In a now-deleted Instagram post, Spears' brother, Bryan, said he wasn't able to make the ceremony because it conflicted with his daughter's fifth grade graduation, according to Page Six. Spears then said via social media that Bryan was not asked to attend the ceremony, E! News wrote. "You were never invited to my wedding," Britney said in the since-deleted post. She went on to state, "You hurt me and you know it !!!" Additionally, Spears' parents and sister, Jamie Lynn, didn't receive an invite, a source previously said to E! News.
In a Daily Mail interview from September 2022, it was revealed that Spears' children, Jayden and Preston, were invited to the nuptials. However, Jayden detailed that he and Preston didn't go due to the circumstances. "At the time it just wasn't a good time to go. I'm not saying that I'm not happy for her," Jayden said. 'I'm really happy for them, but she didn't invite the whole family, and then if it was just going to be me and Preston, I just don't see how that situation would have ended on good terms." As Spears and Asghari are still going strong, Spears is addressing reports about her post-conservatorship life.
Britney Spears does 'what makes her feel most alive'
Britney Spears is responding to media headlines. In March 2023, Spears and her husband, Sam Asghari, were separately pictured without their wedding rings on, per the Daily Mail. Following this news, a source opened up to Us Weekly, saying, "Things between Britney and Sam are going great, and they couldn't be happier. They have an amazing marriage and love each other deeply."
In May 2023, Billboard announced that a special called "TMZ Investigates: Britney Spears: The Price Of Freedom" would debut on May 15. "Details about [Spears'] deeply troubled marriage, family estrangement, alarming behavior, failed intervention and how she continues to be an enduring force in the music industry" are to be included, a press release for the project stated. TMZ later reported that Spears has been drinking caffeinated beverage like Red Bull and coffee "by the gallon" lately. Spears then addressed this claim on Instagram. "Sorry but I never stay up late with Red Bull !!! It is absolutely the worst drink ever ... I make jewelry, candles and doll clothes ... Okay, so what ???" Spears said. "I may be a loser but I do what makes me feel most alive and gives me interest but I don't like people in media bullying me and saying hateful things." The "Toxic" singer followed this message up with another social media post displaying the quote, "If you don't honor your needs, how could anyone else?"