Chloe Lattanzi's Husband: Who Is Olivia Newton-John's Daughter Married To?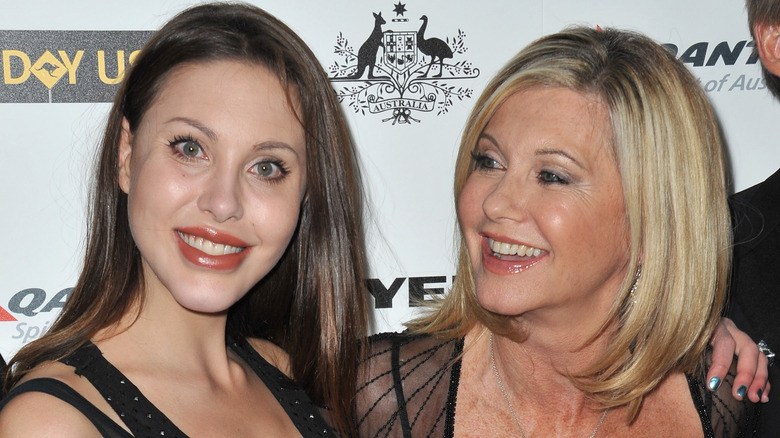 Featureflash Photo Agency/Shutterstock
Olivia Newton-John's daughter, Chloe Lattanzi, has found her life partner. As Hollywood Life wrote in 2022, Chloe was born to Newton-John and Matt Lattanzi in 1986. Like her famous mom, Chloe sings, acts, and dances. Back in 2021, Newton-John told The Australian Women's Weekly that Chloe was engaged, and the pandemic had delayed the nuptials. "I think she will replan it, but we haven't done it yet," Newton-John said. Chloe then shared on Instagram in 2022 that she and her partner were wed "years ago in the Bahamas" with her mother officiating the ceremony.
 Following Newton-John's tragic death in 2022, Chloe opened up about a vow she made to her mother in a March 2023 Today interview. "That was my promise to my mom that I would soar, and fly, and be happy," Chloe said. That same month, Chloe opened up to People about the "Grease" icon's passing. During this interview, the news outlet detailed that Chloe had been leaning on the people closest to her such as her father, her stepfather, and her husband, James Driskill, while grieving. But who is Driskill? Lattanzi's husband is an instructor in a field very different from his wife's show business life.
Chloe Lattanzi's husband is a martial arts coach
James Driskill, Chloe Lattanzi's spouse, is passionate about his work in the field of martial arts. As stated on his Facebook page, Driskill is originally from Texas and now resides in California. He was previously a cannabis grower and a cultivation specialist, and he is currently a martial arts teacher who has earned a third-degree black belt. In September 2022, Driskill celebrated the success of one of his pupils via Instagram. "Congrats to my friend and student @rocksonsalgado for earning his black belt last night," Driskill wrote. "Thank you @originalsjiujitsuacademy for having me out for the seminar and it was awesome to see everyone who came."
Also in September 2022, Driskill was shown in a social media post instructing students on jiu-jitsu at Dynamix MMA, a California martial arts school. "Thank you @jamesdriskill for leading our noon Jiu Jitsu class today!" the Dynamix MMA account wrote. Aside from his work, Driskill takes time out to have fun with Lattanzi. In March 2023, Driskill shared a video on Instagram of himself playing a punching bag game while visiting an arcade with Lattanzi. In response, Lattanzi commented, "Dats my maaaaayyyynnnn." The two additionally experienced positive moments with Lattanzi's mother, Olivia Newton-John, prior to her saddening death.
Olivia Newton-John was 'always so generous and kind' to her son-in-law
Chloe Lattanzi's husband, James Driskill, enjoyed spending family time with Olivia Newton-John. In 2020, Driskill posted a group photo on Instagram from backstage while supporting Lattanzi as she participated in Australia's "Dancing with the Stars." Newton-John and her husband, John Easterling, were among those in the picture. Days later, Driskill shared a sweet image of himself sitting at a dinner table with Newton-John, Easterling, and other loved ones, writing, "Dinner with fam." 
August 2022, Driskill offered a loving tribute to Newton-John after the legendary performer's death. "I am so lucky and grateful that I had the opportunity to learn from such an amazing woman," Driskill wrote on social media alongside a photo of him, Lattanzi and Newton-John. He went on to state, "You were always so generous and kind and I'm filled with joy thinking about spending the rest of my life with your beautiful daughter who also teaches me daily about how to be a more compassionate and forgiving man." When she chatted with Us Weekly back in 2021, Lattanzi touched upon her devoted relationship with Driskill, saying the two have "been married in spirit since the moment [they] met."