People Drake Absolutely Cannot Stand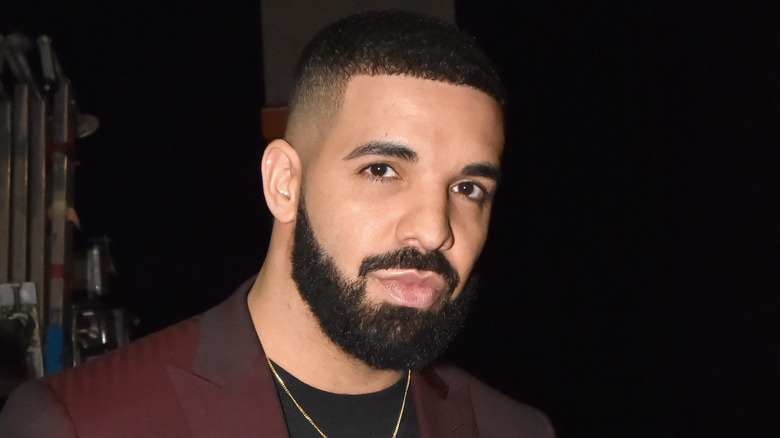 Jeff Kravitz/bbma2019/Getty Images
The following article includes references to domestic violence.
Drake is easily one of the most successful artists on the globe these days, so he's often given praise from fans, peers, and music critics alike. But that adulation shares the same space with criticism, oftentimes from other rappers. Meek Mill was one of those naysayers, and he infamously had a bitter back-and-forth with the Canadian artist in 2015. But if you ask the internet, Drake arguably won the battle after delivering not one, but two diss songs — the second one being the much-talked-about "Back to Back," in which it's been said that Drake destroyed the Philadelphia rapper by using a bunch of well-worded insults and punchlines.
But who else has Drake defended himself against? Better yet, who are the people that he doesn't seem to like all that much? There are probably more foes than one might think, considering a lot of folks have had something negative to say either about Drake's music or him as an artist over the years. One said person was Florida rapper Denzel Curry, who once claimed on Twitter that Drake's 2021 album "Certified Lover Boy" wasn't up to snuff even though he has the money to hire the best studio musicians. Ouch. Curry also tweeted that he hated the record's artwork. Drake never responded to him, as of this writing, but it wouldn't be very surprising if he didn't care for Curry all that much, or at least for Curry's opinions. 
For now, let's take a look at the people it seems Drake absolutely can't stand.
Pusha T told the story of Adidon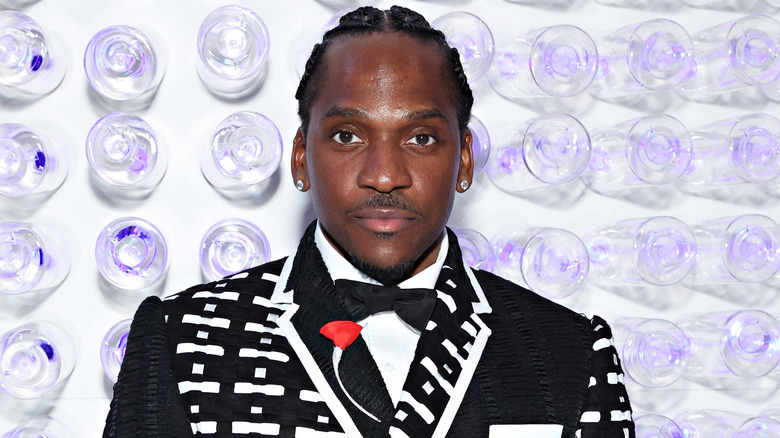 Cindy Ord/mg23/Getty Images
Virginia rapper Pusha T and Drake have been archenemies pretty much since the former "Degrassi" star's music career really took off. These two have been accused of taking subliminal shots at each other in songs since the early 2010s, but things came to a head in 2018, when Pusha dissed Drake on his cut "Infrared." Basically, he brought up an accusation that's plagued Drake for some time: that he allegedly uses ghostwriters and specifically hired rapper Quentin Miller to help him write lyrics. Drake swiftly responded to Pusha on his song "Duppy Freestyle," mentioning his foe's then-fiancée and now-wife. "Look, holla at me when you multi-million / I told you keep playin' with my name / And I'ma let it ring on you like Virginia Williams," rapped Drake.
Pusha later responded on "The Story of Adidon," where he not only made light of Drake's friend and producer, Noah Shebib, having multiple sclerosis, but also doubled down on his ghostwriting claims and revealed that Drake had a secret child, son Adonis. During a 2019 interview with Rap Radar, Drake addressed the feud, saying he had no interest in ever fixing things with Pusha.
"I was changing as a person," said the Canadian artist. "... It's just not a fun life when you have to just look over your shoulder all the time. ... It's not a good way to live. In that particular situation that you're talking about, no, I have no desire to ever mend anything with that person." Drake added, "There is no turning back." 
Kanye West was accused of releasing private info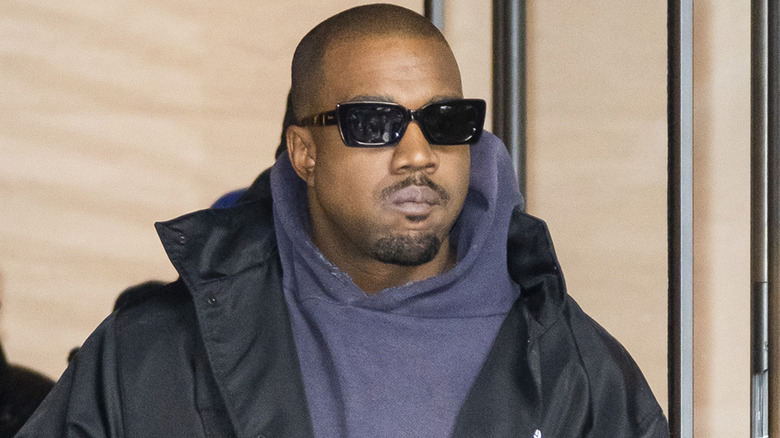 Gotham/Getty Images
The relationship between Kanye West and Drake has been through a lot. At first, Drake was a huge fan of the Chicago rapper. Plus, it was once said they were working on a joint album together. The album never surfaced ... but a major crack in the rappers' relationship did. It happened in November 2016 at the Sacramento stop of West's "Saint Pablo Tour," when Ye seemed to complain about radio always playing Drake songs. And so, the "God's Plan" rapper responded.
"I went from being like working on a project with him, to him sorta publicly s****ing on me and DJ Khaled for being on the radio too much," Drake told DJ Semtex in 2017. Once Pusha T released "The Story of Adidon" the following year, Drake and West's relationship was essentially caput. The "Degrassi" alum later accused West of leaking the secret child info to Pusha after playing Ye "March 14," a song about fatherhood. (Pusha, by the way, used to be the president of West's G.O.O.D. Music record label.)
"I'm in Wyoming, I play him 'March 14,'" Drake claimed on LeBron James' HBO show "The Shop" that October. "I send him a picture of my son. I tell him I'm having trouble with my son's mother." However, West previously denied the allegation while speaking to Chicago's 107.5 WGCI. While Rap-A-Lot Records co-founder J. Prince managed to get the rappers together in 2021 at the Free Larry Hoover Benefit Concert, Drake and West still don't seem to be friendly with each other these days.
iLoveMakonnen claimed he was 'threatened' by Drake's crew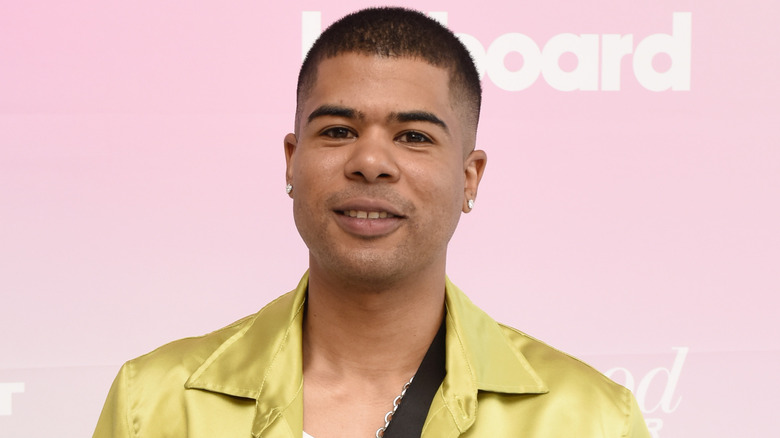 Vivien Killilea/Getty Images
iLoveMakonnen's career was on a serious upward trajectory after dropping his hit song "Tuesday" in 2014. The California native then elevated higher once Drake jumped on the "Tuesday" remix and appeared in the video. After that, iLoveMakonnen's career still wasn't done ascending, because he inked a deal with Drake's record label OVO Sound. Any logical person would probably assume the rapper-singer would be making more songs with Drake and become a longtime OVO flag waver — but the opposite occurred, with their relationship crumbling, and iLoveMakonnen leaving OVO. 
At first, in a statement shared by XXL in April 2016, iLoveMakonnen said there wasn't a beef between himself and Drake, but a freestyle on "Tim Westwood TV" that June changed that. "Motherf***ers say I got dropped ... / You know that's a motherf***ing lie / Only place I dropped is in my godd*** pants size," rapped iLoveMakonnen. Shedding more light on the mysterious situation in a 2017 interview with Fader, iLoveMakonnen alleged that Drake and his crew threatened him at an MTV VMAs afterparty in New York City the previous September, which he believed was over the freestyle. 
"I was threatened by others," iLoveMakonnen claimed. "Someone I so-called look up to, saying, 'We gon f*** you up the next time we see you.'" He continued, "When I'm rapping, people think I'm throwing shots. I ain't rapped no names! All I did was rap!" As of this writing, iLoveMakonnen is still opening up about his rocky history with Drake, though the Canadian rapper has yet to publicly respond.
DRAM was allegedly assaulted at Coachella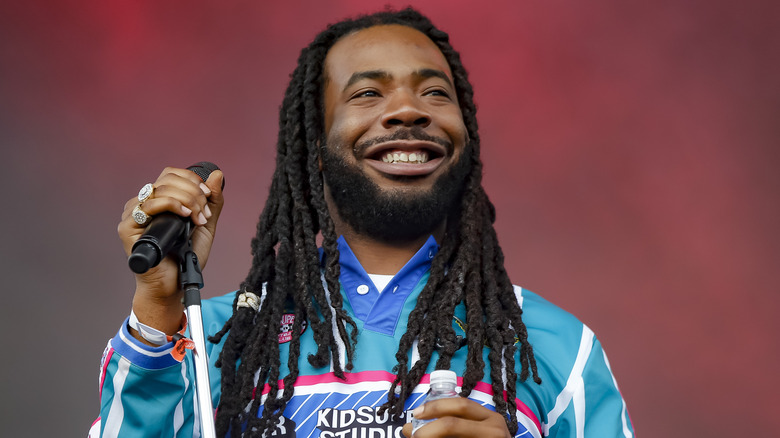 Michael Hickey/Getty Images
In 2015, DRAM had a hit song on his hands with "Cha Cha," but he'd probably say its success was bittersweet. That has to do with the Virginia singer publicly accusing Drake of stealing the song to make his cut "Hotline Bling," due to the admitted similarities between the two tunes. "Yeah, I feel I got jacked for my record...But I'm GOOD," tweeted DRAM that October. For his part, Drake told Fader he'd simply been inspired by "Cha Cha's" beat. However, DRAM later claimed to "The Breakfast Club" that the success of "Hotline Bling" hurt "Cha Cha" from taking off even more.
Now, let's fast forward to 2017, because something major went down between the two when they saw each other at Coachella: DRAM was allegedly assaulted by Drake's crew. Drake was silent about the supposed altercation in the beginning, but he mentioned the claims in his 2022 collaboration with Lil Yachty. "Tried to bring the drama to me / He ain't know how we cha-cha slide," Drake stated on "BackOutsideBoyz."
DRAM was undoubtedly miffed after hearing the line and responded on Twitter, claiming in part, "His bodyguards went to town on the kid. ... He ain't touch me, he's a b***h, you know that." Later that day, DRAM spoke to TMZ and gave more details of the alleged Coachella incident, recalling, "He was DJing at a party, [and] I approached him. Like, 'Hey bro, we need to talk.' ... We stepped outside, it was like a whole army of ... 15-something guys."
Charlamagne tha God has been a longtime Drake critic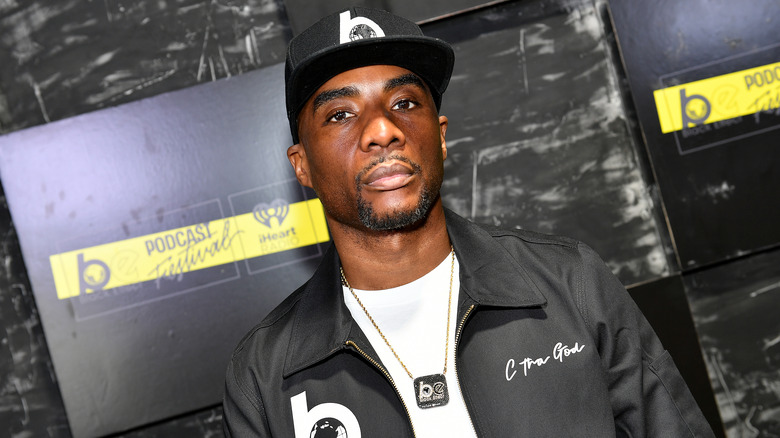 Paras Griffin/Getty Images
Charlamagne tha God has often been very critical of Drake and his music. Like in 2013, when he complained to "VladTV" that Drake was apparently far too emotional. Two years later, the radio host told "VladTV" in a separate interview that the Canadian rapper apparently went looking for him in Houston once to confront him. Also in 2015, Drake alluded to Charlamagne's continued criticism in his aforementioned Meek Mill diss song "Back to Back." In short, Drake admitted that his back-and-forth with Mill caused him to act out of character, so he promised via rap to extend an olive branch and buy Charlamagne some bottles of champagne. Drake then lived up to his promise by delivering six bottles of Dom Perignon to him.
But that doesn't mean Drake seems all that fond of the New York radio personality, especially after Charlamagne talked about being unenthused about the rapper's then-forthcoming "Certified Lover Boy" album. "Drake has given us so much music that I don't know if he has another gear," said Charlamagne on his podcast "The Brilliant Idiots" in 2020, adding, "So therefore, I'm not looking forward to anything. ... Let me ask y'all a question: 'Are we still in the Drake era?'" 
Later, some fans thought that Drake was dissing Charlamagne on one of the album's songs "The Remorse," rapping, "From the bottom to the top, man, what's it like in the middle? / From the lemon-faced radio host that love to be bitter / To my dogs in the game who wasn't pick of the litter."
Megan Thee Stallion took offense to Drake's accusation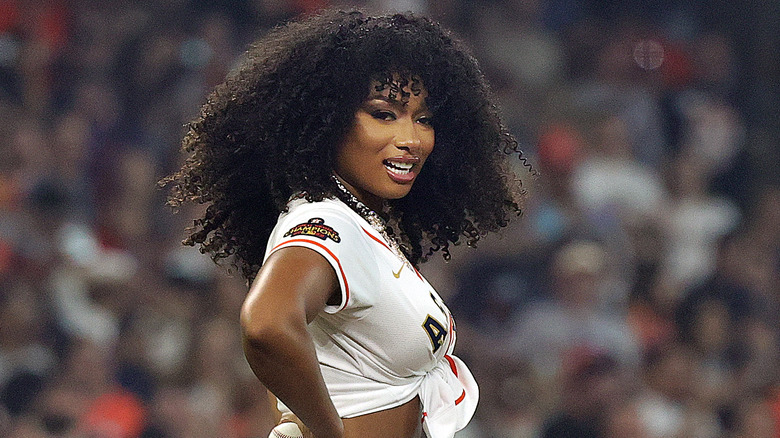 Bob Levey/Getty Images
In December 2022, Canadian rapper Tory Lanez was convicted of assault with a semiautomatic firearm, having a loaded, unregistered firearm in a vehicle, and discharging a firearm with gross negligence, as reported by AP News. These three felony charges, for which Lanez faces over 20 years behind bars, are related to an incident in which the rapper shot Megan Thee Stallion in her feet in July 2020. As of this writing, Lanez's sentencing is scheduled for June 2023.
While Lanez was ultimately found guilty, there were some — particularly in the rap game — who didn't believe Megan Thee Stallion's accusation. Based on a couple of lines delivered on the November 2022 song "Circo Loc" from his "Her Loss" album with 21 Savage, one of those people seemed to be Drake. "This b***h lie 'bout gettin' shots, but she still a stallion / She don't even get the joke, but she still smiling," Drake rapped. He appeared to come down on her music, as well: "Shorty say she graduated, she ain't learn enough / Play your album, track one, 'kay, I heard enough." 
While Drake was blasted by many for these "Circo Loc" lines, Megan Thee Stallion also responded to the apparent digs in a series of tweets, writing in part, "Stop using my shooting for clout ... Since when tf is it cool to joke abt women getting shot! ... Ready to boycott bout shoes and clothes but dog pile on a black woman when she say one of y'all homeboys abused her."
If you or someone you know is dealing with domestic abuse, you can call the National Domestic Violence Hotline at 1−800−799−7233. You can also find more information, resources, and support at their website.
Alexis Ohanian responded to a Drake insult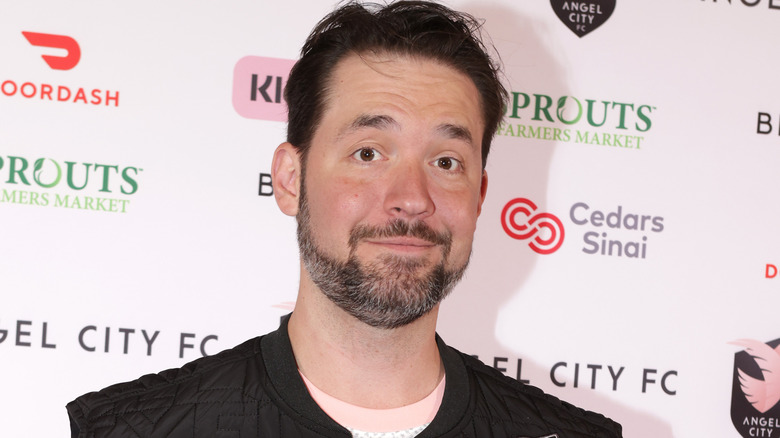 Katharine Lotze/Getty Images
Drake clearly had a few things to get off his chest on the "Her Loss" album. Apart from seemingly dissing Megan Thee stallion, he was also accused of taking a dig at Bronx rapper Ice Spice. While one could argue that those insults possibly weren't aimed at the two women, considering Drake didn't say their names, the same can't be said for Serena Williams' husband, Alexis Ohanian. Indeed, the Canadian rapper made it clear exactly who he was referring to on the song "Middle of the Ocean." "Sidebar, Serena, your husband a groupie / He claim we don't got a problem but / No, boo, it is like you comin' for sushi / We might pop up on 'em at will like Suzuki," spit Drake.
The lyric could have to do with the rapper and tennis star supposedly dating for a short time back in the day. And it's worth noting that Drake previously seemed to hint at being unhappy with Williams' 2016 engagement to Ohanian on "Nothings into Somethings." For her part, Williams stayed mum about the groupie line. However, the Reddit co-founder immediately responded via Twitter, though he appeared to suggest that Drake's claims didn't bother him all that much. "The reason I stay winning is because I'm relentless about being the absolute best at whatever I do — including being the best groupie for my wife & daughter," Ohanian wrote.
Kendrick Lamar made Drake stand his ground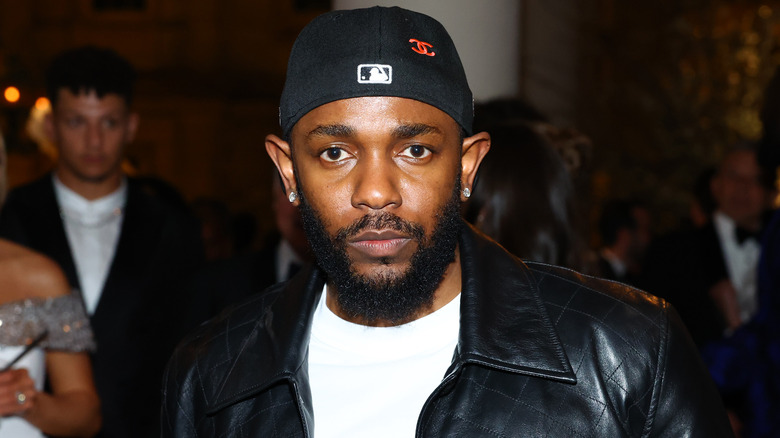 Arturo Holmes/mg23/Getty Images
As of this writing, Drake hasn't flat-out said that he dislikes Kendrick Lamar — but for years, it's been rumored that these fan-favorite rappers don't care all that much for each other. That's despite the two collaborating on Lamar's 2012 song "Poetic Justice." Much of the beef talk started the following year, after people heard Lamar's verse on Big Sean's "Control," a song in which the California native called out several rappers, saying he'll destroy them at the rap game. Drake, as you may have guessed, was one of the artists mentioned, and he was accused of responding on his 2013 song "The Language." 
When the Canadian wordsmith spoke about the cut with Vibe, however, he explained that it was only partially inspired by "Control." "'The Language' is just energy. What it was inspired by, I'm sure that, and other things," said Drake (via HipHopDX). "It's just me talking my s***. I never once felt the need to respond to that record. The sentiment he was putting forth is what he should have. Of course, you wanna be the best. Where it became an issue is that I was rolling out an album while that verse was still bubbling, so my album rollout became about this thing. ... I also stood my ground as I should." 
Despite Drake calling Lamar a "king" at his OVO Fest in 2014, per MTV News, the two have since been accused of sending more subliminal shots at each other in their lyrics, with talk of their apparent beef continuing.
Drake denied Treeshiana's claims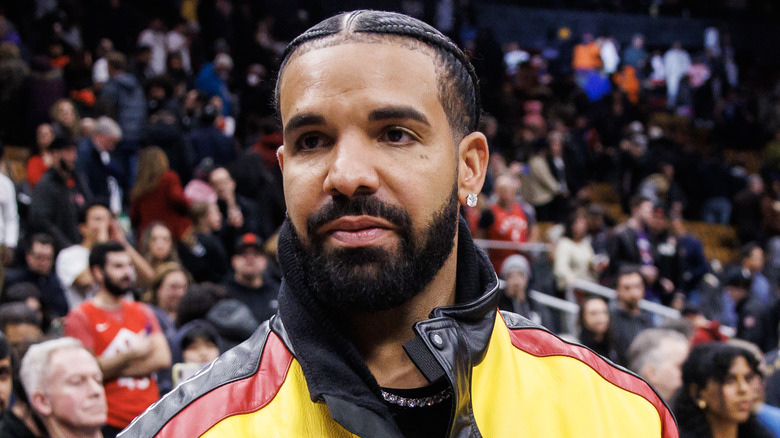 Cole Burston/Getty Images
It's probably safe to assume that Drake doesn't like an influencer named Treeshiana all that much. In December 2022, she hopped onto her Instagram Stories and made some surprising claims about an alleged romantic tryst. 
"Last month, Drake had flew me out," she began. "So I had made a video and I posted it on my Instagram Story. It was a video of me inside of a purple lingerie set. And I had tagged Drake. ... So he had texted me ... and was like, 'What's your number?' with the heart eyes emoji, so I sent my number." From there, Treeshiana claimed that the two chatted for a while before Drake purchased a plane ticket and invited her to his home three days later, where she reportedly signed an NDA, he supposedly asked whether she wanted kids, and they allegedly engaged in unprotected sex. However, the social media star then alleged that the rapper kicked her out after she tried to record him in bed. 
Of course, Drake could've just ignored Treeshiana's allegations, which might've made the story go away. But there was something that apparently got under his skin about her alleged tale, and he sent a message on his own Instagram Story. "Never met. Never spoke. Never flew," Drake wrote. "I hope people start doing more with the one life we are given s*** is sad out here."