Royals Stay Silent Amid Harry And Meghan's Car Chase Controversy (But Whoopi Goldberg Sounds Off)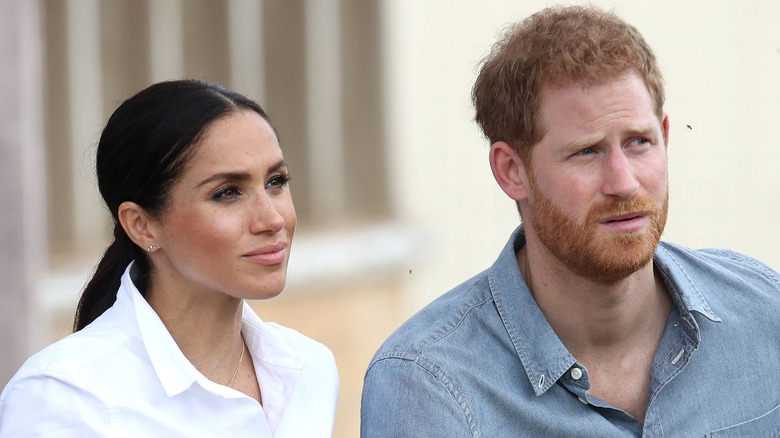 Chris Jackson/Getty Images
According to new reports, Prince Harry and Meghan Markle's return to the spotlight could have ended in death, but not everyone's convinced the situation was as serious as it has been made out to be. The Duke and Duchess of Sussex spent the end of 2022 promoting two widely reviewed projects: Prince Harry's memoir and their Netflix documentary, "Harry & Meghan." Both creative projects gave the devoted couple a chance to curate and present their own narrative to the world, as opposed to letting the media have the last word — a recurring sore spot for the former royals.
Fans of Meghan and Harry might have assumed that this momentum would continue into 2023, resulting in even more candid revelations about their personal life, but it hasn't. Until recently, this year has pretty quiet where the couple is concerned, aside from speculation about whether or not they would attend King Charles III's coronation, of course. Harry made the trip across the pond, while Meghan stayed home with their young family, per Variety.
However, the Duke and Duchess of Sussex traveled from their California residence on May 16 to celebrate Meghan's Women of Vision award in New York City, according to Page Six. However, the night turned dangerous when, upon their departure, photographers chased them and Doria Ragland, Meghan's mother, in a "near catastrophic car chase," according to a statement from the couple's team. As the royal family opts not to speak out about the incident, Meghan and Harry's claims are starting to garner suspicion. 
People are totally side-eyeing Meghan Markle and Prince Harry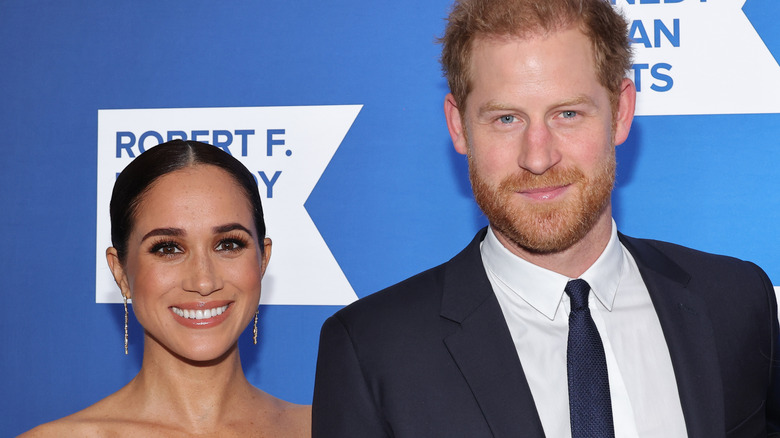 Mike Coppola/Getty Images
Some people just aren't buying Prince Harry and Meghan Markle's version of skirting a photographer-induced car crash, which has garnered eerie comparisons to the manner in which Harry's mother, Princess Diana, died. Unfortunately, it's not just their detractors who are suggesting the couple may be overexaggerating. As stated above, the royal family, from whom Harry and Meghan are still estranged, have not commented on the couple's encounter, according to Page Six. The outlet also reported that they haven't so much as picked up a phone to check on their relatives, which could suggest they don't believe the couple was actually in danger. (Or, you know, they're still angry over their public spats.)
Either way, the royal family is definitely not backing them at the moment. Plus, suspicion over the incident seems to be building over time. Sukhcharn Singh, who drove the cab the couple switched to midway through the chase, offered up a considerably less dangerous timeline that definitely hasn't helped their case. "They kept following us and were coming next to the car," the driver shared with The Washington Post. "They took pictures as we stopped and were filming us... I don't think I would call it a chase, I never felt like I was in danger. It wasn't like a car chase in a movie. They were quiet and seemed scared but it's New York — it's safe."
Multiple celebs have questioned Meghan and Harry's story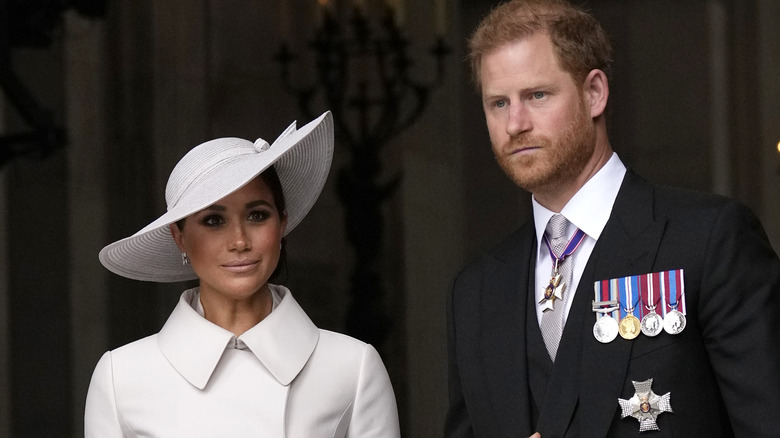 Wpa Pool/Getty Images
Despite devotion from their fans, Prince Harry and Meghan Markle aren't exactly universally loved, with some of their loudest detractors being their famous peers. Whoopi Goldberg dug in on "The View," describing her own experiences with photographers. "I've been chased, I know what they do," she said. Ultimately, Goldberg criticized Harry and Meghan's spokesperson for their potentially misleading word choice. "[Y]our credibility is going to get cut in half, because the first thing people, New Yorkers, will say is, 'Nobody moves that fast in New York City.'"
Caitlyn Jenner wasn't sympathetic about their encounter, either, noting that she's "been party to paps following me in NY," but that it "definitely [was] not 2 hrs" and came with "plenty of evidence." Jenner's comment was in response to Megyn Kelly's commentary about the validity of Harry and Meghan's claims. "I lived in Manhattan for 17 yrs & it is not possible to have a 2hr "car chase" there," Kelly wrote. "Too many street lights/stop signs, too much foot/car traffic & hundreds of places you could safely pull over to protect yourself." 
Bethenny Frankel, on the other hand, took to TikTok to analyze the situation. "The story about Diana and the paparazzi chase, and in their Netflix show, they were showing that a paparazzi was following them and it seemed very dramatic, but it didn't look like it was actually that dramatic what was happening, meaning it didn't seem like it was a crazy, crazy car chase, and it didn't seem that dire, right?" asked Frankel, with a caption that read, "Stay home. You don't have to go to every concert & basketball game... live a private life."