Alec Baldwin Becomes First-Time Grandfather As Daughter Ireland Welcomes Child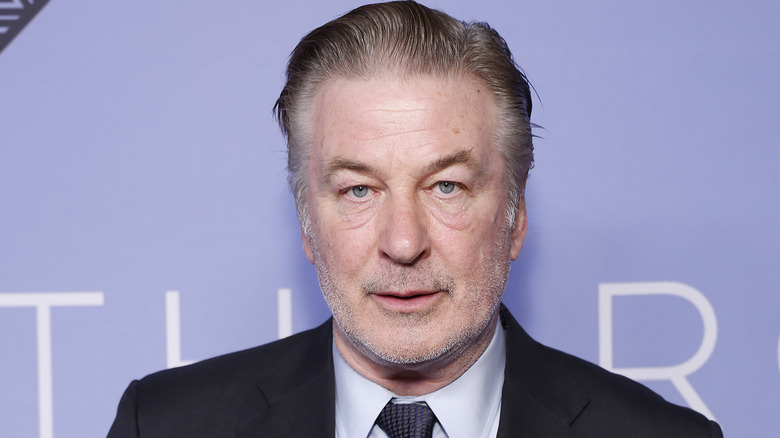 John Lamparski/Getty Images
Alec Baldwin has gone from playing "Boss Baby" to having a grandbaby! The actor's daughter Ireland welcomed a little bundle of joy in May 2023 as Baldwin officially joined the grandpa club.
On the last day of 2022, the model went out with a bang, as she revealed on social media that she was pregnant. Baldwin discovered the news from one of his other children as his wife, Hilaria, posted his reaction on Instagram. "The Departed" actor was in disbelief as he cupped his hands over his eyes and wished his daughter and her partner Andre congratulations. Hilaria captioned the post, "From all these excited tiny uncles and aunties and grandpa Alec and grandma me... We are so happy for you, Ireland and Andre...can't wait to meet the little babe."
Baldwin has had a rough couple of months as he has dealt with the repercussions of his involvement in the "Rust" shooting. However, the news of Ireland's baby has brought some joy to the actor's life — or at least we think so. After posting his youngest seven children as "reasons to carry on," many noticed Ireland wasn't included. But, don't worry, the actor eventually shared a separate post honoring his eldest child and his excitement about becoming a grandpa. He said, "We forgot Billy Preston! This one, the first one, is about to make me a grandfather. Oy." And a grandfather she made him!
Ireland Baldwin shares sweet photo with her first child
Ireland Baldwin has become a first-time mom to a beautiful baby girl! The model shared the exciting news on Instagram as she and her boyfriend Andre posed in the hospital bed with their newborn. She captioned the post with her daughter's name, "Holland."
Ireland revealed her daughter's name back in late January on the podcast, "Girlboss Radio." She said, "We're naming her Holland. I'm Ireland, so another country name because we wanted to keep that consistent." The fact that it was a country name wasn't the only reason the former model chose Holland for her daughter. Ireland revealed that she also has a strong affinity for the actor Holland Taylor — plus it didn't hurt that she simply adores the name. She said, "I've always loved that name since I was young, I just thought that was such a classy, beautiful name, so we're going with Holland."
During her pregnancy, Ireland was extremely vocal about her mental and physical struggles and once shared a post about how it has been incredibly difficult. But throughout it all, her dad, Alec Baldwin, has always been in her corner, as he commented on the post, "You are not alone." Hopefully, Ireland's struggles were well worth it with the birth of her first child. And although Alec hasn't posted about it, he's sure to be excited about becoming a first-time grandpa.