Is Andy Cohen In A Relationship Since His Split From John Hill?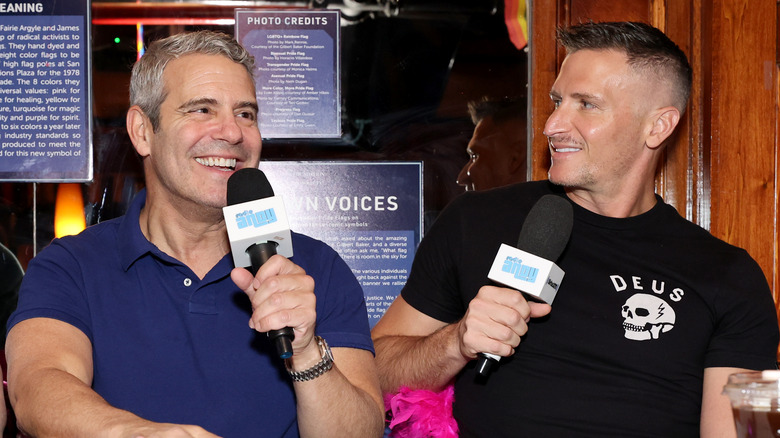 Cindy Ord/Getty Images
Andy Cohen famously co-hosts his eponymous SiriusXM radio show with his ex-boyfriend, John Hill, and fans adore their dynamic. Just one question: has Cohen ever dated someone else? 
Prior to their split, Cohen and Hill had been together for three years. In an interview on Jess Rothschild's "Hot Takes and Deep Dives," Hill revealed that their split had come soon before he hit the big 3-0, because they'd grown apart romantically. The Broadway alum is currently in his mid 40s, so it's safe to say that part of their relationship is history. However, despite that, they've made a conscious effort to stay in one another's lives — and in a very public way, at that. 
In addition to co-hosting "Andy Cohen Live," the exes also work together on "Watch What Happens Live," with Hill making occasional appearances and producing the show behind the scenes. Plus, as noted by Bravo's "The Daily Dish" during Hill's 2020 comedy show, "The Feels Live," he invited Cohen onstage to participate in "The Exlywed Game." In addition to cracking jokes about their time together, Cohen even gave Hill's boyfriend at the time a shout-out. "I love what he brings out in John," Cohen mused. He also quipped that he was grateful to see Hill in love — with an ever-so-shady dig in tow. "My life is easier when John has love," he said. That may be so, but our question remains. More than a decade after their breakup, has Cohen gone on to date anyone else? 
He dated Clifton Dassuncao for two years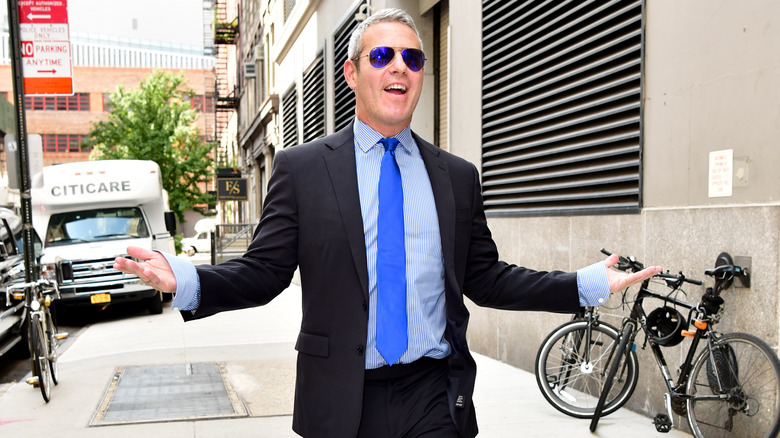 James Devaney/Getty Images
Despite being one of the most recognizable faces in reality TV, Andy Cohen is pretty quiet about his love life. It's not all that surprising, then, that during his two-year relationship with Clifton Dassuncao he kept things fairly hush.
Well, most of the time, anyway. Speaking to "The Daily Dish" back in 2016, Cohen revealed that both his dog, Wacha, and his bestie, Anderson Cooper, were on board with the relationship. "I remember saying to Anderson, like 10 months ago, that Wacha really likes this guy, and Anderson said, 'Dogs always know. You have to listen to your dog.'" The same year, Cohen alluded to the relationship once again. In his memoir, "Superficial: More Adventures from the Andy Cohen Diaries," he described Dassuncao (unnamed in the book itself) as "a Brazilian version of Andy Samberg." And, TBH, after seeing pictures of him via Twitter, we get it. However, Dassuncao's striking resemblance to the "Saturday Night Live" alum played second fiddle to what really made him stand out to Cohen. As the Bravo exec told ET in 2017, on top of being super easy to get along with, "He's smart, he's his own person, and very cute." 
Sadly, the relationship ended the following year. Cohen has never revealed a reason for the split — opting instead to confirm that it had happened. "Yes, I am single again," was all he offered up to Entertainment Tonight. 
Becoming a parent changed everything
Since Clifton Dassuncao, Andy Cohen seems not to have been in any long-term relationships. Sure, given his penchant for privacy, there is a chance he's just kept his love life under wraps. However, as Cohen himself pointed out in an episode of "The Howard Stern Show," much of his singledom can be attributed his new season of life as a parent. "That's taking up noise in my head, the dating thing, because I'm like, 'Oh, my God, I'm not only dating someone, but ... obviously, there's going to be a point where I'm like, 'I want you to meet my kids,'" he explained. Cohen added that he had dated someone for a few months who had met his kids. Ironically, it turned out that his celebrity status had been the bigger issue for the then-suitor — but still, his concerns remained.
That's not to say Cohen isn't interested in meeting someone, though. Au contraire, at BravoCon 2022, he joked that he was all-in, even if it wasn't as simple as it used to be. "Daddy needs help ... Now I'm looking. I'm on Raya, I'm on Tinder, now I'm ready to go," he said (via People).
For what it's worth, John Hill has joked in the past that the real reason Cohen hasn't moved on is "he's not able to find someone as good as me" (via Page Six). That may be so — but we're rooting for him to find love all the same.