Amy Robach's GMA Replacement Eva Pilgrim Once Got Called Out By Robin Roberts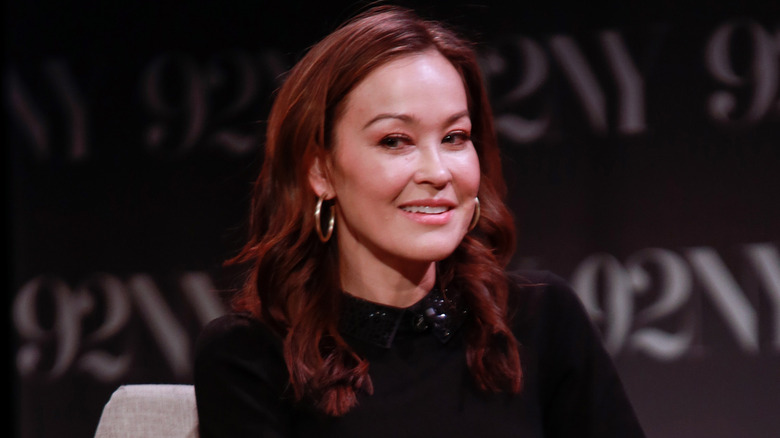 Jason Mendez/Getty Images
Eva Pilgrim has been excelling since joining "Good Morning America" in a full-time capacity. Before then, though, she had a weird on-air exchange with another popular anchor on "GMA" that could've gone south quickly.
Pilgrim's first official day on "Good Morning America" as a third-hour anchor kicked off on May 11, 2023. Pilgrim joined DeMarco Morgan on "GMA 3: What You Need To Know" a few months after Amy Robach and T.J. Holmes were fired for indulging in an extramarital affair. Although Pilgrim and Morgan have barely had time to decorate their workspaces, the new duo is already covering important news. During her first week, Pilgrim, along with Morgan, covered a wide range of topics, including immigration policy Title 42, an interview with comic Bert Kreischer and a touching piece about a baby's heart transplant. Their second week has included interviews from Eboni K. Williams, Halle Bailey, and plenty more big names.
While Pilgrim is obviously well-suited for her new job, she once had a super awkward moment with longtime "GMA" anchor Robin Roberts. 
Robin Roberts checked Eva Pilgrim about her marital status
Even before Eva Pilgrim joined "GMA" full-time, she was already acquainted with the anchor lineup due to her experience appearing in special segments and interviews on the weekends. Sometimes, though, she found her way to the weekday slots. In August 2022, Pilgrim led a discussion surrounding Hailey Bieber and her marital struggles with her husband, Justin Bieber. After a pre-recorded package full of Hailey's soundbites played, Pilgrim jumped right into the conversation. "Hailey [is] really embracing the idea that life will change and grow, but you heard her. They are putting in the work to keep it good," said Pilgrim during "GMA." "You guys, we're all married, we know it takes work," Pilgrim confidently said. 
Ironically, Roberts wasn't married and never has been. "I'm not married," Roberts quipped as the rest of the anchors burst into laughter. "Trust me, [relationships] take work even if you're not!" (via The Sun). After Amy Robach pointed out that Roberts paused before correcting Pilgrim — as if she was considering whether Pilgrim was right —  Roberts responded: "I was like, 'Wait a minute!'" 
Fortunately, Pilgrim didn't actually step on Roberts' toes and prevent her from announcing her own marriage plans. It would've definitely made for some interesting television, however.
Does Robin Roberts want to get married?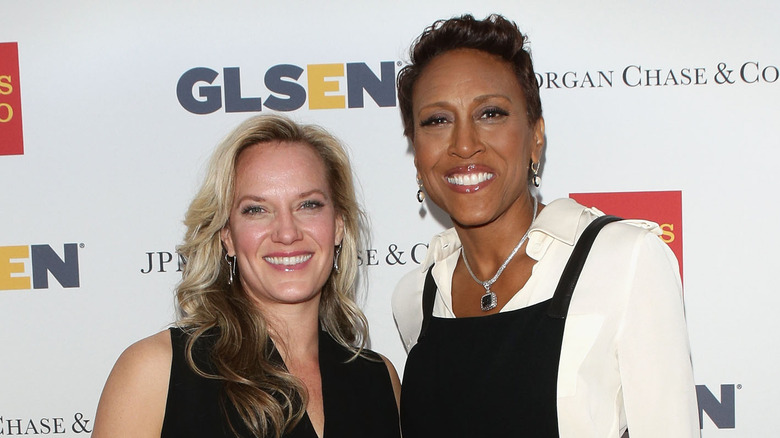 Andrew Toth/Getty Images
Even though Robin Roberts wasn't married when Eva Pilgrim accidentally claimed she was, that doesn't mean marriage isn't in her future. Roberts has been in a relationship with Amber Laign for nearly two decades, though the anchor didn't publically reveal she was a lesbian until 2013. And in January 2023, Roberts announced that they had decided to finally wed. "I'm hesitating because I haven't said it out loud yet. I'm saying yes to marriage," Roberts said during a "GMA" broadcast (via People). "We're getting married this year." 
Roberts and Laign are in the midst of planning their perfect day. "There's some things you just want to keep to yourself, but we are so excited," Roberts said during an interview with Tommy DiDario at Extra. "This is saying something to be with someone for 18 years... and to be so excited. It's like a brand-new chapter, a fresh start. Couldn't be happier." She added, "It's a daily discussion, Tommy. I'm not going to say she's a bridezilla, but she has some definitive ideas about the wedding. I never thought I'd be planning not just the wedding but a honeymoon."