Who Is Marjorie Taylor Greene's Boyfriend, Brian Glenn? (Spoiler: He's Just As Controversial)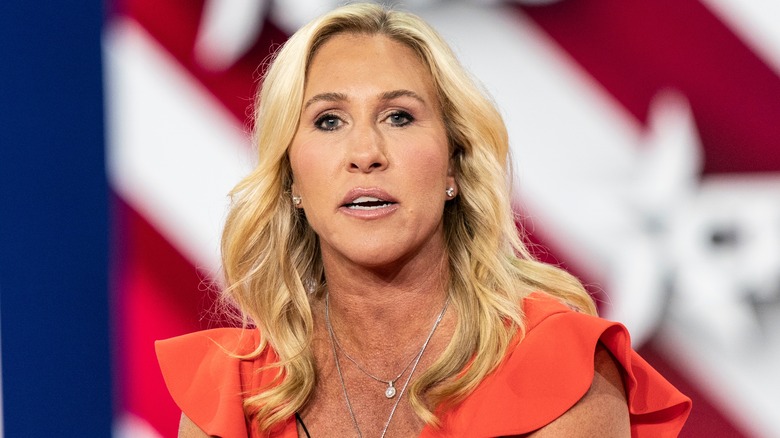 lev radin/Shutterstock
Marjorie Taylor Greene's new boyfriend, Brian Glenn, stirs up just as much controversy as she does — if not more.
The conservative congresswoman, who has represented Georgia's 14th district since 2021, turned heads when she became the first member of the House of Representatives to publicly admit to co-signing the QAnon conspiracy theory. Since kickstarting her political journey, Greene has gained a reputation for spreading misinformation and purveying problematic views – though it has helped the congresswoman garner an outspoken pocket of like-minded followers. Greene was first inspired to pursue a political career after witnessing Donald Trump on the campaign trail in 2016. Her critical opinions and long-lasting support of Trump — which had her comparing the former president to "Jesus" amid his April 2023 arrest — has made her quite an unpopular figure in both left and center-leaning circles.
In one notable example, Greene feuded with rap star Dr. Dre after she used his song, "Still D.R.E.," in an online promotion without permission. TMZ reported that Dre swiftly denounced any affiliation with Greene, demanding that she refrain from using any of his music in the future. The musician successfully blocked Greene's usage after serving the congresswoman with a cease-and-desist letter. Greene also drudged up backlash for Pat Sajak, who host's "Wheel of Fortune" in 2022, after he eagerly posed with her in a photo. Basically, few famous public figures are as controversial as Greene. However, her boyfriend is definitely in the running — especially after this week.
Brian Glenn is a conservative TV producer
Majorie Taylor Greene has reportedly been involved with Brian Glenn since 2022, the same year her divorce from her ex-husband became official. "He's from the industry, so he is a great resource," shared Greene with Semafor. "He's explained a lot, like how things work and yeah, it's great. So maybe I'm falling in love with the press." Glenn is a television producer and the Director Of Programming at Right Side Broadcasting, according to his LinkedIn page. Right Side Broadcasting is based out of Auburn, Alabama, and boasts that they produce "live-coverage of all things President Trump."Glenn has been with the company since 2020. 
Glenn regularly reposts clips from the company's newscasts to his Instagram, where he has nearly 14,000 followers. It shouldn't come as a surprise — given his proximity to Greene — that the producer shares a similar ideology to Greene. He regularly posts hot takes on President Biden, pro-Trump sound bites (including footage from his recent rallies), as well as anti-climate change commentary, but one of Glenn's most controversial stances is related to the drag movement. 
In 2022, Greene posted to Instagram and criticized a group called "Drag Queen Story Time." She said, "Drag Queen story time/shows are not appropriate for children. A man dressed as a woman reading books to children is intentionally gender confusing, especially for young kids. ... It is not hateful to say NO and stop Drag Queen story times/shows for children." This is noteworthy because...
A video of Brian Glenn in drag has led to blowback
Video: Marjorie Taylor Greene's boyfriend Brian Glenn in drag.

Glenn: "I may keep the pantyhose on. It does feel kind of good actually." pic.twitter.com/ZLIbAhhTbd

— PatriotTakes 🇺🇸 (@patriottakes) May 21, 2023
On May 21, social media users spread a video of Brian Glenn dressed in feminine clothing at his previous place of employment. Glenn appears to be wearing a dress, along with other accessories. Twitter account @Patriottakes quoted Glenn's words in the clip. "I may keep the pantyhose on," Glenn said. "It does feel kind of good actually." Twitter users were quick to hold Glenn accountable, given his and Marjorie Taylor Greene's previous commentary on the topic.
Marjorie has since defended Glenn from the many detractors that found the video hypocritical. "I'm literally lol'ing. @brianglenntv dressed in drag for morning news in Dallas years ago reporting on an upcoming local theatre production and the morons over at Patriot Takes think this is an attack," tweeted Greene. "Brian loves the throwback and is reposting. The left is so stupid." Glenn also reposted the clip, adding additional explanations across social media. "The things I did for morning show television!!" he tweeted. "LOVED it and so did the @wfaa @WFAADaybreak viewers. It's a good thing I have a sense of humor! #iamup #tunachristmas #theatre #arts #play #senseofhumor."
Following the fierce debate caused by the video, Glenn purposefully misgendered Brittney Griner, a WNBA star who was released from a Russian prison in December 2022. "Good Morning to all the men this morning except to #BrittneyGriner (He/Him)," he tweeted (Griner is a cisgender woman). "It shouldn't surprise anyone that a man is now the face of a women's professional basketball league. #WNBA."