Jason Momoa Nearly Missed The Birth Of His Daughter With Lisa Bonet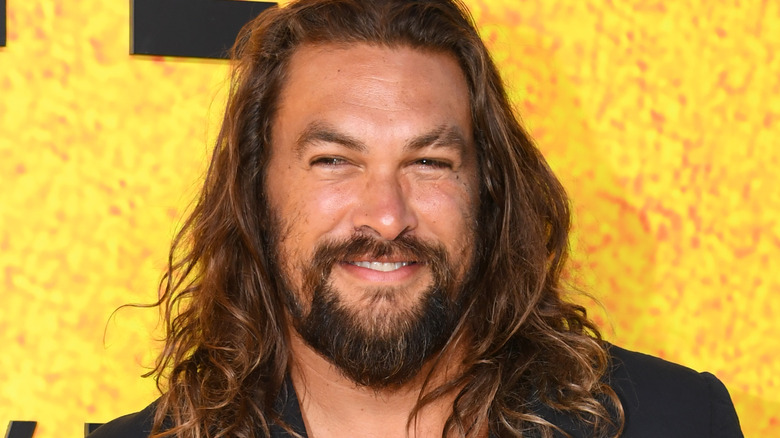 Jon Kopaloff/Getty Images
Due to a surprise turn of events, actor and father of two Jason Momoa almost didn't make it in time to witness the birth of his first child with actor and then-partner Lisa Bonet. Audiences know Momoa as everything from Aquaman to Khal Drogo, but, of course, his biggest role off-screen is as a father. The "Fast X" actor and mother of his children first got together back in 2005 and officially wed in 2017. In between then, the couple welcomed their daughter, Lola Momoa, in 2007 and their son, Nakoa-Wolf Momoa in 2008.
When it comes to fatherhood, Jason described himself to Entertainment Tonight in 2017 as a "papa bear." "I can really care less about myself," he surmised. "I just want to always stay papa to them."
It turns out that when it came time for his first daughter to be born, the soon-to-be father had to seriously work against the clock to make it in time for the life-changing moment.
Jason Momoa hopped on a last-minute flight to witness the birth of his daughter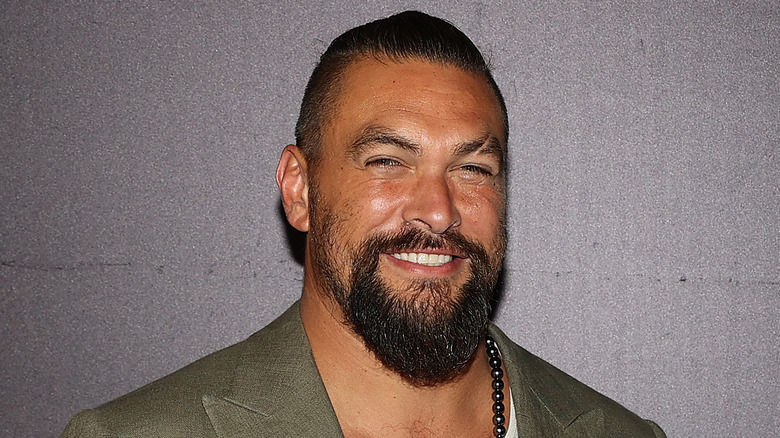 Fiona Goodall/Getty Images
What worse possible time is there for your partner to unexpectedly go into labor than when you're at work and also happen to be in another country? When "The Cosby Show" actor Lisa Bonet was pregnant with their daughter, Lola Momoa, the "Dune" actor told Esquire that he was all the way in Canada filming the sci-fi drama series "Stargate Atlantis." Weeks before her expected due date, Jason recounted to the publication how he woke up to about "70 calls" that Bonet had gone into labor. He was able to clinch a plane ticket for the last seat on a flight in the hopes of making it to Bonet and his soon-to-be-newborn daughter on time.
"I'm running through the airport, and I get in the car. I go, like, 'Dude, I don't care, run all the lights, I'll pay for everything,'" Jason recalled when he landed in Bonet's city. "And I made it in the nick of time. I had about two hours with [Bonet] in the tub, and my baby girl was born."
The "Aquaman" actor was ultimately able to make it in the end, and it seems like fatherhood has remained his top priority in life.
Jason Momoa balances his work-life schedule to spend time with his kids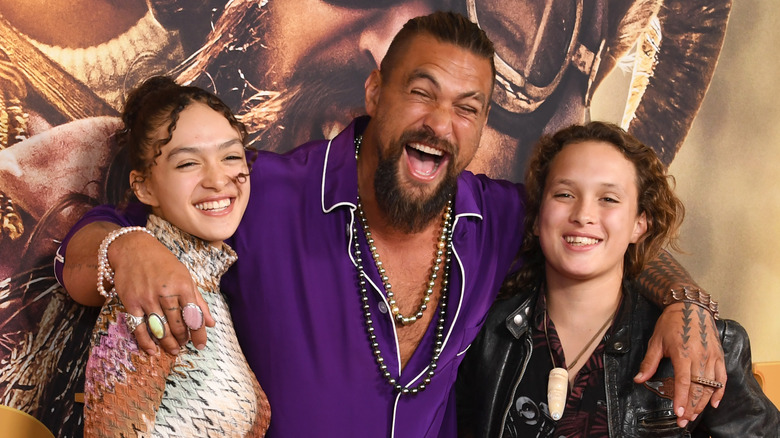 Jon Kopaloff/Getty Images
Between his prolific acting career, producing gigs, and new alcohol business, Jason Momoa has been pulled in many directions, but the busy actor makes sure to spend time with his family when he can. He told E! News in November 2022 that the three of them love to do road trips, camping, rock climbing, and other "adventurous" activities together. Reflecting on Lola and Nakoa-Wolf's childhoods, Momoa ensures that he now only takes the opportunities that speak to his passions since they take him away from his family.
"I worked for a very long time when they were young doing s*** I didn't want to do to put food on the table," he admitted to Entertainment Tonight in April 2023. "And now? You should only work with the people you wanna work with. You should create with the people you wanna create with."
While being a father is a big deal for anyone, it means something a bit different to the "See" actor since he grew up without his father in the picture. Momoa's mother played a huge role in his life. "I didn't know what it takes to be a dad," he opened up to InStyle in 2020. "And I don't want to just tell my son, 'Because I said so.' I really want to connect, and I want him to be vulnerable and open."