Demi Lovato Is Awake Following Alleged Overdose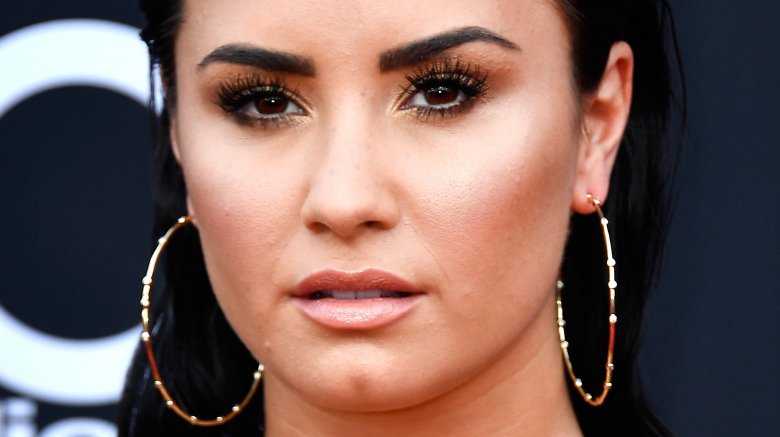 Getty Images
A rep for singer Demi Lovato has given an update about the former Disney star's health following her suspected overdose and hospitalization.
In a statement obtained by E! News, the spokesperson shared, "Demi is awake and with her family who want to express thanks to everyone for the love, prayers and support." Regarding the rumors surrounding Lovato's alleged heroin overdose, the rep denied that all media outlets were accurate in their reporting of the situation, saying, "Some of the information being reported is incorrect and they respectfully ask for privacy and not speculation as her health and recovery is the most important thing right now."
As Nicki Swift previously reported, Lovato, who has a history of drug and alcohol abuse, was taken to a Los Angeles hospital on Tuesday, July 24, 2018, after she allegedly overdosed on heroin. According to Us Weekly, two of Lovato's friends were with her when she allegedly overdosed. One friend is said to have had Narcan, a drug used in cases of narcotic overdoses, with which they reportedly treated her. "Her friends knew this was coming because she's been using so much again. They were up all night partying the night before at her house," an insider told the magazine. "Luckily, the Narcan worked and she will recover."
After having celebrated six years of sobriety in March 2018, Lovato is said to have been in a "downward spiral" since firing her sober coach. Referring to her presumed relapse admission in her song "Sober," released in June 2018, a source told E! News, "She made the decision to come out publicly about her relapse recently because she thought she could inspire her fans and it would help her keep on track, but she has been battling her own demons for months."
Noting that she'd been trying to stay busy with her tour, the insider added, "She has had really good days where she is perfectly OK and on track and really bad days where her team and friends have been very concerned. [...] She has distanced herself from many important people in her life and even let go of a few people on her team. Everyone has been urging her to get help with her life coach, and to seek treatment again, but Demi thought she could handle it on her own."
Lovato's mother, Dianna De La Garza, has reportedly been staying close to her famous daughter as she recovers. "Her mom has been at her side since the hospitalization," a source informed Us Weekly on Tuesday, July 24. "It's a very tragic situation."
E! News notes that Lovato's sister Madison De La Garza has also been at the hospital, where Lovato is reportedly "stable and alert."
Following news of her hospitalization, Lovato's fans and fellow celebrities have reached out to the star. Former Camp Rock co-star and ex-boyfriend Joe Jonas tweeted, "Like all of you I am thinking of @DDLovato right now. She needs our prayers and support. We all know how strong you are Demi. #prayfordemi."
Lady Gaga posted on Twitter, "We should all wrap our arms of love around Demi Lovato. I am so happy you're alive. Thank God. If I know my monsters as well as I believe I do, we all wish you self-compassion and inner peace. And may you receive the love so many have for you. #ImConfidentInDemi."
Similarly, Ellen DeGeneres shared, "I love @DDLovato so much. It breaks my heart that she is going through this. She is a light in this world, and I am sending my love to her and her family."
Our thoughts are with Lovato as she recovers from her reported overdose.
If you or someone you know is struggling with addiction, please call the Substance Abuse and Mental Health Administration's 24/7 National Helpline at 1-800-662-HELP.