Gwen Stefani's Ex Gavin Rossdale Doesn't Seem Like Blake Shelton's Biggest Fan
Thecelebrityfinder/bauer-griffin/Getty Images
Do partners who sing together stay together? This wasn't true of Gavin Rossdale and Gwen Stefani or Miranda Lambert and Blake Shelton; however, Shelton and Stefani got another go-around with love after meeting on Season 7 of "The Voice." At the time, both Stefani and Shelton were going through their respective divorces, and they found comfort in sharing each other's experiences. In 2016, Shelton told Billboard, "Gwen saved my life. Who else could understand going through a high-profile divorce from another musician? You can't even imagine the similarities in our divorces."
Currently, the happy couple is getting ready to celebrate their second wedding anniversary. In 2021, Stefani and Shelton posted glowing tributes to each other on Instagram, with the "Hollaback Girl" singer captioning her video, "1 year down, forever to go." But while Stefani and Shelton seem to be blissfully happy together, their exes weren't thrilled when they moved on. "There is still a lot of bad blood and unresolved anger between Blake and Miranda," a source told Life & Style in 2017. "No one thinks they will ever be able to bury the hatchet and put their issues behind them." Likewise, Rossdale was spotted looking worse for wear around the same time that his ex-wife tied the knot with Shelton, per OK!. Rather than releasing a statement, the Bush rocker posted a photo of himself and the three sons he shares with Stefani. In this case, a picture really is worth a thousand words, and it tells us that Rossdale isn't a fan of Shelton's.
Gavin Rossdale and Blake Shelton clash over parenting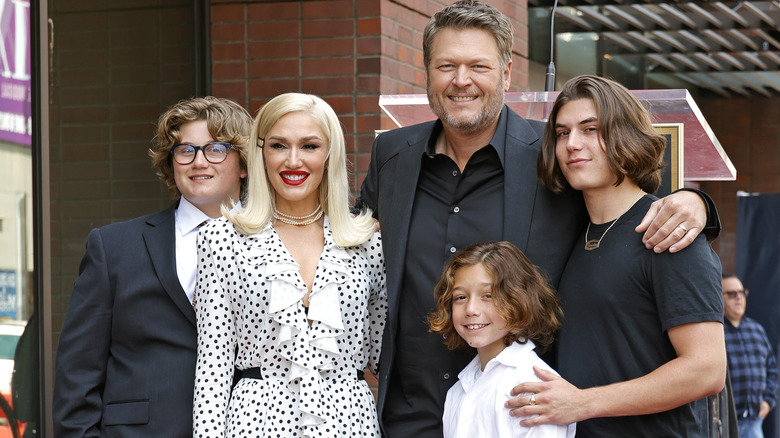 Frazer Harrison/Getty Images
Blake Shelton has a great relationship with Gwen Stefani's children, but the same can't be said of his relationship with Gavin Rossdale — and the kids might be the reason why. E! News reported on Rossdale's bad blood with Shelton back in 2016, when an insider told the outlet that it was painful for the Brit to see his kids Kingston, Zuma, and Apollo spend time with Shelton. "Gavin doesn't agree with [Gwen] having a relationship with Blake, and he doesn't like her bringing the kids around him," they said. This was corroborated by a separate source, who told OK! in 2021 that "He's gotten ticked off at Blake in the past for seemingly overstepping his bounds, and is ready to make it clear he has the final authority with his boys."
In 2022, Rossdale and Shelton continued to butt heads over parenting. "Gavin is trying very hard to parent alongside Gwen, but he wants to make it perfectly clear he is the father of their sons, not Blake," an insider shared with Globe (via International Business Times). Tensions may also have arisen over a 2022 interview that Shelton gave to People, in which he discussed his role as a stepfather to Rossdale and Stefani's boys. "I didn't know what I was signing up for, but I was all about signing up for it," Shelton said on fatherhood. "And every day I've fallen in love with the boys as much as I do with Gwen."
Gavin Rossdale is committed to being a good dad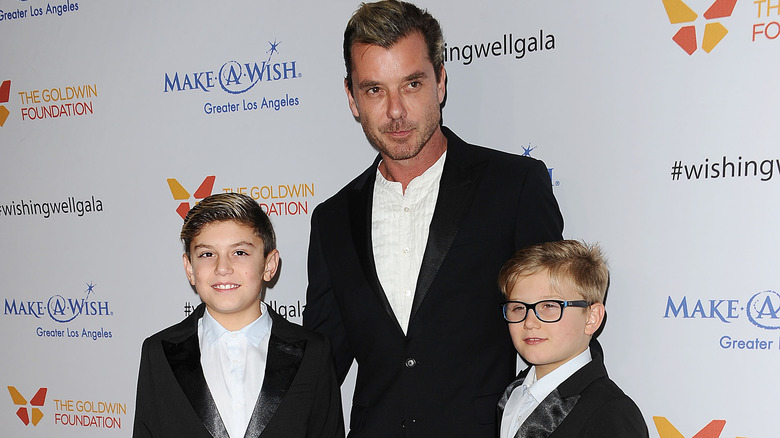 Jason Laveris/Getty Images
The co-parenting clash means that Gavin Rossdale is on rocky ground with Gwen Stefani and Blake Shelton, which doesn't look like it will change anytime soon. Although their kids' sporting events bring them together, per The Daily Mail, both parties go out of their way to avoid each other. It's a far cry from the amicable co-parenting situation that exes like Irina Shayk and Bradley Cooper share, but Shelton is weathering it well, all things considered.
Maybe it's because the "God's Country" hitmaker feels truly supported and loved by his wife. "Blake is much more secure with Gwen," a source told Us Weekly. "He can trust her, and there is a mutual level of respect." Stefani feels similarly. "Finding a best friend, someone that is on the same plane when it comes to morals, or just the way you look at life, that's the dream," the singer said on "The Drew Barrymore Show."
Rossdale is currently dating Courtlynn Cannan, but he's more focused on fatherhood than his romantic life. In 2022, he opened up to E! News about the importance of being there for his boys. "I think it's all about just the time you spend with them. It's just unfortunate sometimes they have school and they have to be elsewhere. Everything is better when they're there," he said. No wonder Rossdale seems to resent the time Kingston, Zuma, and Apollo spend with Shelton.