Tina Turner's Age Gap With Her Second Husband Erwin Bach Was Bigger Than We Thought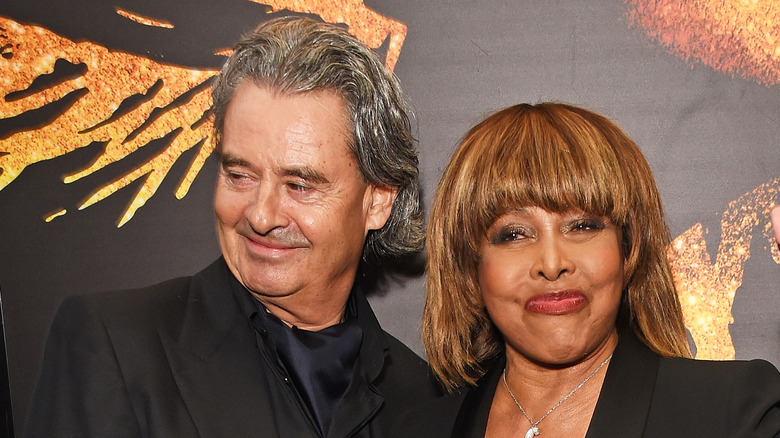 David M. Benett/Getty Images
The late Tina Turner shared quite an age gap with husband, Erwin Bach. The death of Tina Turner has emboldened her fans to comb over her journey, congratulating her on living an impactful life while acknowledging the various pitfalls that could've easily destroyed her. And after nearly six decades in music, Tuner's fans have had no shortage of enlightening, poetic, and insightful last words for the star. Angela Bassett, who famously portrayed Turner in her biopic, "What's Love Got To Do With It," and inducted her into the Rock & Roll Hall of Fame, shared an especially evocative tribute to the star, per Variety. The same goes for Beyoncé, one of Turner's most famous admirers, as well as a long list of others. 
There's also been an intense focus on Turner's second act, which wasn't marred by the abuse she experienced while married to Ike Turner. And while it was undoubtedly Turner's perseverance which allowed her to finally bask in the rewards of a life of hard work, you can't highlight her latter years without noting Bach, her husband of 10 years. Turner has credited Bach on numerous occasions with showing her a different side to love (and also donating his kidney to her). So fans are well-informed about the partner worthy enough for Turner to leave the U.S. behind in pursuit of Switzerland (via CNN). However, there's a little more to their journey, including some interesting facts about their age gap.
Tina Turner was 16 years older than Erwin Bach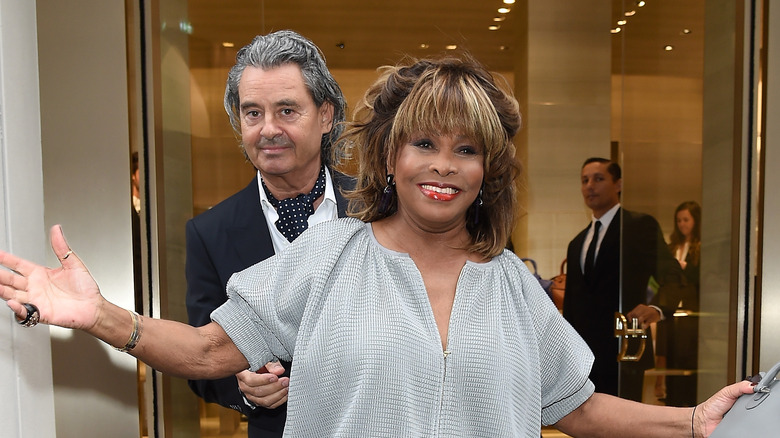 Daniele Venturelli/Getty Images
Tina Turner was in her mid-30s by the time her marriage to Ike Turner was over. And while Tina eventually dated other men, It would be almost two decades before she met Erwin Bach, who was 16 years younger than her. "The day I first met Erwin, at an airport in Germany, I should have been too tired from my flight, too preoccupied with thoughts of my concert tour, and in too much of a hurry to get to my hotel to pay much attention to the young music executive who came from my record company to welcome me," wrote Turner in "Happiness Becomes You: A Guide to Changing Your Life For Good" (via Oprah Daily). "But I did notice him, and I instantly felt an emotional connection," she continued. 
Bach told a similar version during the documentary "Tina" (via People). "We met at Cologne [Bonn] Airport — actually it was Düsseldorf Airport [in Germany], and her manager Roger [Davies] asked me to pick up Tina," he shared. He continued, "We enjoyed the ride. I enjoyed driving the artist, actually a superstar. You're normally a little nervous, but I wasn't nervous either. I was just doing the job." And actually, it was Turner who pursued Bach. "Who would have thought that a moment of boldness would lead to decades of shared bliss?" wrote Turner on Instagram. "I didn't. When I first asked Erwin out, it was a spur-of-the-moment decision."
Tina Turner and Erwin Back didn't get married for 27 years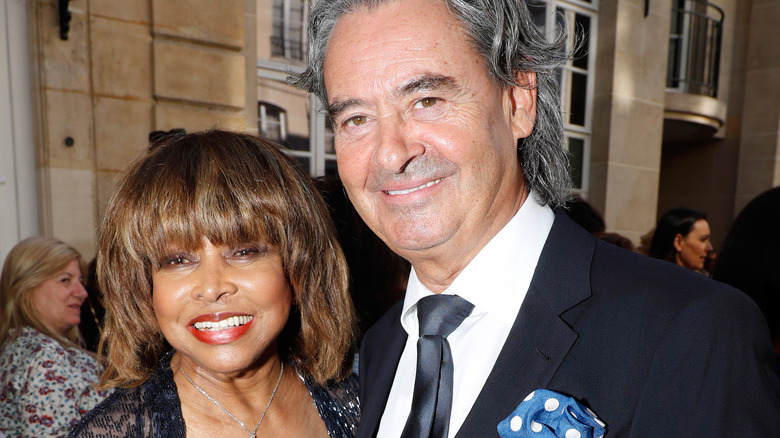 Bertrand Rindoff Petroff/Getty Images
Tina Turner was obviously a woman who didn't abide by anyone's timing. Even though Turner was already 47 years old when she met Erwin Bach, it would be 27 more years before they got married. According to Us Weekly, Turner and Bach decided to get married in Switzerland at their lush abode in 2013. "I am happier than I could have ever dreamed of," Turner claimed about their relationship (via Page Six). According to Hello!, Turner wore a non-traditional black and green wedding gown in front of a Hollywood guest list, the most famous of which was Oprah Winfrey. 
Previously, Turner shared that she and Bach had no plans to make things official. "People often ask me why don't I marry. I have love. I have a good life. I don't need to interfere with that," Turner said to Oprah in 2006 (via the Daily Mail). "For some people, marriage means 'You're mine now.' That can be the beginning of the failure of a relationship," She added. "Neither Erwin nor I feel the need to get married. We've been together for 18 years. What would marriage give me that I don't already have? Marriage would be about pleasing the public. Why do I need to please the public if I'm already pleased?'" Clearly, Turner eventually decided that married life was for her.