Anthony Michael Hall And Molly Ringwald Had A Brief Fling After The Breakfast Club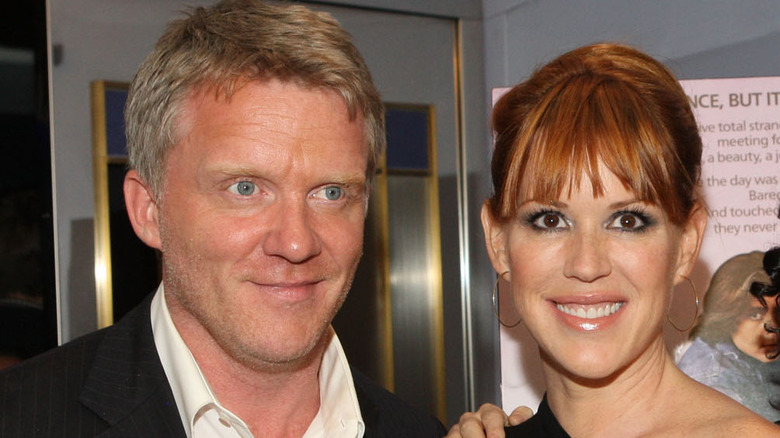 Bennett Raglin/Getty Images
Two prominent actors dated for a time after working together on a classic '80s movie. Anthony Michael Hall rose to fame through roles in projects like "National Lampoon's Vacation" and "Sixteen Candles," the latter of which featured Molly Ringwald in the starring role. Leading up to this part, Ringwald had acted in popular TV series such as "The Facts of Life" and "Diff'rent Strokes." 
Amid her thriving Hollywood career, Ringwald's dating life was not the easiest to navigate. "Boys were always too shy to come up to me," the "Pretty in Pink" star said in a 2016 Lenny Letter interview, per People. "If I wanted to go out with anyone, I always had to make the first move." 
Hall and Ringwald were later costars for another well-known teen film, "The Breakfast Club." In 2015, Ringwald detailed what the relationships between these cast members were like during a "Today" interview. "I think we all got along great," Ringwald said. She added, "It was in the middle of winter, we saw each other every day — we got really close. It was a lot of fun." Following this film shoot, sparks flew between Hall and Ringwald.
Anthony Michael Hall and Molly Ringwald had a 'puppy love' romance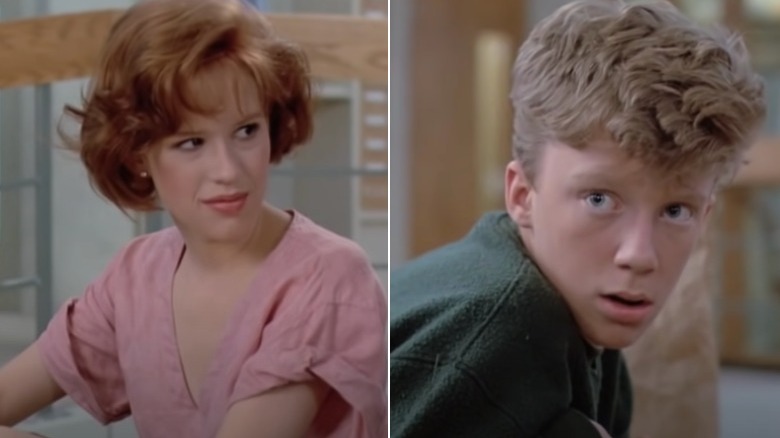 Universal/YouTube
Anthony Michael Hall and Molly Ringwald shared a short-term romance back in the day. During a 2020 chat with Page Six, Hall revealed that he and Ringwald briefly saw each other after they'd finished their roles as Brian Johnson and Claire Standish in "The Breakfast Club." "It was puppy love," Hall said. He then noted that a love connection wasn't immediate when he and Ringwald collaborated for the first time. "[Ringwald] didn't have the time of day for me when we made 'Sixteen Candles.' We did 'Sixteen Candles,' and I was annoying to her!" Hall said. "So it was really funny — it kind of hit me by surprise when we had our little thing there, but it was fun." Hall then called Ringwald "wonderful" and "a great lady." "We've been friends since, and I've seen her over the years," Hall added.
Ringwald recounted their brief relationship for the 2010 book "You Couldn't Ignore Me If You Tried," which revisits the work of filmmaker John Hughes and the Brat Pack. "We got together at the end of 'The Breakfast Club,' and we were together a few months," Ringwald said of herself and Hall before adding, "I think mostly because we were the only people that we knew — practically, in the world — that were the same age, that were doing the same thing." Hall and Ringwald have both ended up in lasting romances since their own relationship fizzled. 
Anthony Michael Hall and Molly Ringwald are both in committed unions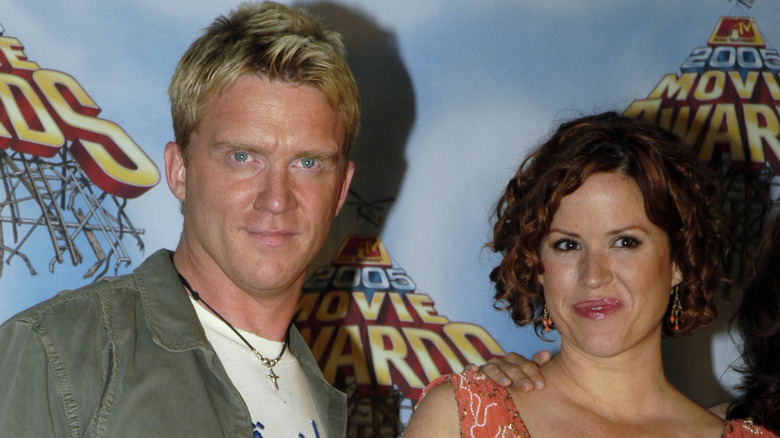 Carley Margolis/Getty Images
Anthony Michael Hall and Molly Ringwald have each moved on with new partners. Ringwald was formerly married to writer Valery Lameignère for three years. Their separation was made public when Ringwald filed for divorce from Lameignère in 2002, per People. The "Kissing Booth" actor then found love again with Panio Gianopoulos, whom she wed in 2007, via "Today." The couple now has three kids. In February 2023, Ringwald celebrated over two decades of their love on Instagram. "Happy anniversary to us! 3 kids, 3 dogs, 1 cat and a lot of love," Ringwald wrote. "Best decision I ever made. Here's to 22 more, at least."
Hall, meanwhile, became engaged to his partner, actress and model Lucia Oskerova, in 2019. He revealed this news via Instagram and shared the quote, "The Greatest thing you'll ever learn, is just to love and be loved in return." The pair got hitched the following year, and in 2023 Hall and Oskerova shared with People that Oskerova is pregnant with their first child. "My wife and I are feeling so blessed, excited and filled with joy in anticipation of our son being born this summer," Hall said.