Why Matthew McConaughey Thought Camila Alves Wouldn't Accept His Marriage Proposal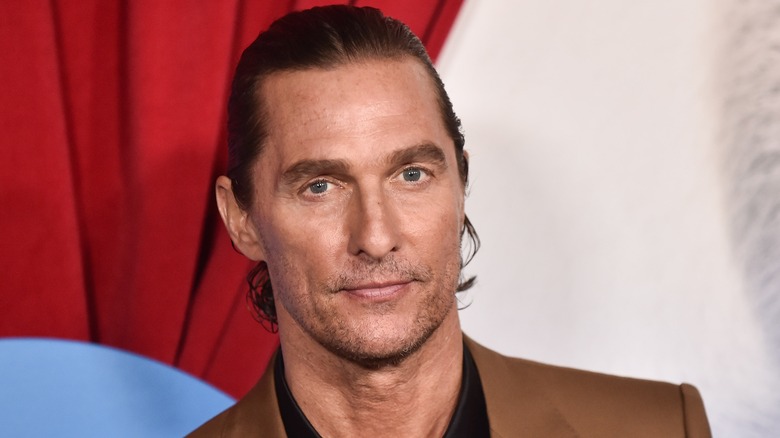 DFree/Shutterstock
Matthew McConaughey and Camila Alves are certainly a ravishing pair. Married for over a decade, they've already proven to have the longevity that many other famous couples lack. And it's possibly because McConaughey was enamored with his future wife from the jump. "That's when she showed up, and she moved right to left in front of my eyes across that club," said McConaughey to People. "It was as if she was floating. And I did not say, 'Who is that?' I said, 'What is that?' And then introduced myself." He continued, "Since that evening I have not wanted to spend time with any other woman, definitely have not wanted to sleep with anyone else. I've not wanted to have children with anyone else other than her. We have a love that we never question." 
They also have a splendid little family. Their first child, Levi McConaughey came along in 2008. By the time they tied the knot in 2012, the couple had two babies, and would go one to add their third child that same year. At this time, the couple appears to be done having kids, but McConaughey would gladly have more babies if he could get approval from his wife. "I'd like to have eight more kids, but my wife, [Camila Alves, is] not on the same page," McConaughey shared during HISTORYTalks, Leadership & Legacy (via Us Weekly). With that said, McConaughey was once doubtful that his wife, Camila Alves would agree to be his bride at all.
Camila Alves took too long to accept McConaughey's proposal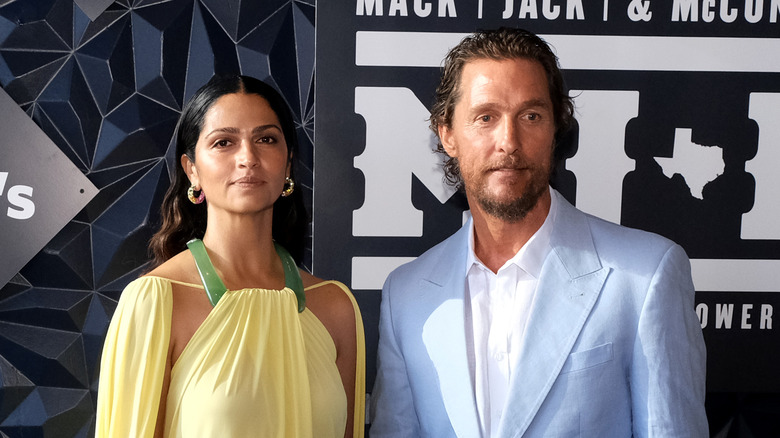 Hubert Vestil/Getty Images
The average person wouldn't expect anyone to take more than a beat to accept Mathew McConaughey's marriage proposal. However, the actor's family obviously didn't think the actor's game was as strong. While speaking with Esquire, the "Serenity" star shared the moment his family expressed doubt over his proposal. "I remember hitting the knee, looking into her eyes, and ... I remember her face," said McConaughey. "I remember this smile coming up from her feet. I remember her having to catch her breath. And she didn't say yes right away. And then the whole family was going, 'Jeezus, she's gonna say no." Fortunately, McConaughey's family was wrong. In fact, Alves was so eager to finally wed she took the initiative and told McConaughey when their wedding would be.
According to E! News, McConaughey and Alves decided against a traditional Hollywood wedding and married at their Texas mansion. Prior to the actual wedding, the couple's friends and fam made use of their sprawling acreage and camped out in (rich people) style in tents. They still likely spent a fortune, though. According to Us Weekly, their wedding was crawling with celebs, including Reese Witherspoon, Meg Ryan, and singer John Cougar Mellencamp, who serenaded the couple. Guy Fieri also catered the reception, because that's what you do when you can afford it. Expensive taste aside, the outlet's source shared that "it was a great night for everyone."
How Matthew McConaughey and Camila Alves' marriage has worked out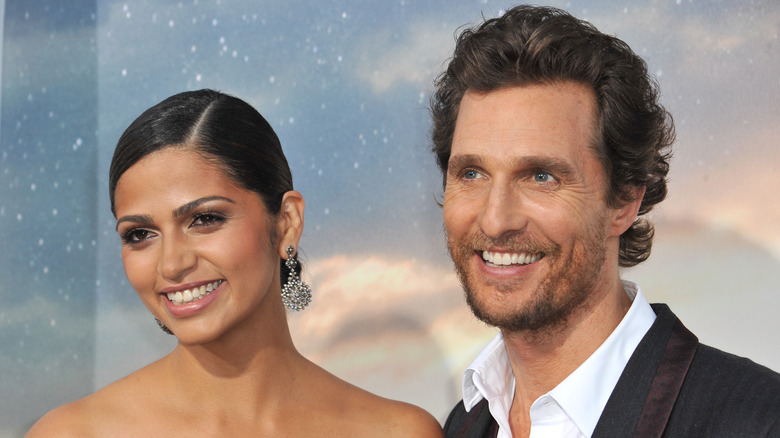 Jaguar PS/Shutterstock
So how's marriage working out for Camila Alves and Matthew McConaughey? From our side, it looks pretty great. Not only have McConaughey and Alves managed to keep their marriage strong, they seem to genuinely enjoy each other's company. Speaking with Chat Books, Alves revealed why she and McConaughey have thrived. "It is really about having respect for your partner and keeping your curiosity alive," said Alves. "People say 'keep the fire alive' — I say keep the curiosity alive in how you both can still evolve and love each other in that evolution."
With that said, McConaughey and Alves sometimes forget they're married. Well, actually, they sometimes forget the day they got married. Alves spilled all about their hilarious problem in 2022. "Matt and I are not good with dates with our marriage," shared Alves with ET. "We go back and forth all the time ... I had my tequila already and I was just feeling very feisty and I was going back to Matt like, 'No, you got the date wrong.' And he goes, 'No, you got the date wrong.'" She continued, "We're going back and forth and my friend wanted a beer, so I'm looking for a beer and I had one of the koozies. I opened the drawer to grab a koozie and right there — I started cracking up so bad — it was a koozie from our wedding, and both Matthew and I were wrong."'