What Barack And Michelle Obama's Daughter Sasha Studied In College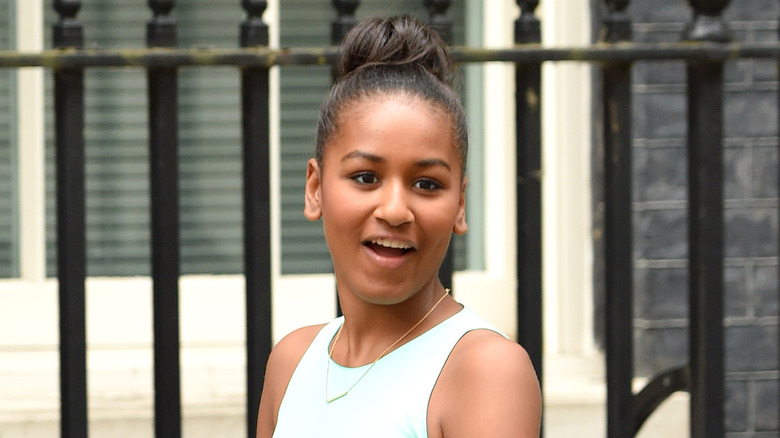 Karwai Tang/Getty Images
And just like that, Sasha Obama is all grown up. The Los Angeles Times reported that the youngest of the former first family graduated from the University of Southern California in May 2023. Her proud parents, former President and First Lady Barack and Michelle Obama, and sister Malia Obama were in the audience to watch her receive her hard-earned degree.
The outlet noted that the Obamas kept to themselves the entire time and left shortly after Sasha claimed her diploma, but they made sure to witness most of the ceremony and even took the time to congratulate the parents of other graduates. "I was so excited to see Obama and Michelle," one attendee gushed. "I wanted a picture [with them] so bad, but then they left early. If I would have gotten a picture I would have passed out."
It seems like it was just yesterday when Sasha kickstarted her college adventure. She initially enrolled at the University of Michigan in 2019 but eventually transferred to USC to complete her degree. And perhaps unsurprisingly, she studied in the same field as her mom.
Sasha Obama has a degree in sociology
Sasha Obama graduated from USC! President Barack Obama & First Lady Michelle Obama our proud Parents who must be wondering where did the time go! Great Job & Much Future Success! pic.twitter.com/PsfFl0VtWo

— Dan "I Stand With Ukraine" P (@ddanpereira) May 12, 2023
It looks like the apple doesn't fall far from the tree, because just like her mom, Michelle Obama, Sasha Obama also received a degree in sociology. While her mom studied at Princeton, Sasha opted to complete her studies at the University of Southern California's Dornsife College of Letters, Arts and Sciences. She's the only member of the Obama family not to graduate from an Ivy League college (Barack Obama went to Columbia, while sister Malia Obama graduated from Harvard). However, Sasha's institution choice is prestigious, nonetheless.
Not much is known about Sasha's university experience, but Michelle once noted just how emotional she got when she dropped her youngest daughter off at college the first year. "It's an adjustment to see each other for a weekend here, a holiday break there, but the moments we do spend together feel extra special because of it," she shared with People. "We were there, just like most parents, helping her unpack and make her dorm room feel like home."
What's next for Sasha Obama?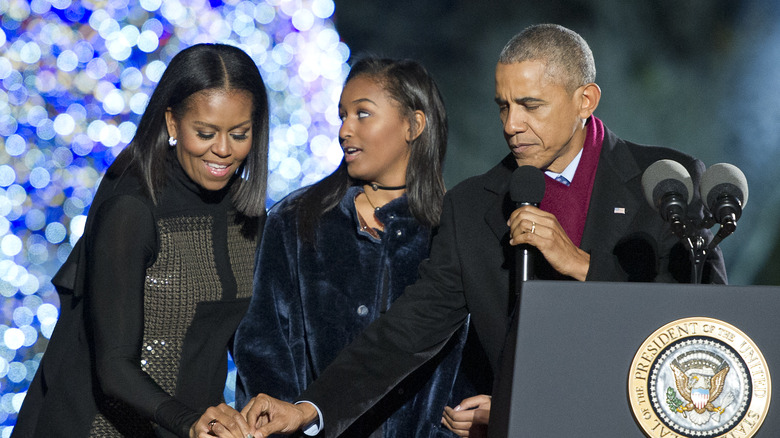 Pool/Getty Images
With a sociology degree in tow, Sasha Obama is just about ready to enter and dominate the workforce, just like her big sis, Malia Obama. Malia is currently thriving in the film industry and is set to make her directorial debut for a Donald Glover-produced project.
Apart from her 2016 stint working a food service job during one of her school breaks, we're not too familiar with Sasha's resume, but her father, Barack Obama, dished that the youngest Obama is tough enough to make it out on her own. "Sasha is, as Malia describes it, completely confident about her own take on the world and is not cowed or intimidated — and never has been — by anybody's titles, anybody's credentials," he told InStyle. "If she thinks something's wrong or right, she will say so." Perhaps she'll be a lawyer like her parents, too?
And besides, given how Sasha was raised by Barack and Michelle, we bet our bottom dollar that she can take on anything. "The most gratifying part of it all has been watching the girls enter into their next phase of independence," Michelle shared with People. "Our role as parents is to raise self-sufficient, thoughtful, and compassionate individuals, and in order for them to fully embrace their own journeys, we have to be willing to let them go, so that they can grow on their own. That's the only way they can become more."