The Transformation Of Sasha Obama From 3 Months To 19 Years Old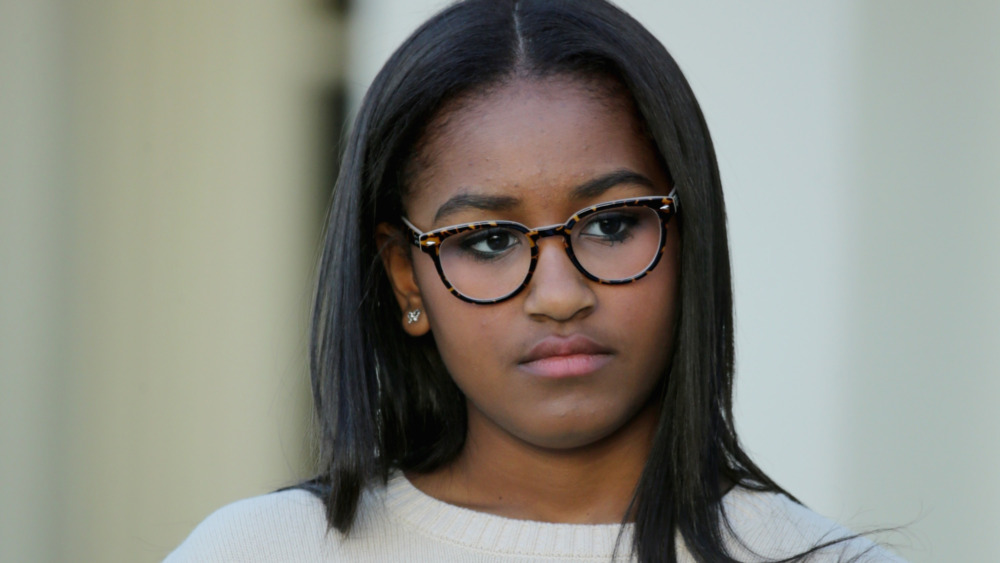 Chip Somodevilla/Getty Images
It shook the world when former President Barack Obama made history as the first Black president of the United States in 2009. Along the way of his two terms in office, his family welcomed the public with open arms, as their personalities shone through time after time again. Aside from politics, what stands out about the Obama family most is how much they value family and humility, especially with raising daughters Malia and Sasha Obama.
When the public was first introduced to Malia and Sasha in 2009, the two were ten and seven years old respectively, per Time. Growing up in the public eye isn't the easiest task when you're the president's daughter, considering the increased amount of protection they have. However, the Obama daughters' unconventional life doesn't stop them from being relatable to young adults.
Both Malia and Sasha are no longer little girls anymore. The two are creating paths for themselves outside of their father's shadow. Just like her older sister, Sasha's hot girl college life has often become the topic of recent headlines. Keep scrolling to see the stunning transformation of Sasha Obama from 3 months to 19 years old.
Sasha Obama was very sick as an infant
We imagine that Barack Obama's time in office was stressful — running an entire country for eight years doesn't seem like a walk in the park. However, he says there was no one event harder to deal with in his life than Sasha Obama's childhood health scare. In a 2012 campaign video, Obama recalled his youngest daughter's illness. "People ask me what was the hardest time in my life — they ask, well what about during the debt ceiling debate and this and that and the other thing," he said (via Politico). "Sasha got meningitis when she was 3 months old. I still remember going to the hospital together and they had to give her a spinal tap."
Meningitis is a life-threatening condition involving the swelling of the positive membranes covering the brain and spinal cord, per the CDC. Obama continued, "Your world narrows to this very small point," he continued, describing how it felt in the moment. "There's one thing you care about and you don't care about anything else."
For former First Lady Michelle Obama, she says the moment helped her realize the importance of health insurance. "I just can't put into words how important it is for every American, for every mother, for every person in this country to have health care," she said in 2013 (via Atlanta Black Star). "Because you just never know what kind of curve balls life is going to throw you." Fortunately, Sasha has since recovered from her meningitis scare.
Sasha Obama lived a pretty normal life in the White House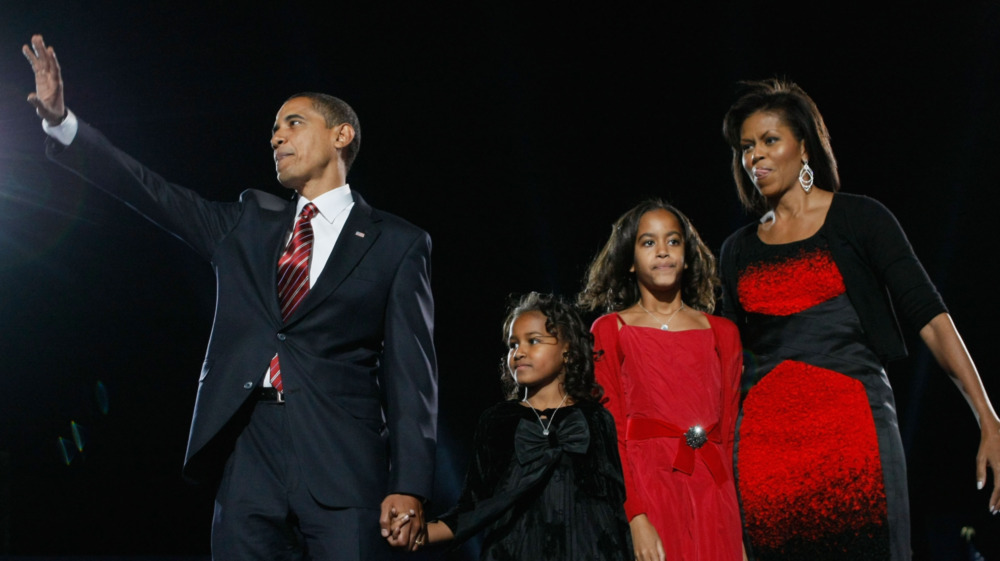 Joe Raedle/Getty Images
As mentioned previously, Sasha Obama was seven years old when her father became the 44th President of the United States. As we can imagine, transitioning from a home in Chicago to a 135-room mansion would be hard for a child to get used to. However, Michelle Obama wanted to make the experience of the White House as normal as possible for her and Malia. In the September 2020 season finale of The Michelle Obama Podcast, Michelle opened up about raising her two girls during Barack's presidency.
"One of the things that I had to learn how to negotiate was creating these boundaries with my kids in the White House," Michelle recalled. "I mean, you talk about being raised in a totally different world than I ever knew? It's like, pluckin' these little girls out of our normal life on the South Side of Chicago with Craig, and mom, and our way of doing things, and our community, and then, putting them in a historic mansion with butlers and maids, and florists, and gardeners, and Secret service, and then trying to make sure that they understood boundaries, understood responsibility."
Sasha lived a pretty normal life while living in the White House. She had assigned chores, despite having White House workers doing it for her. For Barack and Michelle, it was important for them to prove a "normal" upbringing for their daughters.
You'll never believe what Sasha Obama's first job was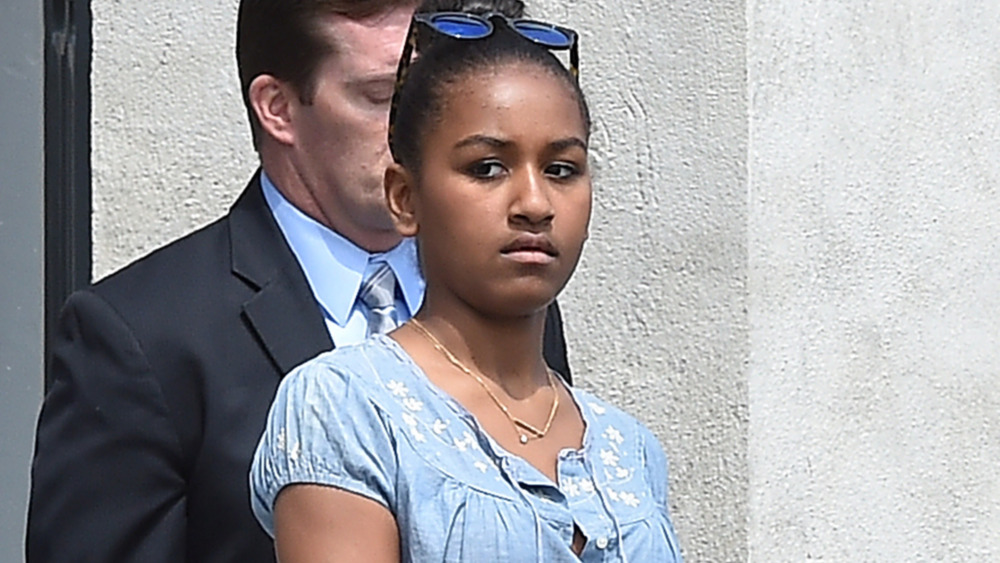 Jacopo Raule/Getty Images
Being the president's daughter comes with special treatment, but clearly not by your parents. Sasha and Malia Obama were expected by their parents to be responsible. Much like any other teen who's fresh out of school for summer vacation, Sasha spent her 2016 summer working a job. Believe it or not, she may have taken your order one day as a takeout cashier at Nancy's, a seafood restaurant on the island of Martha's Vineyard.
As reported by the Boston Herald, a 15-year-old Sasha worked the takeout window at the time under her birth name, Natasha. Per the publication, Sasha reportedly worked early four-hour shifts before the restaurant's opening. One Nancy's worker recalled, "She's been working downstairs at takeout," said a server at the busy island restaurant. "We were wondering why there were six people helping this girl, but then we found out who it was." Sounds pretty normal, right?
Sasha Obama has a few celebrity friends in her circle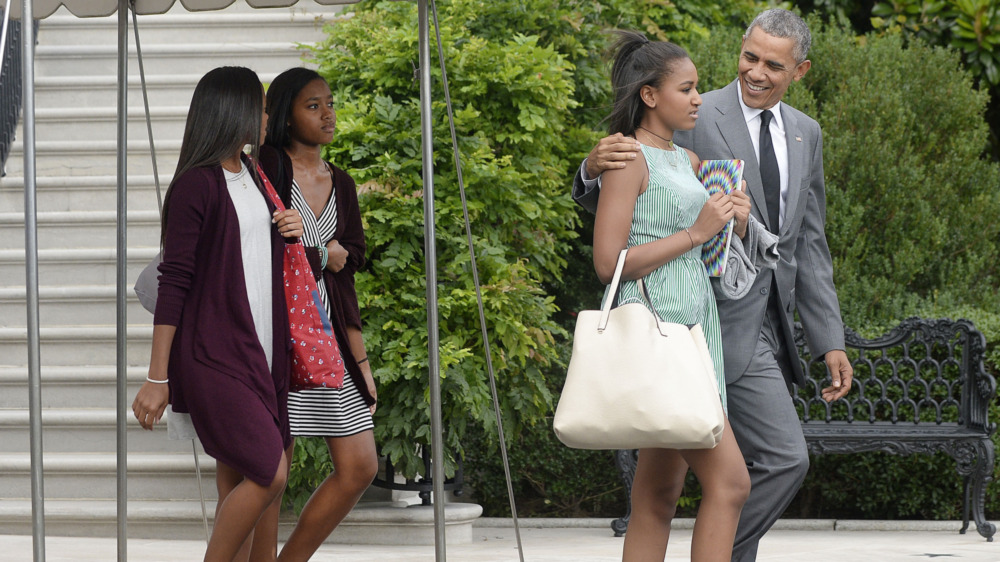 Pool/Getty Images
As expected, Sasha Obama has some pretty famous friends in her circle who understand the pressures of growing up in the public eye. One of her best friends is Maisy Biden, President Joe Biden's granddaughter. Per the Chicago Tribune, Obama and Biden played basketball together and have a mutual love for soccer. Aside from their families' political involvement with one another, the two attended Sidwell Friends School in Washington, D.C. together. The two even traveled to Miami in 2017, according to Us Weekly.
Additionally, Obama is friends with another well-known young celeb, Skylar Jordan, who was seen at the former's sweet 16 celebration, as reported by AOL. Skylar's mother, Charrisse Jackson Jordan, is a OG cast member of Bravo's Real Housewives of Potomac. Charrisse spoke of her daughter's friendship with Obama, sharing on Bravo, "Skylar and Sasha [Obama] are friends. They go to lunch. Secret Service is out there standing outside while Skylar and Sasha's having lunch."
Sasha Obama is living her best life in college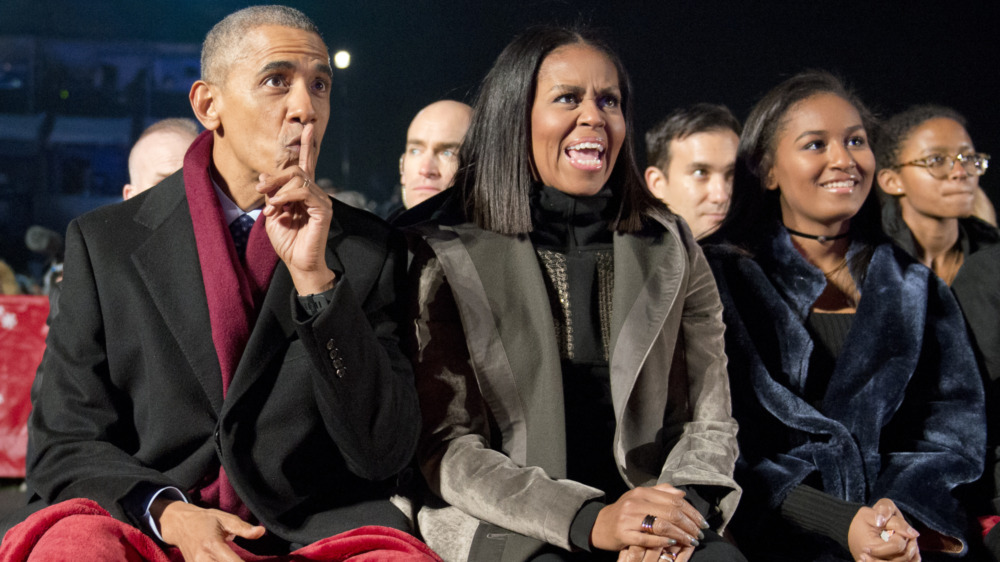 Pool/Getty Images
Since graduating from Sidwell Friends School in June 2019, Sasha Obama quietly enrolled as a student at the University of Michigan. Given her transition to college still had its atypical experiences, Obama continues to have a typical college life (sans the pandemic). In October 2020, she made headlines after an unnamed friend posted a since-deleted TikTok video of the two dancing and lip-syncing to Moneybagg Yo's "Said Sum (Remix)" featuring the City Girls. In the video, Obama is seen reciting the lyrics, "All these n****s wanna f**k JT / Hellcat, this a SRT," causing a bizarre uproar among critics while others came to her defense, per Daily Mail.
Obama made headlines again in December 2020 after MEFeater Magazine's Twitter account shared a photo of a woman who seemingly resembles her. In the photo in question, the woman is wearing a crop top that reveals a rib tattoo and bikini bottoms. The photo sparked debate about whether or not it was the former First Daughter, based on the matching necklaces appearing similar to the ones she wore from the deleted TikTok. In the meantime, celebrities such as Meena Harris and Jameela Jamil have come to Obama's defense about the headlines.
Although the public seems to have yet gotten used to Obama showing more personality, people fail to remember what she's all grown up now. We can't wait to see what Sasha Obama does next!