How Did Tom Hanks And Rita Wilson Meet? (& Was He Still Married?)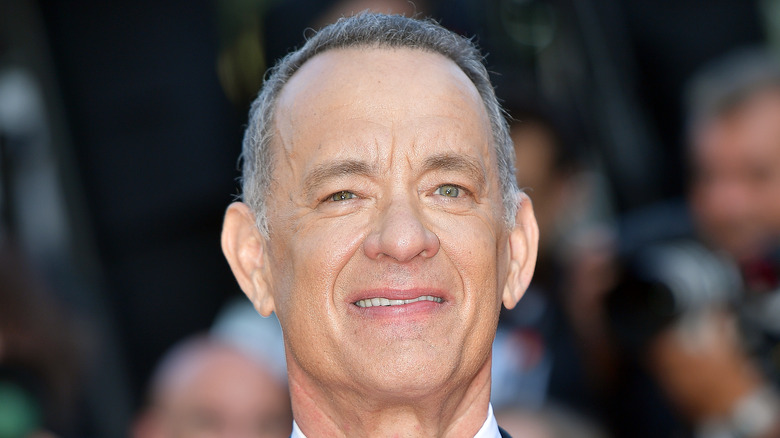 Dominique Charriau/Getty Images
There's no doubt that Tom Hanks and Rita Wilson share one of the sweetest love stories in Hollywood, and we can't help but swoon over their sweet marriage. Unlike many of their counterparts in the industry, Hanks and Wilson's marriage has withstood the test of time. They have been happily married for 35 years — which is worth bragging about. Over the course of their marriage, the pair welcomed two sons — Chet and Truman Hanks. Hanks also shares two children with his first wife, Samantha Lewes — Colin and Elizabeth Hanks.
It's safe to say that Hanks and Wilson share a pretty long history, and, in a way, it started long before they met. Hanks first saw Wilson during a guest appearance on an episode of the hit show, "The Brady Bunch" in 1972. Right off the bat, the actor was smitten. In an interview with "The Knot," Hanks revealed that he had heart eyes for Wilson  — even though they had not yet met in person. "I was actually at a friend of mine's house when that aired and remember thinking that that girl is cute," he told the outlet. Hanks also said, "Every now and again I just pull it up in Youtube. All of the stuff that she was in." How sweet is that? 
While "The Brady Bunch" may have been the first time that Hanks saw Wilson on-screen, it wasn't until several years later that they had their first face-to-face meeting.
Tom Hanks and Rita Wilson met on the set of a television show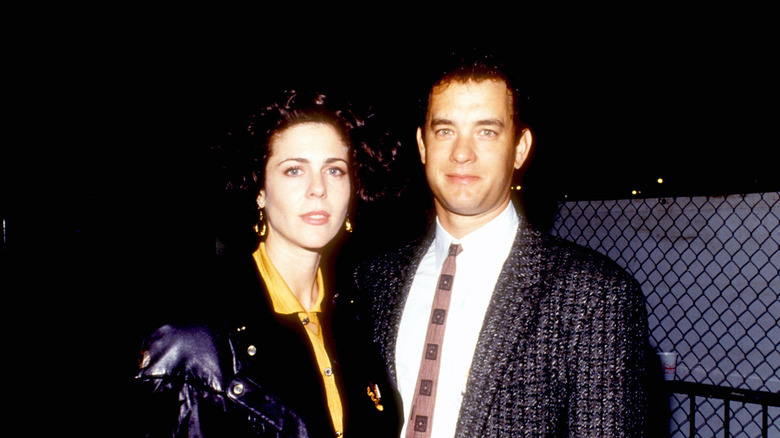 L. Cohen/Getty Images
Tom Hanks and Rita Wilson's relationship started off where most people would expect two actors to meet — on the set of a television show. Hanks and Wilson first met in 1981, when they both starred in an episode of the show "Bosom Buddies." As most of us know, Hanks had a regular role on the series playing Kip and Buffy Wilson, while Wilson appeared in only one episode. Still, the pair hit it off and struck up a friendship after meeting. "One of the things, when we met, was that we just got along instantly," Wilson told Kelly Clarkson about their first meeting. She also gushed over what a great storyteller Hanks was, which is another thing that drew her toward him. "Anybody who could tell a good story, I'm down with that. I love that. He makes me laugh all the time," she said. "He's a great storyteller."
However, the pair didn't share a romantic relationship at first because, at the time, Hanks was married to his first wife and high school sweetheart — Samantha Lewes. As fate would have it, Hanks and Wilson shared the screen again in the 1984 film "Volunteers," but they didn't begin dating until 1986, just as Hanks and Lewes were divorcing. When Hanks and Lewes finalized their divorce in 1987, he and Wilson tied the knot the following year, in 1988. And guess what? They've been married ever since!
Tom Hanks and Rita Wilson are the cutest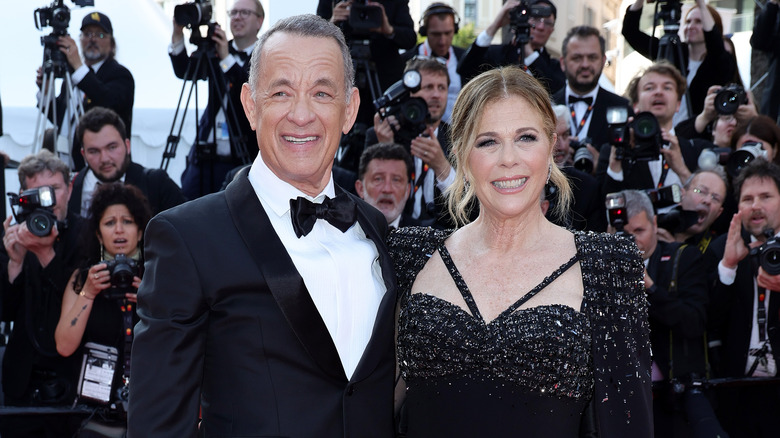 Andreas Rentz/Getty Images
Tom Hanks and Rita Wilson regularly gush about one another, and they truly have one of the most adorable relationships in the industry. In a 2013 appearance on "The Ellen DeGeneres Show" (via E! Online), Hanks confirmed that he also Wilson are perfect for each other in the sweetest way. "I'm not one to suck up to the audience, but the only thing we ever argue about is who loves each other more," Hanks shared. Stop, you're making us blush! Hanks has also spoken about how his relationship with Wilson has helped his career, including in a 2001 interview with "Oprah." He told the star, "I view my wife as my lover, and we have a bond that goes beyond words like wife or girlfriend or mother. For example, I was able to construct a number of things in "Philadelphia" because of my relationship with Rita. The way my character felt about his lover is the way I feel about mine." He also said that Wilson helped him form his relationship with Jenny in the hit "Forrest Gump." Yep, it's a love that runs deep.
Wilson has also returned the favor. "Happy Valentine's Day! Always laughing with this guy," she wrote on Instagram in 2022. In 2021, she also penned a sweet tribute to the "Forrest Gump" star on his birthday. "Riding into 65 better than ever! Happy Birthday to the love of my life! Xox," she shared in the upload. Ugh, love!