The Seriously Troubled Life Of Ike Turner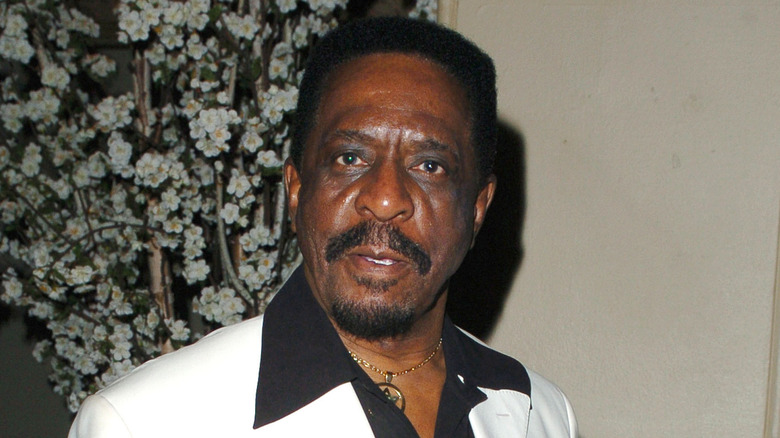 Steve Granitz/Getty Images
In the '60s and early '70s, Ike Turner made a name for himself as part of the duo Ike & Tina Turner Revue. The then-husband and wife pair traversed a ton of stages with the backing of their band and vocalists. Despite making headlines as a team, churning top hits such as "River Deep-Mountain High" and "Proud Mary," and performing with the Rolling Stones thrice, each had their own individual relationships with music.
For Ike, it was a love affair that began in his childhood when he'd miss school days to idle at a local game room in his hometown. One time, he witnessed pianist Pinetop Perkins in action, and that sparked a passion for music that lasted a lifetime. "I saw him (Perkins) through a window playing piano, man, and I thought it was unbelievable somebody could move their fingers that fast," Ike recalled in a GBH interview. "Finally he saw me looking through the window and he invited me in." Through the mentorship of Perkins, short-lived piano lessons facilitated by his supportive mother, and the will to learn on his own, Ike worked his way toward being a Rock and Roll Hall of Famer.
His music career aside, Ike's personal life was equally on the edge. While some of the mishaps he faced were due to circumstance, a good chunk of the unrest in his life was self-inflicted. The trip down Turner lane is both wild and turbulent, which begs the question, was he really the villain or a victim who never recovered from trauma? Read along to find out.
He worked menial jobs to make ends meet in his childhood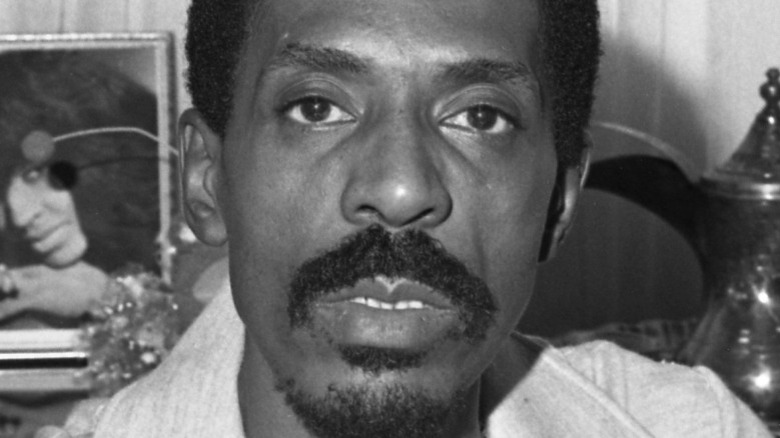 Michael Ochs Archives/Getty Images
Born in 1931, Ike Turner's formative years coincided with the Great Depression. As the economy took a turn for the worse, a young Turner worked blue-collar jobs to help his parents make a living. His humble beginnings set off on a chicken farm next door, where he picked eggs to collect a few coins. Soon after, Turner wanted to make more money.
"First I sold scrap iron, did odd jobs, any hustle I could think of to have a few extra quarters in my pocket," he revealed in a 1985 interview with Spin. "Then I ran away from home, to Memphis, where I worked as a hallboy at the Hotel Peabody. I wound up sleeping on Coca-Cola crates, so I think I stayed away for about four days."
Of, course Turner's mother was not impressed, and as a result, the beatings he received were memorable. Still, it didn't take away from the fact that times were tough. According to him, steak was a rare delicacy while he was growing up, such that a crust of bread was an indicator of wealth.
His father brutally died when Ike Turner was five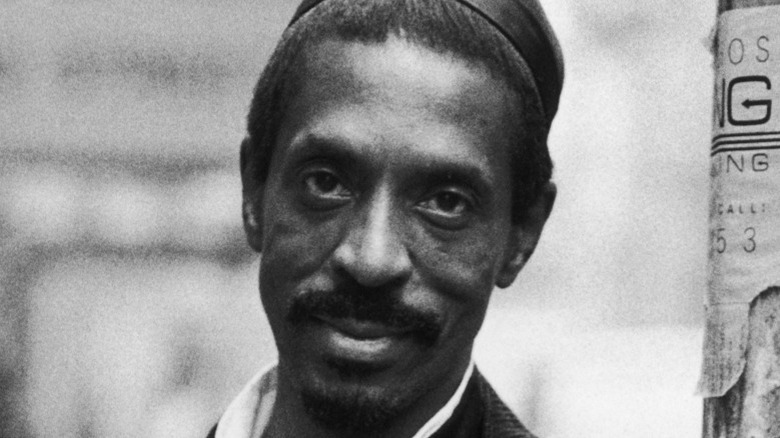 Dave Hogan/Getty Images
At the age of five, Ike Turner's biological father suffered a barbaric fate. Izear Luster Turner Sr. had a clandestine affair that had come to an end, but its later discovery caused havoc in the Turner household. A mob of infuriated men stormed the home, and as Turner Jr. relived the gruesome encounter on "The Roseanne Show," "I saw the door come down, they carried my father out ... he said that they took him out by a river [he could smell the swamp-like smell]. They brought him back and they threw him in the yard."
Turner Sr. had received a battering so brutal, his insides were perforated. Even worse, he couldn't receive proper medical attention because of the color of his skin. A temporary shade was set up, where he stayed put as he recuperated. The severity of his injuries showed in a foul smell that reeked from the shelter. "I lived at the second house from the corner in Clarksdale, Mississippi, 304 Washington," Turner Jr. told Roseanne Barr. "And when you were turning the corner when the wind was blowing a certain way, you could smell his intestines." Turner Sr. succumbed to his wounds after ailing for two years or so.
There was bad blood between Ike Turner and his stepfather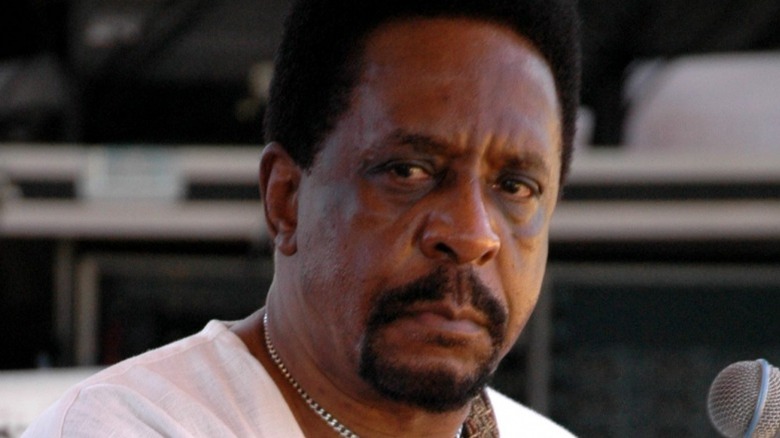 Martyn Goodacre/Getty Images
It took a while before Ike Turner Jr.'s mother, Beatrice Cushenberry — who practiced dressmaking as a source of livelihood— settled again after the death of Turner Sr. The new man in her life, Philip Reese, overindulged in alcohol. There was hardly any peace when he was inebriated.
"He'd get drunk and if my mother was sewing, he would come in and snatch the material from under the machine," Turner Jr. detailed in his 1999 memoir "Takin' Back My Name: The Confessions of Ike Turner." It goes without saying that there was no love lost between the pair. An altercation between them was the reason Turner Jr. fled to Memphis in the first place. 
Following the death of Cushenberry between the late '50s and early '60s, Turner Jr. took Reese under his wing. "I took care of him until he died in 1961," he wrote. "He was OK, but you know with kids, man, they brand you as mean and it sticks with them."
He was a victim of statutory rape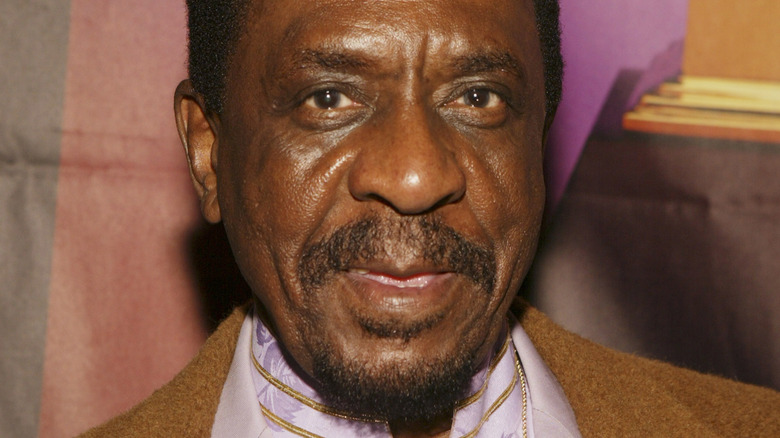 Lee Celano/Getty Images
Although he lightly dismissed a sexual encounter with a much older woman as him being a ladies' man in his conversation with Spin, Ike Turner was a victim of statutory rape at the age of six. "There was this woman, Miss Boozie, I'd feed her chickens every morning on my way to school," Ike conceitedly recounted. "She'd give me a nickel a week if she could put me on top of her and show me how to move."
In adulthood, sexual assault accusations subtly and overtly became part of Ike's life story. In the 1993 biopic "What's Love Got to Do with It," Ike (Laurence Fishburne) molests Tina Turner (Angela Bassett), a claim that his daughter Mia Turner vehemently denies happened in reality, per Daily Mail.
Similarly, ahead of the release of her 2022 memoir "Soul Survivor: The Autobiography," ex-Ikette P.P. Arnold made a startling revelation to The Telegraph that she was sexually abused by Ike in the '60s. "What can I say? It was awful. I despised Ike on that level, but I didn't know how to express myself," she said.
If you or anyone you know has been a victim of sexual assault, help is available. Visit the Rape, Abuse & Incest National Network website or contact RAINN's National Helpline at 1-800-656-HOPE (4673).
His lack of formal schooling got in the way of public speaking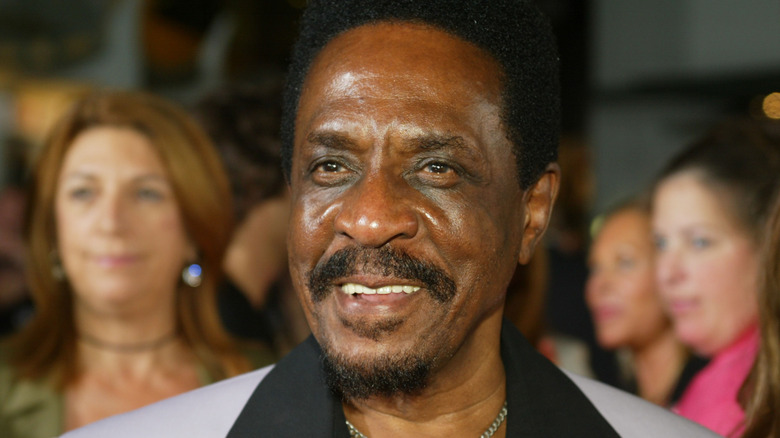 Kevin Winter/Getty Images
From the get-go, Ike Turner took a more practical than theoretical approach toward music. Thanks to his brilliance in school — from which he would drop out — he earned himself a piano which meant he could practice at home. He didn't take music classes seriously, either, and cheated his mother out of learning fees.
"I started to learning [sic] stuff by ear and taking the money she would give me to go to music lessons, and I would go to the pool room with that, and then I would just learn how to make something up on the piano," Turner revealed to Perfect Sound Forever. His lack of formal music literacy led to him being axed out of a band. He began his own group, Kings of Rhythm, worked as a talent recruiter, and remained uncredited for the alleged first ever Rock and Roll song "Rocket 88."
When Turner became a star in his own right with a string of successes, education was the elephant in the room. Turner's lack of schooling overshadowed his oratory skills, as he shared with Spin: "That's why I liked being in the background. I was really scared to talk to the press."
The Ikettes were allegedly mistreated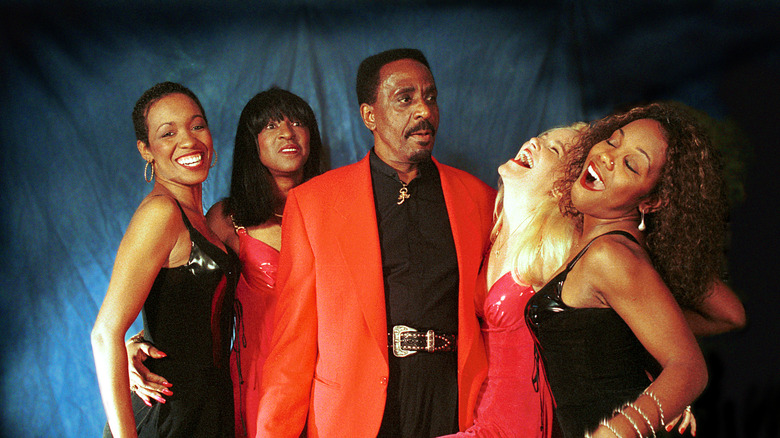 Rico D'rozario/Getty Images
For reasons unknown to Ike Turner and Tina, a job as their backup singer — popularly christened Ikette — was often short-lived. Per Rolling Stone, a number of Ikettes were vocal about the poor management and unfair remuneration they were subject to, citing that their compensation would be a nightly pay of $30 if they were in close proximity to Los Angeles.
Sometimes their work was unpaid in addition to not receiving recognition for vocal services rendered, and in the event of misconduct such as laughing boisterously or untangled stitches in stockings, there were penalties. "Actually you can get fined for breathing if Ike decides he doesn't like you or if he happens to be on a downer," said the longest-serving Ikette, Ester Jones to Esquire in 1974.
 Although the figures had gone up then, little cuts off their gross pay tampered with the Ikettes' budgets. "We only make money on the weekends," Jones disclosed. "And with our usual fines that leaves me with a little more than two hundred dollars for three nights' work."
There were allegations of infidelity and abuse in his marriage to Tina Turner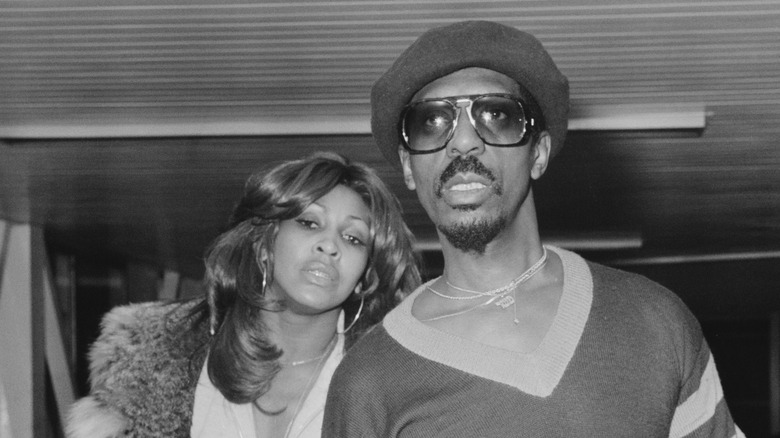 Frederick R. Bunt/Getty Images
Ike Turner gained notoriety for being a philanderer, a badge he wore with pride when he spoke to Spin. It was a lifestyle he claimed Tina Turner was privy to, way before they got hitched. "Tina even got girls for me. I didn't do anything with her that I wasn't doing when we first met. She'd get Ikettes for me. I was with them, she knew that," Ike told the publication. Tina, he insisted, was no stranger to open relationships.
Over the years, details of the abuse Tina suffered in the hands of Ike made news long after she'd moved on. During his appearance on "The Roseanne Show," Ike admitted that there were instances of physical violence in their marriage, but at times it came from both parties. "I have slapped her, she have slapped me, she have kicked me ... When you're together 24 hours a day, it's difficult," he said, additionally offering an apology. In a conversation with Ebony Magazine, their son Ronnie Turner said that Ike never really moved on post-Tina. He was always trying to find a way to make contact.
If you or someone you know is dealing with domestic abuse, you can call the National Domestic Violence Hotline at 1−800−799−7233. You can also find more information, resources, and support at their website.
Ike Turner was married (without divorce) multiple times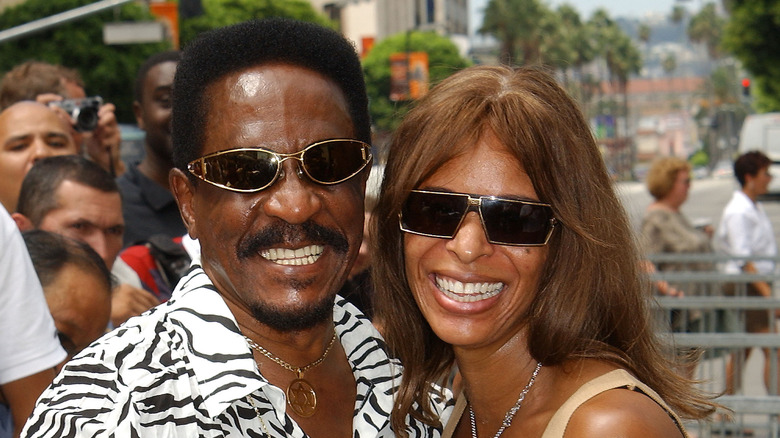 Gregg Deguire/Getty Images
Although Ike Turner's marriage to Tina Turner was his most publicized one, he had tied the knot at least 10 times by 1985. "I started getting married when I was 14," Ike divulged in his chat with Spin. "First there was Edna Dean Stewart. A few months later it was Velma Dishman, then Dolores Ward. I don't remember her last name, but then it was Alice." Getting married during those times, he reminisced, was as easy as pie. One only needed $5 to make things official, and divorce was unheard of back then. Separation was seamless.
By the mid-2000s, Ike had cozied up to singer Audrey Madison for years. The pair met through music and became lovers afterward. Just like he did with Tina, Ike and Madison performed together. Except he wasn't as fit medically due to emphysema. "It comes all at once, I'm never gonna have to cancel a gig, but that's one reason I have Audrey there," Ike said of the condition while speaking to The Independent. "Just in case. She can carry right on, and sometimes she's done more of the climax of the show than me."
On October 8, 2006, Ike and Madison walked down the aisle in Las Vegas. She became his fourteenth and last- known wife, whom he divorced after two months.
He reportedly had bipolar disorder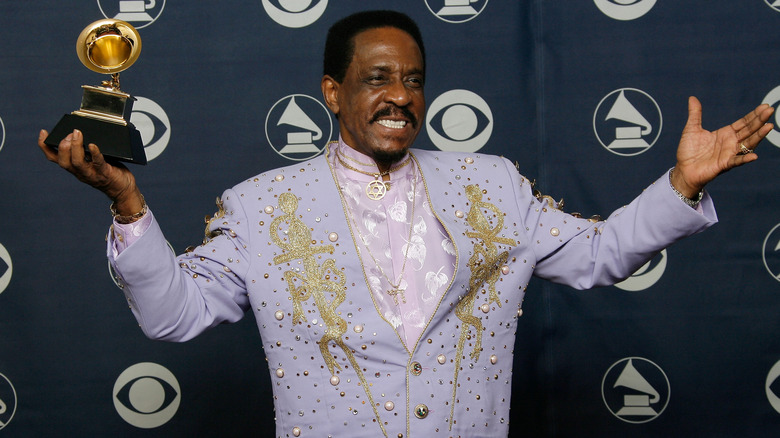 Vince Bucci/Getty Images
In Audrey Madison's 2016 memoir, "Love Had Everything to Do with It: My Ike Turner Story," she alluded to Ike Turner having bipolar disorder, often cocaine-triggered. It was an illness she was familiar with, since her own mother showed the same patterns. "My mother would fly into a rage and hit me, and then come back a little while later, and hug me, and call me her pretty little girl ... and I began seeing that in Ike," Madison shared in a conversation with Afro. "One minute we're talking and the next he's slapped me, and then just as quickly, he was apologizing and we are both making excuses for why he did it."
By Madison's account, Turner sought help upon intervention. He received medication to help manage the diagnosis, and became stable enough to have a taste of his former glory. His final body of work, "Rising with the Blues," won him a Best Traditional Blues Album Grammy Award in early 2007.

If you or someone you know is struggling with mental health, please contact the Crisis Text Line by texting HOME to 741741, call the National Alliance on Mental Illness helpline at 1-800-950-NAMI (6264), or visit the National Institute of Mental Health website.
Ike Turner's taxes were unpaid between 1975 and 1979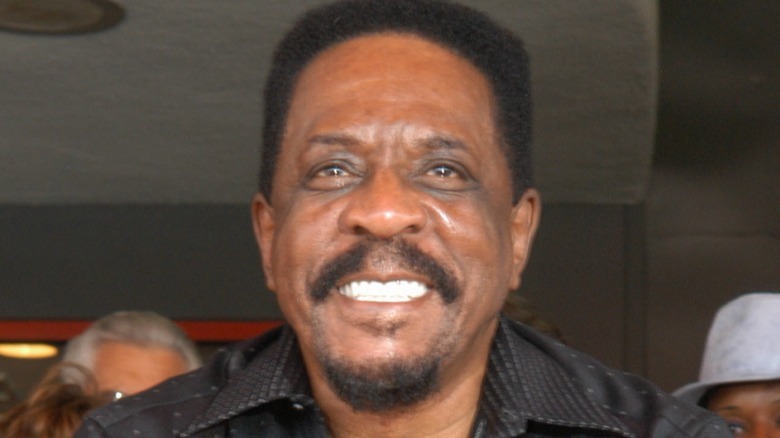 Robert Knight Archive/Getty Images
In the years leading up to his divorce from Tina Turner, Ike Turner ran into trouble with the state of California. As of Spin's August 1985 publication, Ike had amassed $12,802 in unpaid tax bills. He was unperturbed by the situation. "I owe California money, but I don't care about that. I'm sure there's other people out there that I owe money," Ike nonchalantly said.
A bulk of his financial woes, he added, came from his failed marriage to Tina. During the course of their union, he put all his eggs in one basket, having nothing left beyond taking care of his family. To add insult to injury, the couple had no written agreement in place. His day of reckoning came subsequent to their separation, during which he alleged that her lawyers took him to the cleaners.
"Tina cries splitting with nothing, but man, her attorneys worked it out so I got all the pink elephants," Ike narrated." They gave me a big mirage, the things that didn't mean much, like the mortgaged studio, and all of the Ike and Tina royalties from United Artists, which were $1 million in the red. They gave me nothing."
His recording studio burned down in 1981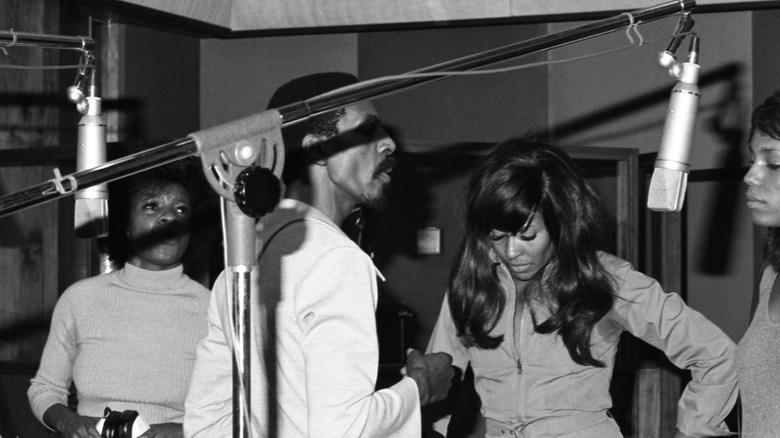 Michael Ochs Archives/Getty Images
Stationed in Inglewood, California, Bolic Sound studios was an ultra-modern facility put up by Ike Turner. Its name was in honor of Tina Turner. Boasting of high-value recording gear, tight-knit security, and a web of serpentine audio rooms, the complex was home to music industry greats. There was a lot going on at Bolic Sound besides melody making, which forced some of those close to Ike to distance themselves."I stopped going there because it seemed like a dope house," Ex-Kings of Rhythm lead Clifford Solomon told Spin. "Besides the cocaine and other drugs, there were a whole lot of chicks running around. There were so many disreputable people there."
Labeled the "Taj Mahal," Bolic Sound drew the attention of local law enforcement. In light of his divorce from Tina, however, Ike was gearing up to sell Bolic Sound when it went up in flames. For 18 hours, he watched helplessly until his most treasured asset was no more. Its complicated design left nothing to be salvaged. Four years afterward, where Bolic Sound once stood lay a commercial building housing offices and a beauty parlor.
He was arrested on numerous occasions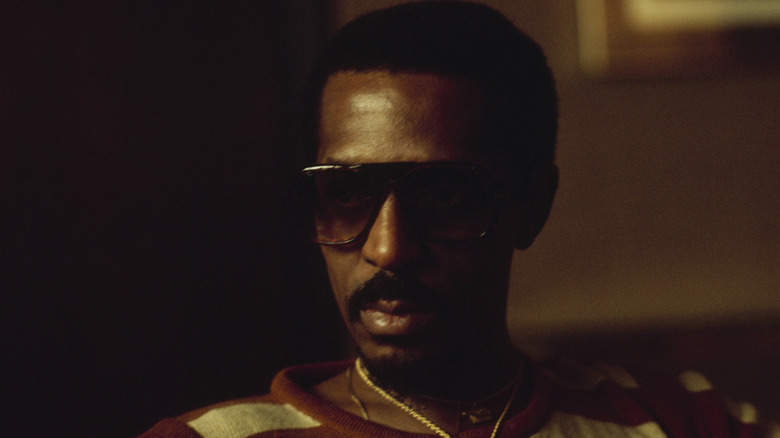 David Redfern/Getty Images
Ike Turner had a chain of arrests for several reasons throughout the years. He once had a run in with the law for assaulting a night club patron with a handgun. Turner was also apprehended for firing a bullet through the foot of a newspaper delivery man who physically attacked his dog and ownership of "blue boxes," per Spin. Somehow, he always evaded doing time.
On top of that, drug-related charges became synonymous with Turner's way of living. In June 1985, the police intercepted an alleged cocaine trade involving Turner and two accomplices. A few years before, a white substance thought to be the stimulant drug that was seized from Turner's car turned out to be sodium bicarbonate. Another arrest occurred in 1989 when Turner violated traffic rules in an alleged cocaine-fueled incident.
When he showed up to "The Arsenio Hall Show," Turner relayed a summary of the number of times he'd been taken into custody. "Thirteen times I've been arrested, not once have they ever found me with any drugs," he said. "Four times it was baking soda."
If you or anyone you know is struggling with addiction issues, help is available. Visit the Substance Abuse and Mental Health Services Administration website or contact SAMHSA's National Helpline at 1-800-662-HELP (4357).
Ike Turner was cut-off from the music industry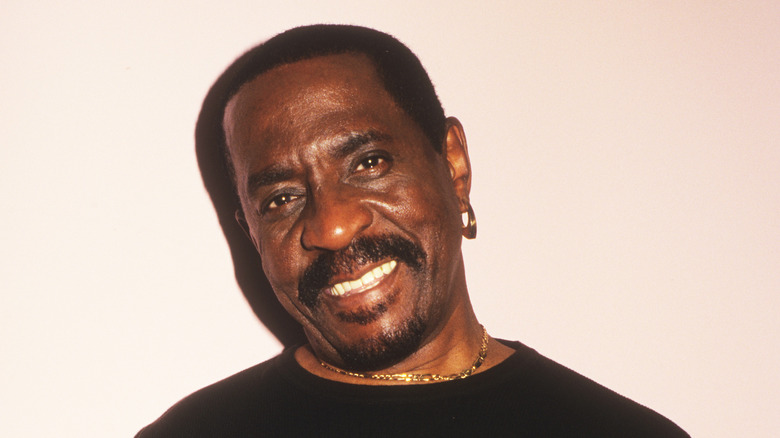 Jim Steinfeldt/Getty Images
When Spin caught up with Ike Turner in 1985, he was far from the '60s culture icon image he'd built. Once dining with who's who in music circles, players in the industry couldn't so much as touch him with a ten-foot pole. According to the grapevine, Turner was allegedly eyeing the formation of an Ike & Teena Revue with "Square Biz" song sensation Teena Marie. "He talked on and on about a national tour, but it didn't make any sense," Marie's ex-manager Allan Mink revealed about an alleged phone call from Turner. "He didn't even leave us a phone number, so afterwards we just laughed. A part of me now feels sorry for the guy."
Finding Turner physically was akin to looking for a needle in a haystack. Record labels from which he would have been receiving royalties hadn't kept in touch, neither did he. Turner's New York lawyer maintained that media engagements were off limits.
Years went by, and he seemed to have a change of heart on that stance in 1989. Asked of his whereabouts on "The Arsenio Hall Show," Turner said,"[I've been] Everywhere and nowhere." The scene as he had known it had been influenced by his negative publicity. "I started my new group about eight months ago, and man ...When I go into the building, the record company and everything, you could feel the vibes from it," Turner remarked.
He was legally shortchanged in What's Love Got to Do with It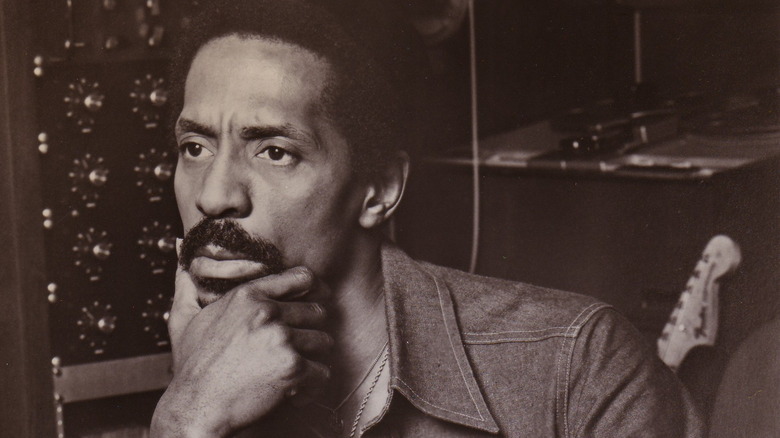 Gilles Petard/Getty Images
The film "What's Love Got to Do with It" earned its stars Laurence Fishburne and Angela Bassett Academy award nominations for best actor and actress in a leading role. Needless to say, the impact from its release worsened an already strained relationship between Ike Turner and the public. The catchphrase "Eat the cake-Anna Mae," from Beyoncé and Jay-Z's 2014 smash hit "Drunk in Love" is inspired by the flick, but it has attracted backlash due to the violent nature of the scene from which its extracted. 
Ike may have had a say in his image prior to the debut of "What's Love Got to Do with It," a fact he remained remorseful about since he legally got deceived. "During the time I was doing drugs, I signed a contract thinking it was for somebody to play me in the movie with Tina," he chronicled in an interview with ABC. "Until I got clean and got my head on like it is now, I didn't realize that the paper that I signed — my own lawyer got me to sign it — I was signing away my rights to sue them, and they could portray me any way they wanted to. So they made a villain out of me."
He died of a cocaine overdose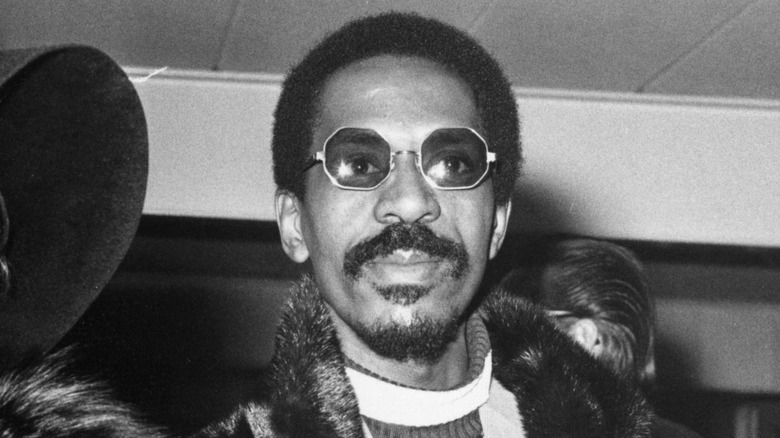 Evening Standard/Getty Images
On December 12, 2007, Ike Turner died at 76. Reports indicated that he had taken a nap after his first meal of the day, from which he never woke up. It was established that Turner's fatal ending came from overdosing on cocaine, and was enhanced by emphysema and coronary heart disease.
Turner's beginnings with the life-changing drug, detailed in "Takin' Back My Name: The Confession of Ike Turner," was because of two public figures. Prior to that, he was against substance abuse. So strict was he, that his band members were shown the door for displaying any signs of usage. Turner's former manager Phil Arnold revealed in the "Unsung" documentary that the entertainers who got him involved with cocaine were Redd Foxx and Elvis Presley.
Abusing the drug eventually landed Turner a four-year prison term in February 1990, in addition to puncturing his nose. He was released in September 1991, during which he vowed to have turned over a new leaf." Going in there was the best thing that ever happened to me," Turner told the press, per UPI. "It brought me back to basics, to the roots I had. I lost my whole life. I took everything for granted and it got swept out from underneath me." Sadly, he didn't live up to his intentions.
If you or anyone you know is struggling with addiction issues, help is available. Visit the Substance Abuse and Mental Health Services Administration website or contact SAMHSA's National Helpline at 1-800-662-HELP (4357).
His family fought over his estate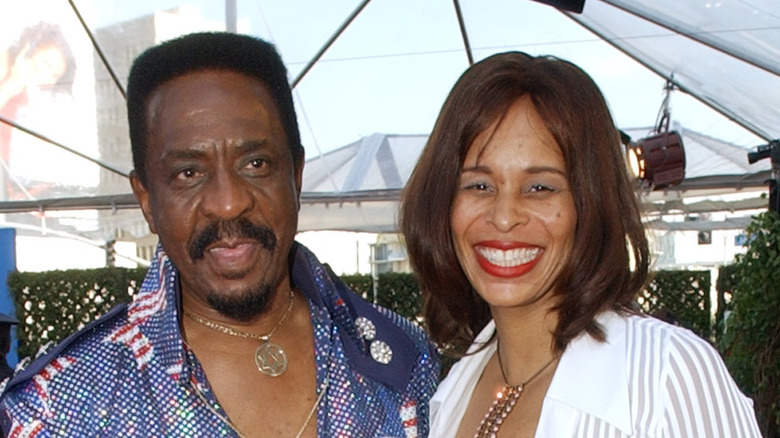 Frank Micelotta Archive/Getty Images
At the time of his death, Ike Turner had no formal will in place. There was no clear indication of the extent of his wealth, as one lawyer, Edwin Stegman pointed out, per The San Diego Union-Tribune. "We don't know what the value of the estate is," he said." Are we fighting over $4.39? We are suckers, fighting, spending time and money and we don't know over what."
Stegman was referring to an ongoing tussle between Turner's children, his ex-wife, Audrey Madison, for whom he was an advocate, and Turner's ex-representative, James Clayton. Both Clayton and Madison unveiled scribbled notes meant to prove that Turner had authorized control of his possessions to them.
"He said I was the only one who took care of him and if anything ever happened, he wanted me to be OK," Madison said at the hearing, according to the Daily Press. In October 2009, a verdict was reached that left Turner's children in charge of his estate.