What We Know About Elliot Page And Kate Mara's Relationship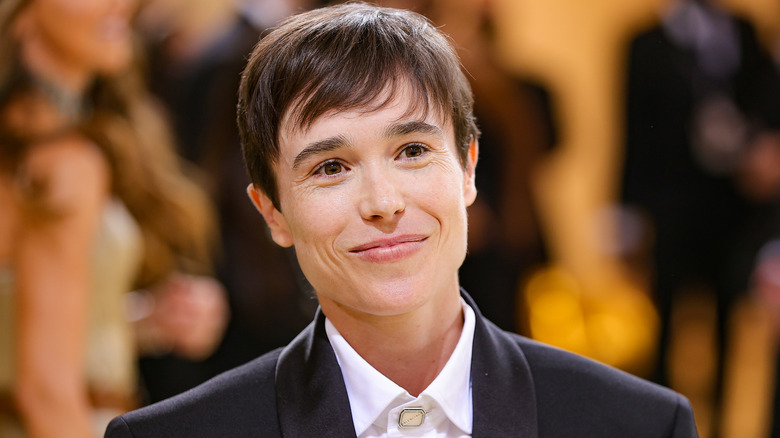 Theo Wargo/Getty Images
Since 2005, Elliot Page has cultivated an expansive career in the entertainment world. From his breakthrough role in the thriller-drama "Hard Candy" to starring in the critically acclaimed and Oscar-nominated film "Juno," the beloved talent has expertly carved his own lane as a multi-faceted actor. In addition to his film résumé, Page also made headlines for his journey as a queer trans man. In December 2020, the "X-Men: The Last Stand" star first shared his gender identity in an emotional statement to his social media channels. "Hi friends, I want to share with you that I am trans, my pronouns are he/they, and my name is Elliot. I feel lucky to be writing this. To be here. To have arrived at this place in my life," he said. "I love that I am trans. And I love that I am queer."
Since that day, Page has figuratively and literally remained an open book about his journey. Two years after his coming out announcement, the "Inception" star revealed he would be releasing his first memoir, "Pageboy." "Full of behind-the-scenes details and intimate interrogations on sex, love, trauma, and Hollywood, Pageboy is the story of a life pushed to the brink," the synopsis reads. With his book set for release on June 6, the "Umbrella Academy" star has shared excerpts, including one regarding his secret relationship with "Fantastic Four" star Kate Mara.
Elliot Page says he and Kate Mara shared a brief romance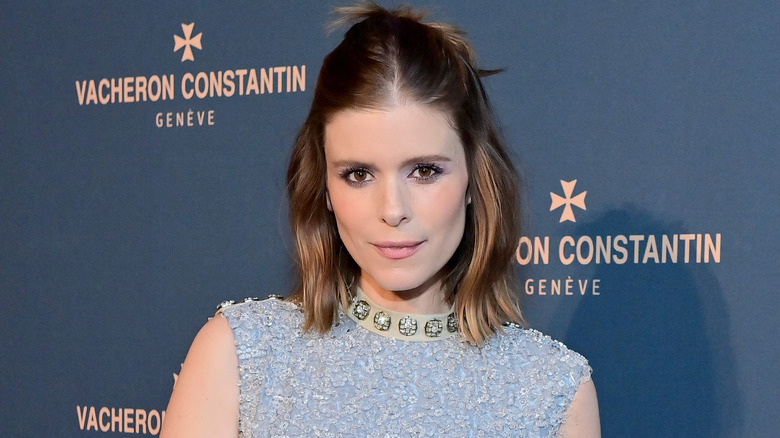 Stefanie Keenan/Getty Images
In a recent interview with People, Elliot Page shared more details about his highly anticipated memoir, "Pageboy." When asked about finally sharing his experience with readers, the "Tales of the City" star revealed: "It definitely feels a way that I never thought I would get to feel, and that mostly manifests in how present I feel, the ease I feel and the ability to exist." In addition to his interview, Page released new excerpts from the book, including one about his short-lived romance with Kate Mara. At the time, the "A Teacher" star was in a relationship with "The Handmaid's Tale" actor Max Minghella. Page said he supported the idea of them exploring their feelings for one another.
"This was right after I'd come out as gay, and it was a time of exploration and also heartbreak," he wrote. "I think my relationship or whatever you want to call it with Kate, very much encapsulates a certain dynamic that I consistently found myself in, which was falling for people that — I think a lot of us do this — who aren't fully available." While Page and Mara's romantic connection was brief, the "Juno" star admitted that they still have a close bond, which he described as "its very own special thing."
Elliot Page and Kate Mara showcased their chemistry in My Days of Mercy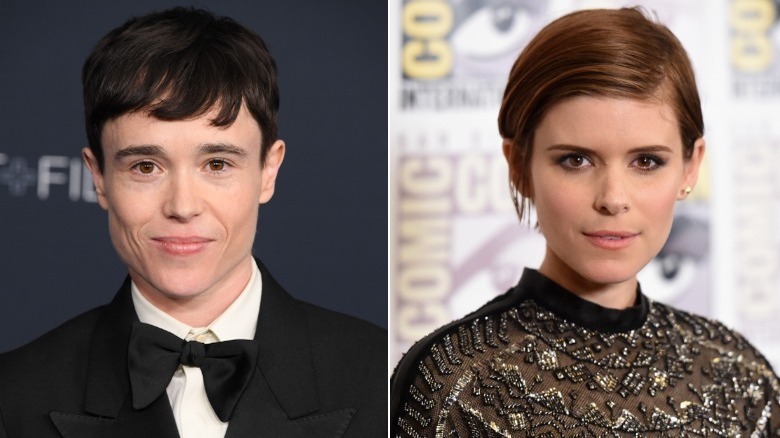 Jason Merritt & Steve Granitz/Getty
Before Elliot Page opened up about his secret romantic entanglement with Kate Mara in "Pageboy," the two talents starred as fictional lovers in the drama "My Days of Mercy." The film, released in 2017, follows Lucy Moro (Page) and Mercy Bromage (Mara) as they navigate their intense romantic feelings. However, things get murky when Lucy discovers Mercy has a boyfriend. At the time of the film's release, Page and Mara ironically received critical acclaim for their sizzling on-screen chemistry. "The effervescent chemistry between the two leads [saves] it from Sundance-y overearnestness," Phil Hoad of The Guardian wrote.
In a 2017 interview with Nylon, Mara revealed she related to Mercy and seemingly alluded to having a similar off-camera dynamic with Page. "I read the script, and it was like, 'Obviously, I'm Mercy.' I think if I had read it with somebody else or somebody else came to me with this script, I wouldn't naturally go, 'Oh, I'm definitely Mercy,' because I related in a lot of ways to Lucy as well," she explained. "But our dynamic in general... it just sort of... yeah, we just fell into those naturally." Page added that filming the "heavy and sad" film was an easy feat due to Mara's involvement. "To do it with one of your best friends just allows you to feel more vulnerable," he admitted.