Is Elliot Page Dating Anyone After His Divorce From Wife Emma Portner?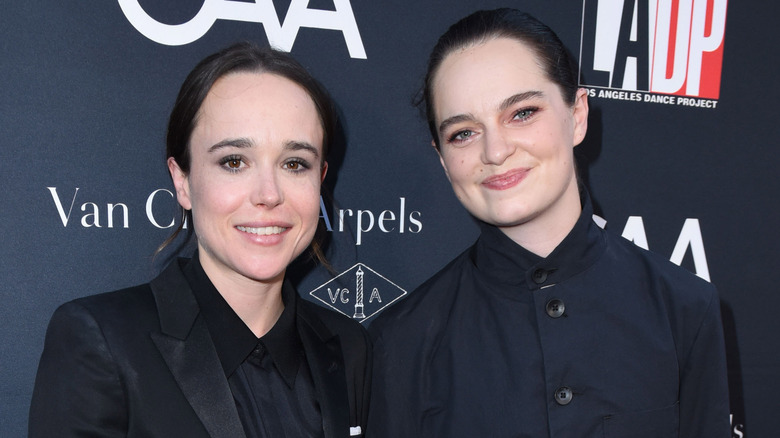 Vivien Killilea/Getty Images
Elliot Page thrilled fans when he revealed he'd married his wife, Emma Portner, in January 2018 via an adorable Instagram post. According to The Sun, the couple met in March 2017 and walked down the aisle nine months later. Sadly, things weren't meant to be, and TMZ reported they were divorcing in January 2021. So, what's bachelor life been like for Page? Has he dipped his toe into the dating pool or stayed home crying into a giant carton of Ben & Jerry's chocolate chip cookie dough?
Page's decision to end his marriage occurred just two months after he publicly came out as a proud transgender man. "I feel overwhelming gratitude for the incredible people who have supported me along this journey. I can't begin to express how remarkable it feels to finally love who I am enough to pursue my authentic self," he wrote, in part.
Page's wife fully supported his transition, sharing encouraging and affirmative posts about her husband's bravery. "Trans, queer, and non-binary people are a gift to this world. I also ask for patience & privacy but that you join me in the fervent support of trans life every single day," she wrote on Instagram (via the Daily Mail). However, Portner quickly realized there's no privacy when you're dating an A-lister and was forced to close down her Instagram account. So, is Elliot Page dating anyone after his divorce from his wife, Emma Portner?
Has the king found the one?
Dating when you're an A-lister is difficult — especially when you're as high profile as Elliot Page. It takes a special kind of person used to scrutiny and troll attacks, and it appears that Page may have found that somebody in Mae Martin.
Glamour reported the hot couple seemingly debuted at the 11th Annual LACMA Art+Film Gala in November 2022. They looked crazy in love as they posed, unable to keep their eyes off each other. "My King @elliotpage took me out," Martin captioned a collection of pics and videos from the evening, ending their post "#t4t," which, Glamour explains is terminology for trans people who tend to date other trans people.
Martin came out as non-binary in 2021. "The way I feel about my gender identity is ongoing and evolving, and it's personal," the comedian posted. "But I thought it might be good to say for clarity and in case anyone finds it helpful — I'm nonbinary, my pronouns are they/them and she/her (I love it when people say 'they' but I don't mind 'she' at ALL.)" Martin might be laissez-faire when it comes to gender labels, but they are fiercely protective of their community, especially when it comes to other comedians making snarky "jokes" about trans people. "It's such an at-risk minority group. I don't really know why there isn't more uproar about publicly targeting them when the consequences are so obvious," Martin told the Daily Beast, referring to a problematic Dave Chapelle sketch.
The couple that inks together....
When Elliot Page and Mae Martin appeared at the LACMA Art+Film Gala, adoring fan reactions drowned out the troll hate, proving love wins. "Cannot handle this pic," one follower commented on Martin's photos (via People). "Oh my god, so hot," another wrote. The couple has been close for some time. Martin and Page got matching coffee cup tattoos in August 2021. The comedian chose the side of their ribcage (ouch!), while the actor went for his bicep. "Someone stop us from getting more tattoos," Martin captioned a pic of them.
Neither Martin nor Page has publicly confirmed they're dating. Still, their matching ink, adoring glances, and history of loving comments would appear to give the game away. They both posted a pic of them having drinks together in 2021. "Chilling with this heartthrob," Page captioned his post. "Reunion with true stud Elliot Page," Martin captioned theirs.
In June 2022, Page got honest about his life since coming out as transgender. He told Seth Meyers that he was "really grateful" for the support from those closest to him. Page said he'd been talking with loved ones about transitioning for some time, so "most people weren't surprised." As for dealing with the inevitable negativity and trolling? Page said he'd prefer to focus on the positivity. "It's been so extraordinary the degree of joy that I feel," he added. "The degree of presence that I feel. I feel a way that I never thought possible."