Why Some Think Khloé Kardashian And Scott Disick's Relationship Isn't Platonic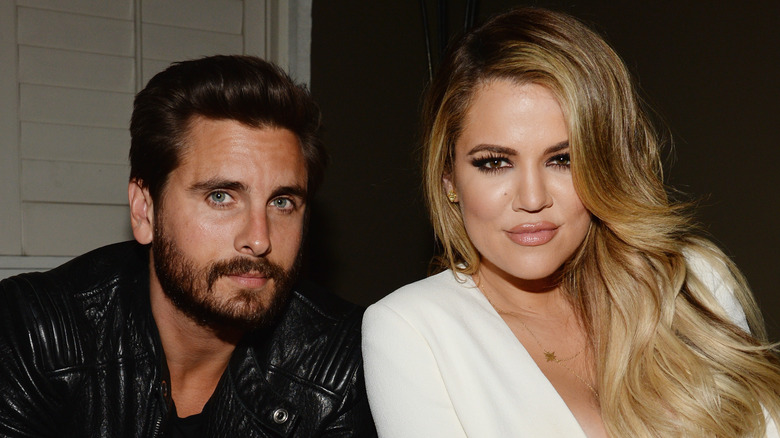 Chris Weeks/Getty Images
Khloé Kardashian and Scott Disick have a unique relationship. With their teasing, brawling, and Scott's support of Khloé through her dating dramas, they come across as brother and sister. Still, occasionally things appear to go deeper than just siblings, which begs the question: Is Khloé's friendship with Scott really just buddy-buddy or something more? Khloé and Scott have known each other for ions, so it's a no-brainer they're super comfortable with each other. But then he's known Kim Kardashian for just as long, and he's never accused her of butt-jiggling and twerking in front of him or had lengthy discussions about how much side boob she should flash. 
Scott has been a permanent fixture in the Kardashian household since he started dating Kourtney Kardashian. People reports that Scott and Kourtney met in Mexico in 2006 and endured a tumultuous relationship that spawned three kids, Mason, Penelope, and Reign Disick, before permanently splitting in 2015. "Scott and I, we're going to be in each other's lives forever. We are soulmates, in a sense. No matter what, whether we're ever together or not," Kourtney explained during Season 16 of "Keeping Up With The Kardashians." 
She's now firmly moved on, with Kourtney and Travis Barker's wedding in 2022 shocking everyone. Yet, Scott remains a part Kardashian-Jenner clan — often kicking it with Khloé. So, it's little surprise some think Khloé Kardashian and Scott Disick's relationship isn't platonic. But what does Khloé have to say about it?
Ride or die
You can say a lot of things about the Kardashians, but you can't accuse them of not being loyal and having each other's backs. Despite their many bust-ups and fights, the sisters have always been there for each other through thick and thin. So, it's no surprise that when some question if Khloé Kardashian and Scott Disick's relationship is really just platonic, she's a little triggered.
Us Weekly reports that when a fan insisted they "refuse to believe they've never shagged," Khloé clapped back hard. "I feel sad for you because apparently, you don't have relationships in your life that can be completely platonic," she wrote in part. "You don't have relationships where someone genuinely loves and cares about you without wanting anything else besides a friendship."
After Scott tragically lost both of his parents in close succession, the entire Kardashian Klan rallied, ensuring Scott knew he would always be part of the family, regardless of his relationship with — and often appalling treatment of — Kourtney Kardashian. "You have been there through the highest highs and the lowest lows. We have been there for one another during some of the hardest and happiest times in our lives," Khloé posted in celebration of Scott's 40th birthday. "Scott, I love you, and I am so grateful to have you in my life. You and I started off rocky, but I'm so proud of that because we have overcome so much, and it has only made us closer and stronger."
Kourtney's over the Lord Disick victim card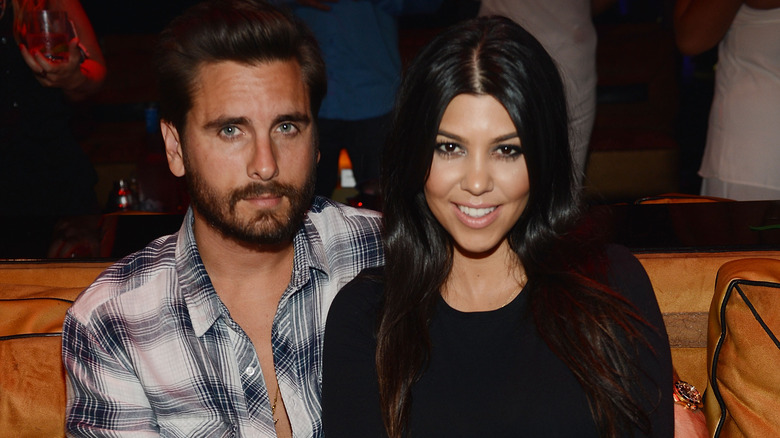 Denise Truscello/Getty Images
Khloé Kardashian and Scott Disick's relationship hasn't always been plain sailing. Over the years, she's frequently called him out over his treatment of her sister, Kourtney Kardashian, his hard-partying, and alleged affairs. They've definitely had a love-hate friendship that began firmly in the hate camp.
However, that shifted wildly over time. "I've gone to anger management over Scott," Khloé admitted during the "The Kardashians" premiere on Hulu. "But somehow, Scott and I became like besties, and he really is like a brother to me." However, she conceded that Scott acts "a little more flirty" with her than her blood brother Rob Kardashian does— which is one thing at least because the latter would be super creepy and super strange, something that Khloé fully acknowledges. "The whole thing's just f****** weird," she concluded.
Things became really challenging for a while after Kourtney and Scott split up, and her family continued to embrace and support him. "I'm really over it with my family enabling Scott because they really don't know all of the details," Kourtney admitted during a "KUWTK" past episode. "Him playing the role of the victim, I can't have it keep going on and on," she continued. "You guys usually agree with him, and you're like, 'Yes, Kourtney, what is she doing?'" the oldest sibling schooled Kim Kardashian and Khloé. She told her sisters they needed to stop constantly agreeing with Scott and taking his side against her.