Do Kim Kardashian's Exes Ray J And Kanye West Have A Close Relationship Today?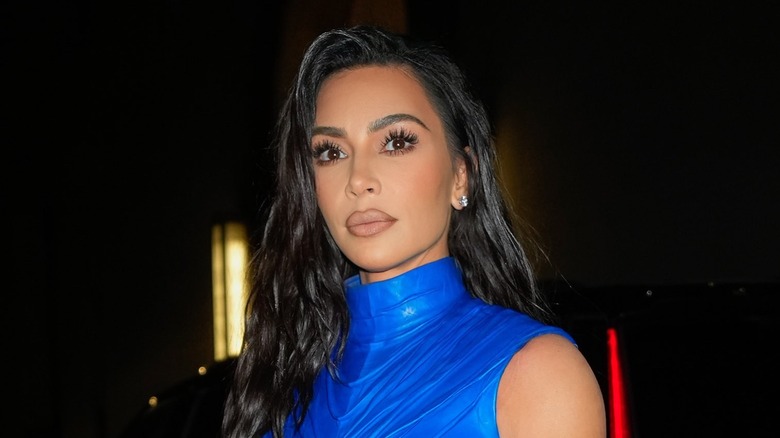 Gotham/Getty Images
Willie "Ray J" Norwood and Kim Kardashian's relationship turned toxic after their sex tape fell into the hands of Vivid Entertainment. It was a huge embarrassment for Kardashian, but ultimately launched the Kardashian/Jenner empire, according to Page Six. When Kardashian started dating Kanye West, he had Ray J in his crosshairs. But after getting kicked to the curb by Kardashian, is West still battling her ex?
During "The Kardashians," West claimed he'd retrieved Ray J's hard drive that included enough XXX material for a second tape. West delivered it to Kardashian like John the Baptist's head on a platter. "He met Ray J at the airport and got it all back," a choked-up Kardashian told her entourage. "I know Kanye did this for me, but he also did this for my kids," she continued. Not so fast! If there's one thing we know about West, it's that things aren't always as they appear to be.
In April 2022, Ray J had some harsh words for Kardashian and West. "All this is a lie smh. Can't let them do this anymore—so untrue," he commented on an Instagram post showing "The Kardashians" video clip. A source backed up his claim, telling Page Six there was nothing new on the hard drive besides footage of Kardashian and Ray J on a plane and at a club. So, given all the dirty water that's flown through the sewer, do Kardashian's exes Ray J and West have a close relationship today?
The budding bromance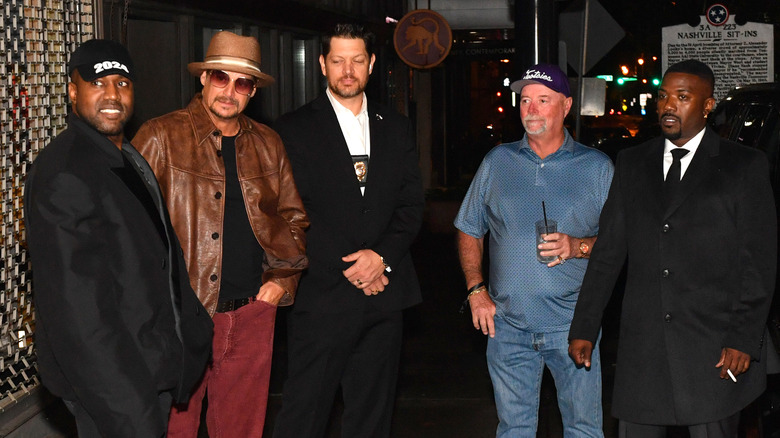 Jason Davis/Getty Images
The Kardashians have always placed the onus for the sex tape leak solely on Ray J — who vehemently denies their allegations. When Kanye West began dating Kim Kardashian, he hopped on the blame train, resulting in a years-long beef between him and Ray J. However, after Kardashian split with West, Ray J offered him an olive branch. "Maybe we might need to be friends now? Everybody all needs to put that s*** behind us. It's 2021. It's all love over here. Let's bring the love together. It's all good, man," Ray J told Genius.
Per Page Six, photos surfaced of West and Ray J on the red carpet for the premiere of controversial conservative talking head Candace Owens' anti-BLM documentary in 2022. Ray J was all smiles while West kept his head down, only showing off his scowl and a black 2024 baseball cap. However, in more candid pics, West was the one who was all smiles as he hung out on the street with Ray J — albeit with Kid Rock, Milo Yiannopoulos, and another person between them.
The gossip column claims the group dined together after the event, chowing down at Giorgio Baldi. They may have arrived and departed separately, but given the restaurant's Hollywood hotspot status, they weren't exactly keeping things on the down low. Then, Ray J showed West some serious love by supporting his many social media rants against the Kardashians — especially their matriarch Kris Jenner.
Blame it on the m-m-m-m-m-momager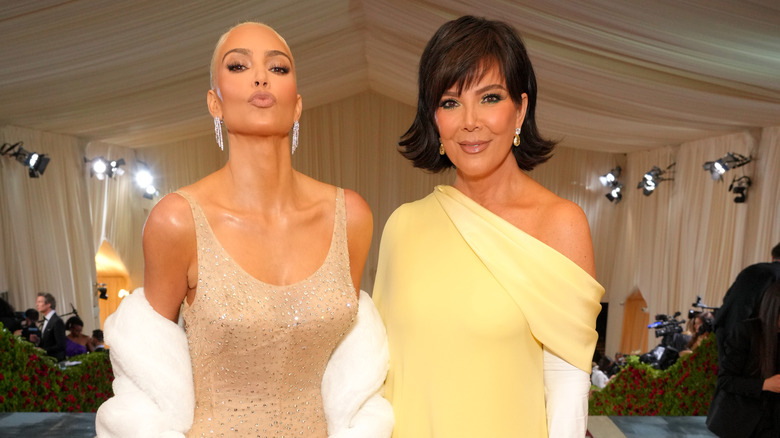 Kevin Mazur/mg22/Getty Images
Kanye West continued his anti-Kardashian crusade, posting an alleged screenshot from Kris Jenner. "Tell him to please stop mentioning my name. I'm almost 67 years old, and I don't always feel great, and this stresses me to no end," it read, per Us Weekly. Ray J was totally there for it. "What about my mom Kris?" he commented. "You tell people false stories about me, making the black man look horrible; for your gain, you introduced me to Steve Hirsh; you masterminded everything for your family and tried to ruin me at the same time smh."
Jenner passed a (sort of) polygraph test on "The Late Late Show with James Cordon," insisting she never helped broker her daughter's sex tape, causing Ray J to go next level with accusations in his Kardashians feud. "You f****ed with the wrong Black man Kris Jenner, Kim Kardashian," he kicked off a lengthy Instagram diatribe, per The U.S. Sun, branding the polygraph examiner, John Grogan, "a fake" and a "polygraph parasite" and vowing to "clear my name of this negativity and show you how these people are f***ing devils."
Then in an Instagram Live video (via The Cut), Ray J claimed he filmed three tapes with Kardashian. He alleged Jenner chose the one to release based on which "gives my daughter a better look." Ray J beseeched fans to "demand them to admit that they've been f***ing me over, and they should immediately bow down to the facts and go ahead and apologize."