RHONJ: Where Gia Giudice Stands With The Manzo Brothers Today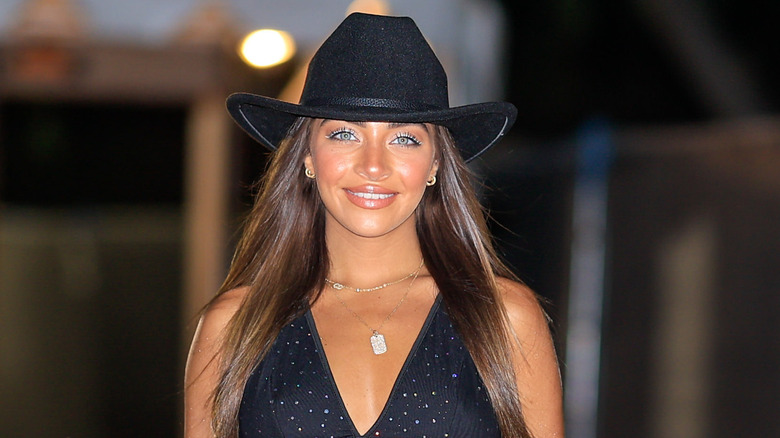 Rachpoot/bauer-griffin/Getty Images
When you're a teen, your mom is embarrassing enough. But when she's flipping tables and screaming on TV, it's got to be mortifying. Welcome to the world of Teresa Giudice's three children. Her oldest, Gia Giudice, grew up on "The Real Housewives of New Jersey" and was unwittingly dragged into Teresa and Caroline Manzo's bitter feud, which was made all the more difficult because Gia was raised with Caroline's sons, Albie and Christopher Manzo. So, did the kids duke it out like their moms, or did they act like the adults in the room?
As any "RHONJ" aficionado knows, Teresa and Caroline have been bitter adversaries since the dawn of time — or at least since the beginning of "Real Housewives." But it wasn't always that way. ScreenRant reports that they used to be tight. Theresa's three daughters even used to call her "Aunt Caroline" until things went south after Melissa and Joe Gorga appeared on the scene during Season 3 of the hit show.
Teresa's claws were out for her sister-in-law from the get-go, and she launched attack after attack on her brother's wife. Caroline became a casualty of the war after she stepped in and attempted to mediate between the battling two. Her peace-making attempts weren't appreciated, and she soon became a target of Teresa's ire too, resulting in Caroline exiting the show after Season 5, per Us Weekly. The two moms are still sworn enemies, so where does Gia Giudice stand with the Manzo brothers today?
The Manzo bros are all about the love
By the end of Season 5 of "Real Housewives of New Jersey," Caroline Manzo was done with Teresa Giudice, so she quit. During a game of "Squash Their Beef," the two women agreed to never agree and to never be friends again. So where does that leave Gia Giudice and Albie and Christopher Manzo? Well, it turns out that they're not there for their moms' petty squabbling and feuds.
They opened up about their relationship in an interview on "Watch What Happens Live" with Andy Cohen. "I've never had any issues with Albie or Chris," Gia said. "We're all like great kids. Whatever our parents .... it's with our parents." Chris seconded the emotion and recalled the good old days, pre-feud. "We had a ton of fun when we all used to hang out at their house, and Joe would cook and all that other stuff," he said.
Chris confessed that the three don't talk much, but it has nothing to do with bad blood. "It's a pretty big age gap [between Gia and us], but obviously, it looks like Gia's doing great, and that's awesome," he continued. As for their moms ever reconciling? "I don't know that either of them have even thought about it, to be honest with you," Albie admitted. "Let me tell you something about my family Andy. It's a lot of adults that don't get along. And the kids have always been able to keep it cool, so...."
Gia's getting ready for the next chapter
Despite growing up in the reality TV spotlight, Gia Giudice has no intention of following in her famous family's fiery feuding footsteps. The oldest of Teresa Giudice's three daughters has grown up with a surprisingly level head and a lot of maturity and smarts. People reports that Gia graduated from Rutgers University in May with a bachelor's degree in criminal justice.
"Seeing you graduate college is one of the most special moments in my life," her proud mom captioned a pic of her posing with Gia in her graduation garb. "You definitely paved the path of success for your sisters, and you are an inspiration to them and me. I am so excited to see what your future holds."
Gia's degree could have really come in handy for her mom and dad a few years back. This is kind of funny, as their legal woes inspired her to pursue a career in law in the first place. "Their whole experience influenced me, honestly, for the better," Gia told Bravo TV, adding "I just want to help families and be able to be there for families and help children, honestly, especially."
Gia said she's planning to head to law school but wants to focus on her creative side too, telling Bravo TV. "My hope for the future is to become a very successful lawyer and have a lucrative clothing business on the side."