How Gia Giudice Really Feels About Growing Up On RHONJ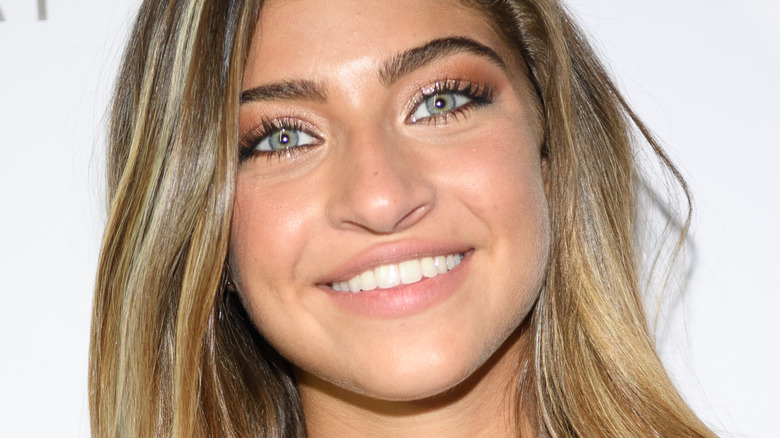 Dave Kotinsky/Getty Images
"The Real Housewives of New Jersey" fans have seen Gia Giudice on their screens since she was just eight years old ... but how does she feel about it?
Gia may not be a Real Housewife herself, but she's an "RHONJ" OG, all the same. Over the years, fans have seen her go from child, to teenager, to young adult — and, of course, there's been plenty of drama along the way. Who can forget her now-viral "Sad Song," which ultimately saw none other than Will Smith remix the clip on TikTok? Trending moment aside, when Gia first sang the song in Season 3, her family was in the middle of (one of many) feuds. As her uncle, Joe Gorga explained in a confessional at the time (via E! News), "Gia's hurting. She knows what's going on." Several years on, Teresa Giudice's eldest "dorter" was at the center of family drama again, in Season 12. This time, it was Gia, herself, feuding with Gorga. The two had an epic showdown in front of the Bravo cameras, and saw Gia demand that she be treated like the twenty-something she was: "I'm an adult now too, so you can talk to me like one ... 'cause I'm done with you being disrespectful." 
In light of all the turbulence she's experienced on the show, we can't help but wonder: how does Gia Giudice feel about having lived so much of her life on "RHONJ?" 
Gia has struggled with the edits
Having featured on more than 10 seasons of "The Real Housewives of New Jersey," Gia Giudice has more experience than some of the Real Housewives themselves. It only makes sense, then, that she's learned a thing or two about the show's editing process over the years — and she's not always a fan. In fact, speaking to "The Real Housewives of Salt Lake City" kid, Brooks Marks for his "Growing Up Reality" segment on In The Know, Gia shared that it was "the hardest thing to struggle with." 
"Every season ... it's like, the villain, the person they're attacking ... the person that looks the best on the show," she explained. Gia added that she'd seen her mom, Teresa Giudice in each of those categories — and that it was often incredibly frustrating. "It's like, well, that's not actually how it went down," she mused. In order to combat edits that stretched the truth, Gia continued that she'd learned to "say exactly what I want to say when I'm being filmed, because otherwise you're not going to get your point across."
Gia being committed to sharing her truth with the world is hardly a surprise. After all, in Season 11, she found herself caught up in a hurtful rumor when comments made by Jackie Goldschneider led to her being questioned about alleged drug use by her sorority. "I dealt with a lot of things because of this analogy," she said of the ordeal (via ET). 
Gia is super aware of how reality TV can affect family dynamics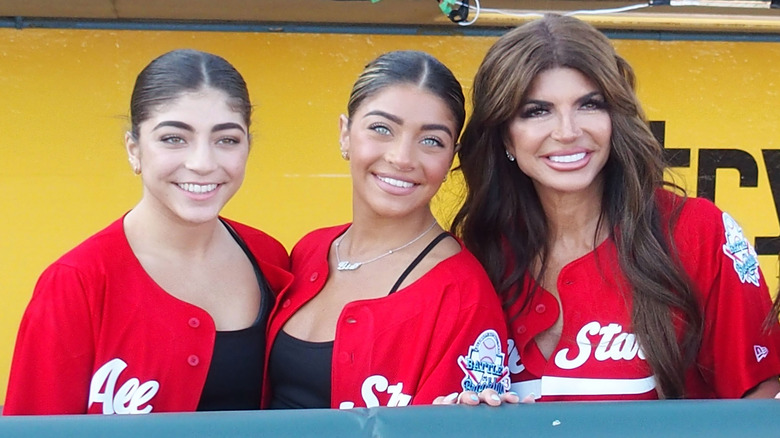 Bobby Bank/Getty Images
Damning edits and hurtful rumors aside, Gia Giudice loves being on "The Real Housewives of New Jersey," and her family is a major reason why. 
In her In The Know interview with Brooks Marks, she revealed that working with her siblings was "Fun ... we all really work very well together." That said, she's also well aware of how being on a reality show with family can take a turn. Having witnessed her parents feud with her uncle and aunt throughout the years — something which she admitted prevented her from watching the show in its earlier seasons — Gia makes a concerted effort to be mindful of anything she says to or about her sisters. "You never want to make your sibling look bad," she explained. It was a sentiment she doubled down on a week after the video aired. As Gia told Parade at this year's BravoCon, in the absence of the show, the drama between Teresa Giudice, Joe Gorga, and their respective families "wouldn't have escalated to this level." 
Even with that drama, though, Gia is confident that she wouldn't change being on "RHONJ," especially because she has easy access to so many childhood moments. "There's just footage of all these cute memories from growing up, from when I was little, to my grandparents," she beamed on In The Know. Being on "RHONJ" comes with its challenges, but for Gia Giudice, the pros clearly outweigh the cons.