Why Meghan Markle Always Hides Her Hands In Her Pockets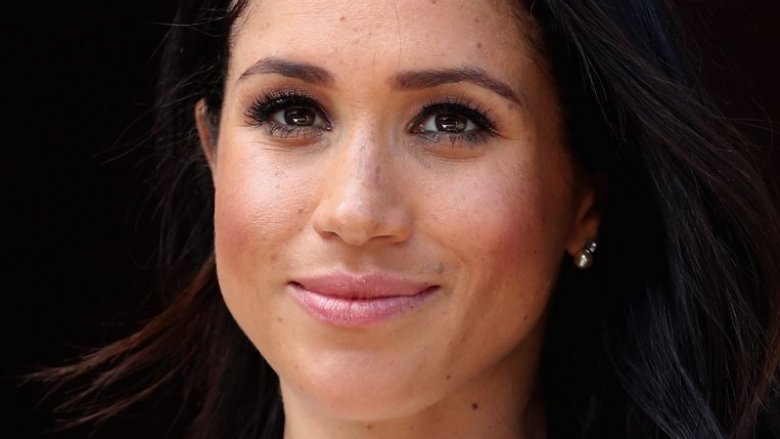 Getty Images
Meghan Markle is a bona fide fashionista. Long before marrying into the royal family earlier this year, the duchess' stunning fashion, makeup, and grooming tricks were already making headlines — and have even earned her a Teen Choice Style Icon Award nomination. 
But it's the former actress' noticeable habit of hiding her hands in her pockets that's gaining our attention these days. While recently speaking with OK! magazine, body language expert Judi James weighed in on the matter.
"The classic reason for this very common gesture is that it signals a subliminal desire to hide, especially when the hands are shoved deep into the pockets," James noted, adding, "It also helps get over the common problem most of us suffer from, which is not really knowing what to do with our hands when we know people are looking at us." However, this may not be true in Markle's case, as she continued, "Meghan's high levels of confidence suggest her reason is more to do with fashion than anxiety though ... It is also a probable nod to her love of 50's styling."
So, is the former Suits star's penchant for keeping her hands in her pockets a clever way to avoid social awkwardness during royal engagements, a brand new fashion statement, or merely the fact that, as any other woman would attest, pockets are everything? Well, it's really anyone's guess. But given the Duchess of Sussex's history of influencing royal fashion in recent months, this may be yet another example of Markle subtly pushing the boundaries of royal protocol by bringing tradition into the 21st century. "Prince Charles does it, Prince Harry does it and even little Prince George has been seen doing it," the Body Language Bible author went on. "But Meghan might be the first royal woman to shove her hand into a pocket when she's out in public."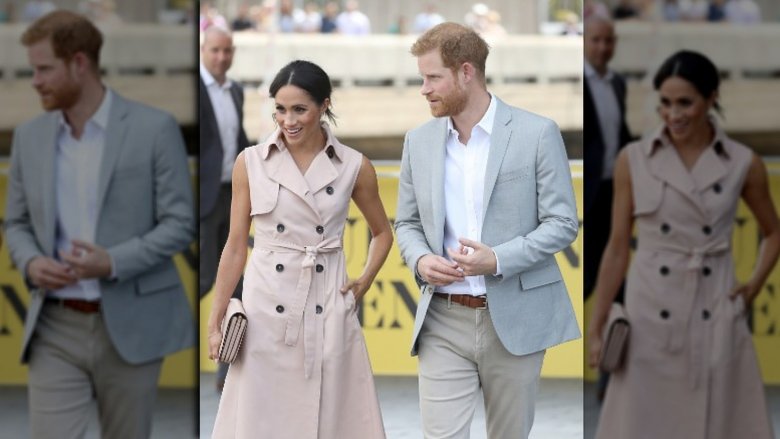 This certainly isn't the first time Markle's appearance has been scrutinized by the press. However, we're glad to see that this comfortable, go-to position hasn't garnered any hate, as her daring fashion choices sometimes have in the past. As Nicki Swift previously reported, the royal newlywed, who celebrated her 37th birthday just last week, was slammed for donning an "inappropriate" dress shortly after tying the knot with Prince Harry, 33, in May 2018. While attending Queen Elizabeth II's annual birthday parade in early June, Markle was criticized for wearing an otherwise modest outfit which featured a nontraditional, off-the-shoulder look.
Since then, everything from Markle's signature eyebrows and her too-big high heels to her wardrobe's noticeable absence of pants has been subjected to both praise and criticism after virtually every royal event. Truthfully, we can't wait to see what new trendsetting fashion trick she unveils next.
While the world ruminates over Meghan Markle's relatable love of pockets, her parents have also been making headlines this weekend — albeit, for very different reasons. On Saturday, Aug. 11, her ever-controversial father, Thomas Markle, told the Daily Mail that he'd lied to Prince Harry amid the media frenzy surrounding his staged paparazzi photos, which were released just ahead of the royal couple's big day. 
Thomas claimed that the Duke of Sussex, who'd previously warned him to "never go to the press" because "they will eat you alive," had called him to find out the truth about the snapshots before the story broke. At the time, Thomas allegedly told him the report wasn't true. However, after the photos were released, the prince apparently gave his future father-in-law another ring, telling him, "If you had listened to me this would never have happened." According to Thomas, he replied, "Maybe it would be better for you guys if I was dead... then you could pretend to be sad," before hanging up on the British royal. Yikes!
In happier news, mom Doria Ragland is reportedly preparing to move from the United States to London, England. The 61-year-old was famously the only member of her daughter's family to attend the royal wedding. According to a source cited by the Daily Mail on Sunday, Aug. 12, Ragland is "beside herself with excitement" about relocating overseas, particularly since the mother-daughter duo have "always been inseparable." Meanwhile, another insider added, "I think she will be going as soon as possible. I know that she was eager to live closer to her daughter. She also fell in love with England and told me when she got back that it's somewhere she believes she too could happily live."