Actress Marie Avgeropoulos, Star Of The 100, Arrested For Domestic Violence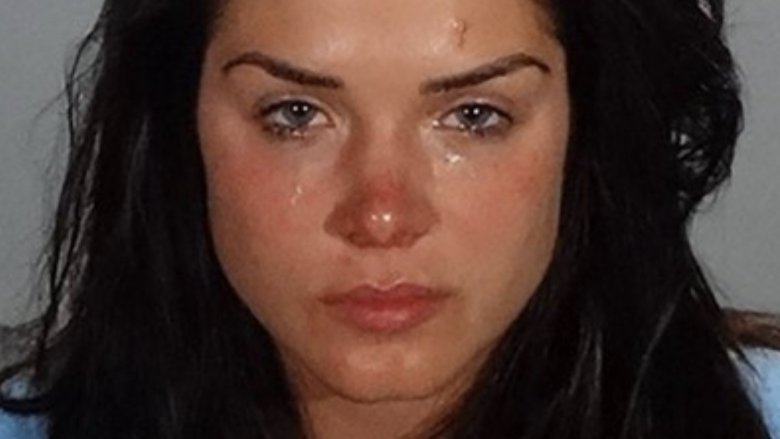 Glendale Police Department
Marie Avgeropoulos, who's known for portraying Octavia Blake on The CW's sci-fi series The 100, was arrested in Los Angeles.
TMZ reports that Avgeropoulos' boyfriend called the police on Sunday, Aug. 5, 2018, telling the authorities that she'd struck him while the two had been having a "verbal argument." When cops arrived at the scene, they reportedly saw marks on the man's body, so they arrested Avgeropoulos and charged her with felony domestic violence.
A source told the gossip rag that Avgeropoulos' boyfriend thought that police would just help calm the actress down and "diffuse the situation" — not that they'd take her into custody. Both he and Avgeropoulos are from Canada and are reportedly unfamiliar with just what behavior would cause U.S. police to arrest a person.
Her beau, who was said to have asked cops not to take her to jail, later helped arrange for Avgeropoulos' release, reportedly settling her $50,000 bond. According to TMZ, Avgeropoulos' boyfriend does not want to press charges against her.
So, just what sparked Avgeropoulos' allegedly violent behavior? Well, a source told TMZ that the 32-year-old had mixed wine with new medication, and, apparently, the actress did not react so well to the combination.
As E! News noted, Avgeropoulos was notably absent from the 2018 Teen Choice Awards on Sunday, Aug. 12, despite her show, The 100, being nominated for Choice Sci-Fi/Fantasy TV Show.
At the time of this writing, Avgeropoulos has not yet publicly commented on her arrest.
Avgeropoulos is far from the only celebrity to have gotten arrested in recent months. As Nicki Swift previously reported, Teen Mom star Ryan Edwards was taken into police custody in late July for possession of heroin. Days earlier, rapper Offset of the group Migos was arrested for felony gun possession. Earlier that month, "Forever" singer Chris Brown was placed under arrest as a result of an outstanding warrant for felony battery.
So, while Avgeropoulos may not have been happy about her situation on Aug. 5, she's at least not alone in having legal troubles.