Brad Pitt 'Sickened' By Angelina Jolie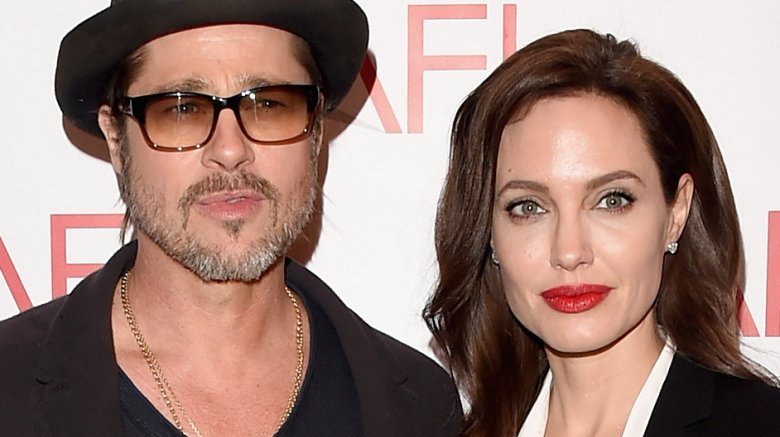 Getty Images
Brad Pitt and Angelina Jolie's divorce has taken yet another ugly turn.
According to an Entertainment Tonight exclusive, published on Thursday, Aug. 23, 2018, the Ocean's 11 actor is reportedly not happy that his ex went public with their heated custody battle earlier this month.
"He wants this settled out of sight," a source told the publication, adding that Pitt is apparently "sickened" by Jolie and her legal team's recent court filings. "He knows this isn't fair to the children. He's saddened that they have to be a part of this [public fight]."
Amid their ongoing divorce proceedings, the former couple recently reached an interim custody arrangement for their six kids: Maddox, 17, Pax, 14, Zahara, 13, Shiloh, 12, and twins Vivienne and Knox, 10. At the time of this writing, additional details surrounding the agreement have yet to be released. However, as another insider cited by ET recently explained, "The interim arrangement was agreed upon by both parties after it was recommended by their custody evaluator" in lieu of their scheduled court hearing on Tuesday, Aug. 21. The source added, "Angelina is enjoying the last few days of summer before school starts ... She is helping the children heal with their father."
Pitt, 54, and Jolie, 43, began dating in 2004 after meeting on the set of Mr. & Mrs. Smith a year before. The two tied the knot in a secret ceremony nearly a decade later in Aug. 2014. However, the Maleficent star officially filed for divorce in Sept. 2016, following her ex's infamous on-flight argument with their eldest son, Maddox. At the time, she cited "irreconcilable differences." 
Since then, they've been engaged in a highly publicized custody battle. As Nicki Swift previously reported, Jolie was ordered by a Superior Court of Los Angeles County judge to allow Pitt more visitation time with their kids just last week. The order came amid reports that the actress-activist was allegedly making it difficult for him to bond with their children. According to sources cited by TMZ, Jolie had continued to "exert influence" and "drive a wedge" between them following the kids' court-ordered return to Los Angeles in July.
Prior to this, Jolie and Pitt had reached a temporary custody agreement, which was meant to last the summer of 2018. According to the arrangement, their children would split their time between London and Los Angeles, where their parents were filming new projects. A judge had warned the Changeling actress at the time that she risked losing primary physical custody if she didn't follow the terms of their agreement, saying, "Not having a relationship with their father is harmful." 
However, settling back down in Los Angeles did little to decrease tension between the movie stars. In an early August court filing, Jolie accused Pitt of not paying "meaningful" child support ever since their separation. The actor hit back shortly after, claiming in court documents of his own that he's paid her over $9 million since their split. But Pitt didn't stop there. At the time, his legal team slammed Jolie and her attorney's allegation, calling it "a thinly-veiled effort to manipulate media coverage." They went on to claim that the actress' court filing was "calculated to increase the conflict."
Unfortunately, it sounds like it may still be a while before these two, who are fast approaching the two-year anniversary of their breakup, are able to reach to a permanent custody arrangement. While an insider recently told ET that Pitt and Jolie are attempting to remain "amicable for the children," the media outlet's latest source alleged, "There's a long road ahead. There is still a lot of sorting out to do." Indeed, this sentiment echoes a recent E! News report, in which an insider claimed, "Brad and Angelina are not even close to settling their divorce." The source explained, "They are kind of at an impasse at this point because the focus has been on custody; nothing else has been hashed out yet."
Here's hoping, for the sake of Pitt, Jolie, and their family, that the movie stars are able to finalize their divorce quickly and quietly.