Kate Gosselin's Pic Of Newly 18 YO Twins Has People Talking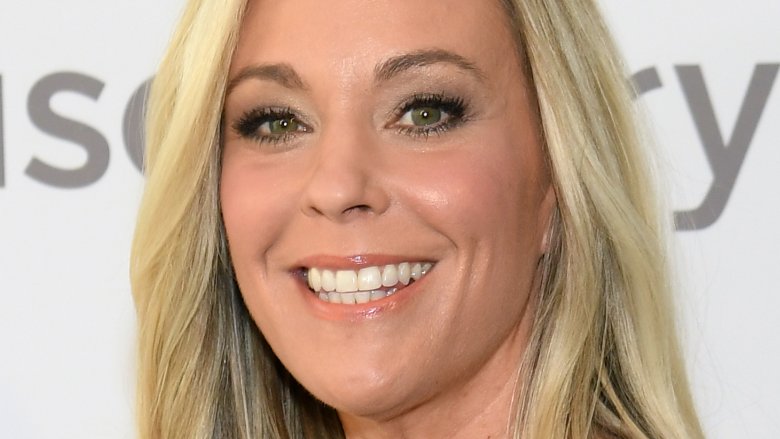 Getty Images
Former Jon & Kate Plus 8 star Kate Gosselin's kids are all grown up! Well, twins Cara and Mady are, that is.
On Monday, Oct. 8, 2018, the reality TV star took to Instagram to share a sweet message with her eldest daughters in celebration of their 18th birthdays — and it sounds like neither the proud mom nor the Gosselin family's longtime fans can believe how quickly time has flown.
"Getting ready.........it's a BIG busy day here! More to come," Kate teased to her 324,000 followers, captioning a slideshow of photos which featured an inside look at the girls' birthday party, including cake and decorations. "HAPPY 18th Birthday, Cara and Madelyn!"
The television personality then directed a heartfelt message to her now-adult daughters, writing, "There are no words to describe how proud I am of you both. Despite the many turbulent times you've had to deal with so far in life, you have emerged as wise, level headed, reasonable, forgiving, loving, kind and absolutely brilliant ADULTS! I can say that I've poured endless love into you and fought tooth and nail for the best for you, but I cannot possibly take credit for the truly wonderful humans (adult humans!) you have become!" 
"You will thrive in life, I am certain, and I will still be with you every step of the way going forward, continuing to guide you and love you," Kate continued, before concluding her emoji-filled post with, "I love you both so very very much and I wish peace, happiness and the great successes I know are coming your way!" She added the hashtags, "#Turning18 #Adults #Love #Happy18thBirthdayCara #Happy18thBirthdayMady."
However, it's this snapshot of the twins on their birthday that has everybody talking. "My adult daughters: @mady.gosselin and @cara.gosselin," Kate wrote alongside the photo, completing her caption with a shocked smiley face emoji. Noting that she'd tagged the twins' only official Instagram accounts in the post, she added, "#SoProud What a fun memory filled day we had together today!!"
"18?!? Where did the time go? Seriously...they were just 6 like yesterday!" one fan wrote in the comments section, while another commented, "No way!!!! They have grown up so fast! Beautiful young ladies" (via Cafe Mom). Meanwhile, another longtime viewer of the famous family's TV show wrote, "Omg the little kids [were] babies when I started watching y'all."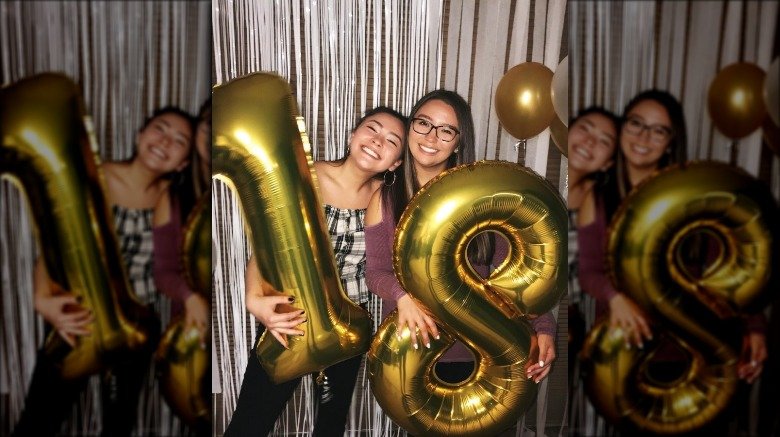 Instagram
In addition to Mady and Cara, Kate, 43, also shares her now 14-year-old sextuplets, Joel, Aaden, Leah, Alexis, Hannah, and Collin, with ex-husband Jon Gosselin. The family of ten first rose to fame in 2007 with their hit TLC reality series. However, the estranged former couple called it quits on their marriage two years later.
For his part, Jon, 41, celebrated his twin daughters' special day with a text post on Instagram. Captioned with a simple heart emoji, the proud dad's post read, "Happy 18th Birthday!!! To my twin girls, Mady & Cara!!! Love, Dad."
This isn't the first time the Gosselins have made headlines in recent months. As Nicki Swift previously reported, Jon and Kate's separate first-day-of-school pics sparked major speculation over their custody agreement in late August 2018. Kate first posted an Instagram snapshot of six of her eight kids ready for their big day — sans daughter Hannah and son Collin. While Collin, who has special needs, currently attends a different school than the rest of his siblings, fans were immediately confused over Hannah's noticeable absence. However, this confusion only intensified after Jon shared a photo of Hannah on her first day of class days later. 
While a source cited by People magazine around that time claimed that Kate still "maintains full custody" of all eight children, it turns out Hannah does now live with her dad. "She permanently lives with me," Jon later confirmed in an Instagram Live video when fans asked about his daughter's recent appearances in his social media posts (via Radar Online). While it seems like Jon and Hannah are on good terms these days, it unfortunately looks as though his relationship with the rest of the kids — particularly Mady and Cara — remains strained.
For any fans who are itching to see more Gosselin family drama play out on the small screen, Kate Gosselin's new reality TV show, Kate Plus Date, is expected to premiere on TLC later this fall.