What Kate Gosselin's Life Is Like Today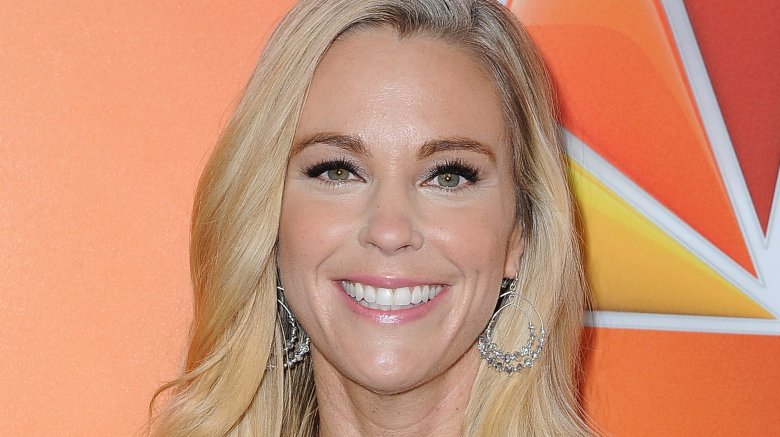 Angela Weiss/Getty Images
During its less complicated days, Jon and Kate Plus 8 pulled in record ratings — to the point where it was even dominating network TV shows. The reality show about Kate and Jon Gosselin and their eight kids (twin daughters and a set of sextuplets) was a huge hit for TLC. The Gosselins transformed from a struggling family to full-fledged reality stars. While the series' success was a lifesaver for the big brood's finances, the meteoric rise to fame quickly took its toll on Kate and Jon's marriage.  
Just two years after Jon and Kate Plus 8 premiered, the couple became a tabloid target and announced its separation amidst rumors of infidelity in 2009. With a messy divorce tarnishing the show's family-friendly appeal, TLC pulled the plug, but not before laying out the groundwork for a retooled version of the show called Kate Plus 8. The spin-off chronicled her new life as a single parent. 
Fortunately, this busy mom has weathered the storm, and though parts of her life have dramatically changed, some things have remained the same. Let's take a deeper look at what Kate Gosselin's life is like today.
Kate Gosselin's still doing reality TV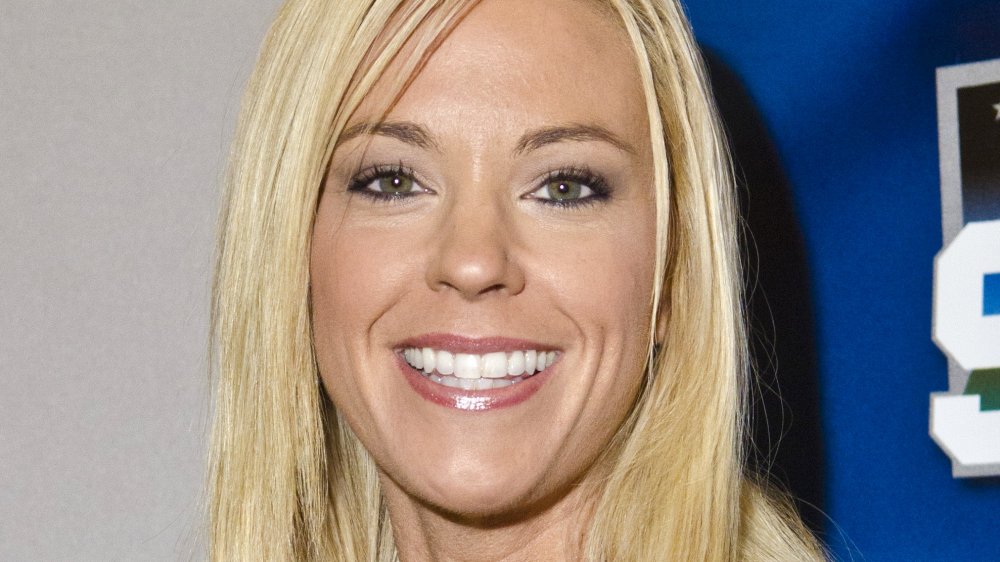 Kris Connor/Getty Images
When the final season of Kate Plus 8 premiered in July 2017, Kate Gosselin and her kids had already been on TV for more than a decade. But since her 2009 divorce from ex-husband Jon, the fate of the show had always been up in the air, in part due to his attempts to throw a wrench in the works. He's raised some valid concerns about his children being exploited for the show, but Kate seemed to have successfully navigated questions about the kids' well-being and emotional development.
She was also upfront about her motivation for doing the show. How else was she going to afford raising eight kids? In her 2010 book, I Just Want You to Know, she openly apologized to her children for their "unconventional" upbringing,  but didn't hold back about why they ended up on reality TV. They needed the money. The family was surviving on donations from a local church and barely making ends meet.
Granted, Kate will forever face criticism, and her own doubts, about whether she made the right choice, but at the end of the day, she provided for her children, and that's no small thing. Heck, she even went on The Celebrity Apprentice and got embarrassingly fired by Donald Trump (but that's probably a tuition payment right there). No one ever said parenting was easy.
Her divorce from Jon Gosselin has been messy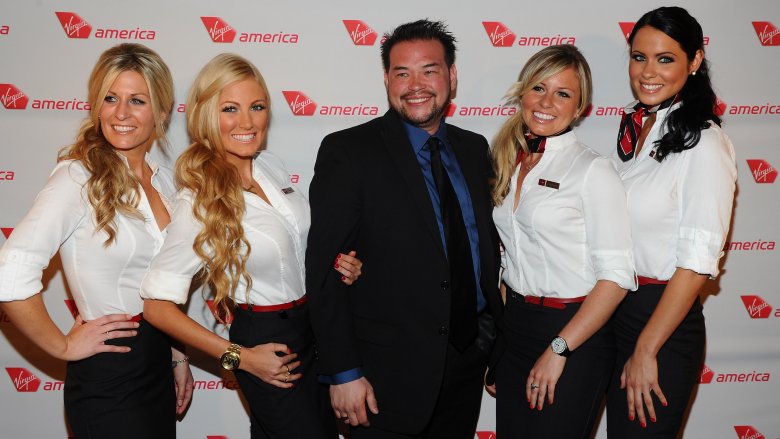 Michael Buckner/Getty Images
Ever since they separated in 2009, Kate Gosselin's relationship with Jon has been a dicey affair. He's made headlines for pool parties in Vegas, questionable relationships, an attempt at becoming a stripper, and hobnobbing with controversial pals, such as Ed Hardy founder Christian Audigier and Lindsay Lohan's dad, Michael Lohan. Jon's biggest weapon against Kate has been his ability to raise concerns about her parenting and the way reality TV has impacted their kids. 
As for Kate, she's generally issued measured responses when Jon pops up in the tabloids, but behind the scenes, their dynamic has reportedly grown heated. In 2016, she filed a police report accusing Jon of kidnapping their daughter, Hannah, according to In Touch. Kate also alleged Jon was dealing drugs and using his DJ gigs as a front. Though her allegations were nasty, Jon was cleared by a judge, which was not a good look for Kate.
At the time of this writing, Kate has primary custody of the kids — apart from Hannah and Collin, that is, but more on that below — but Jon revealed to In Touch in October 2019, "Custody's really up to the kids." Basically, he's resolved to leave how often he sees the rest of his children up to them, including twins Mady and Cara, who reportedly refuse to see their dad.
Mady and Cara Gosselin brought the teenage drama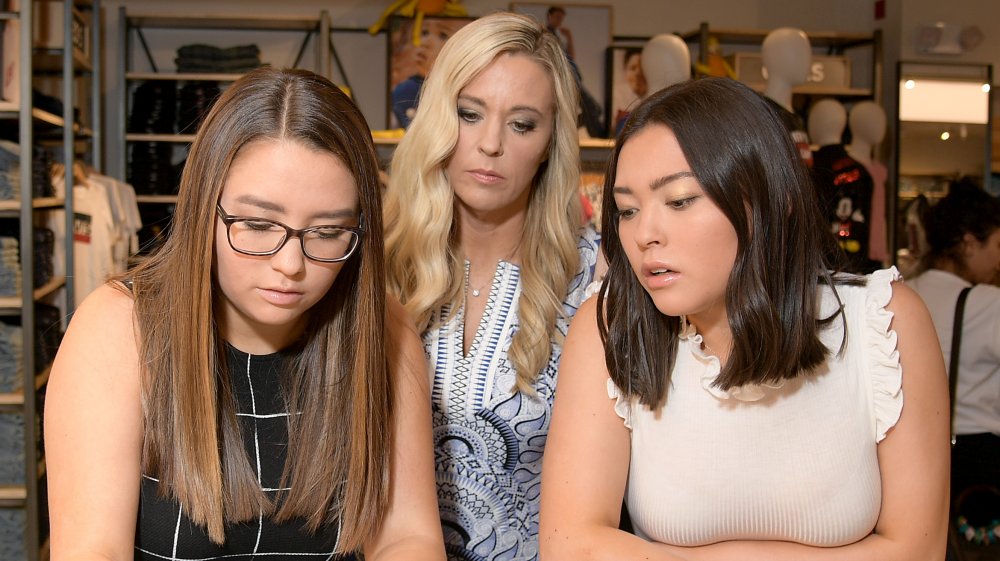 Michael Loccisano/Getty Images
In 2014, Mady and Cara Gosselin made headlines when they appeared on the Today show with their mom. Kate Gosselin asked them to refute reports that they were unhappy and don't like being on TV, but the girls clammed up. The famous mom reportedly went "type-A crazy" on the girls backstage, according to the New York Daily News, but that was only the beginning of the twins' journey into adolescence and all the drama that comes with it.
As Kate Plus 8 continued, it became clear that Kate's iron-fisted rule over the house was buckling under the pressure of raising two teenage daughters, on top of six other siblings whose teen years were just around the corner. (We're stressed out just thinking about it, and they're not even our kids!)
The tense dynamics have led to some memorable moments on the show, and according to Us Weekly, the famously uptight Kate has learned to adapt. "They are hard on me," she said during a 2017 episode. "I give it as hard as they give it." She added, "Honesty is good, and that just means they can feel honest in the family." And now these two are all grown up — as of this writing in 2019, both Mady and Cara have moved away for college.
Kate Gosselin's love life hasn't improved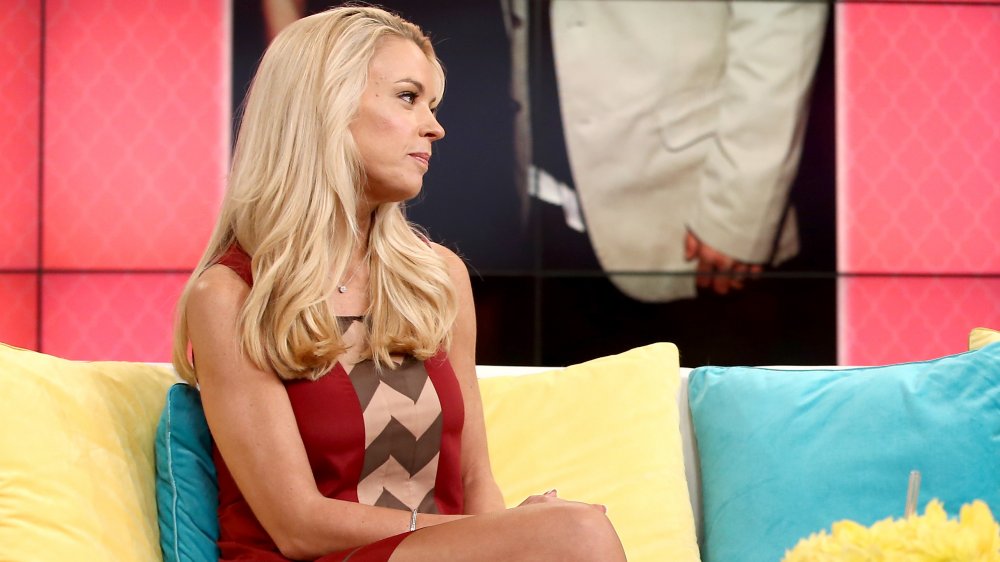 Neilson Barnard/Getty Images
After years of swearing off romance, Kate Gosselin reportedly began dating millionaire Jeff Prescott in January 2015. However, Prescott pulled the plug two days before he was scheduled to appear on Kate Plus 8, according to Entertainment Tonight. Here's where things get tricky:
As news of the breakup spread, Kate took to Twitter to deny the two were ever together. "Sorry guys. You've been 'duped' by the tabloids again! There was no breakup recently/at all. Gotta b in a relationship in order 2 'break up'!" A few days later, sources close to Prescott told TMZ that he genuinely believed he'd been dating Kate, but bailed because he thought she was using him to boost ratings for the show.
Prescott still hasn't changed his tune. In a 2016 interview with Radar Online, he claimed he broke up with Kate because she was already planning a spin-off show focused on their relationship, and he didn't feel like that was a good idea for his children from a previous marriage. That said, Prescott later told the gossip rag in June 2019 that things were so serious during their supposed two-year romance that they "were talking about [their] future together." 
Strangely, despite the relationship's questionable authenticity, it was one of the only times since her divorce that Kate was seen actively pursuing love, which has only added fuel to persistent rumors that she's secretly had a man in her life for a very long time.
The whole bodyguard situation is still a mystery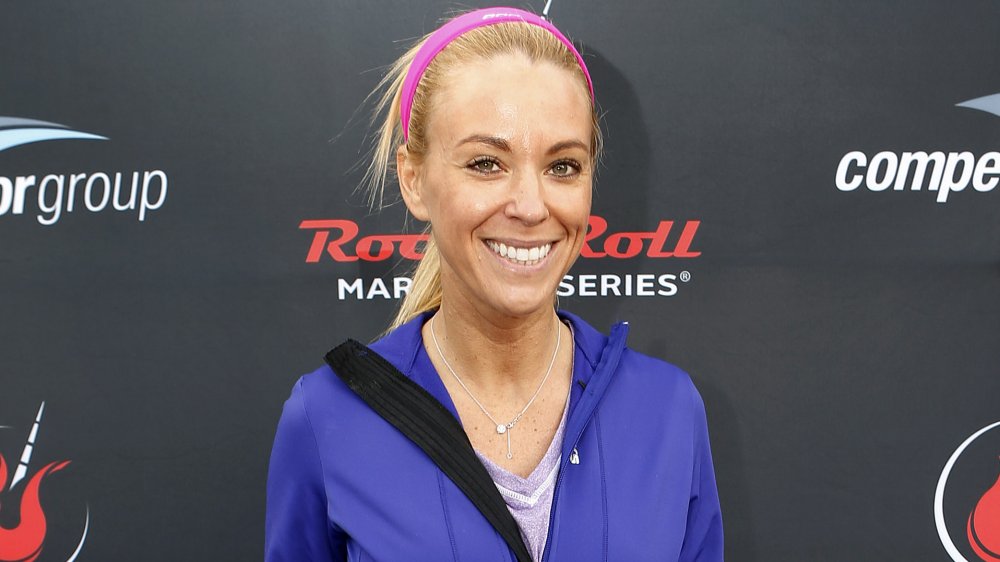 Isaac Brekken/Getty Images
Kate Gosselin has been hounded by rumors that she not only cheated on ex-husband Jon with her married bodyguard, Steve Neild, but that she's maintained a secret relationship with him that TLC has allegedly covered up, reported Radar Online.
Reality Tea claimed that the two would often take "long, lingering walks" and stayed in the same hotel room when they traveled, which definitely sounded suspicious. However, in 2014, Neild reportedly quit working with Kate to focus on his own family. However, barely two months later, he was supposedly back with Kate and the kids as they navigated a trip to Massachusetts.
As of 2016, Neild was still working for Kate, according to Radar Online, and unfounded rumors about a romance between them have continued. Three years later, the two were spotted sharing an umbrella together in New York City. Despite the chatter, we can't help but feel that with eight kids and a disgruntled ex-husband, you'd think someone would have spilled the beans by now if Kate was in love with her bodyguard. Plus, there's the issue of Neild's wife and kids. That's a whole lot of people to keep quiet.
Kate Gosselin's out of the Christian book game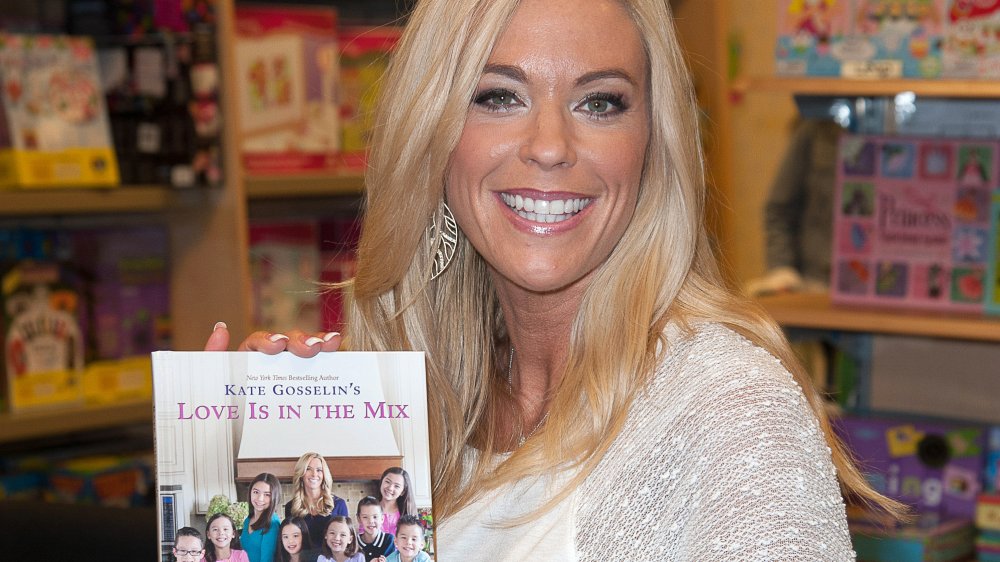 Dave Kotinsky/Getty Images
Before her marriage fell apart, Kate Gosselin and her family booked lucrative speaking tours at churches, and she published two bestseller books with Christian publishing house Zondervan. "Of all the viewers who followed the Gosselins, evangelicals were among the most faithful," reported Christianity Today, until it became clear that the Gosselins' marriage wasn't as wholesome as it appeared on TV. 
In the aftermath of the divorce, Zondervan put the brakes on Kate's cookbook, Love is in the Mix, which she eventually published with HCI Books instead in 2013.
She's cut off from her old family and friends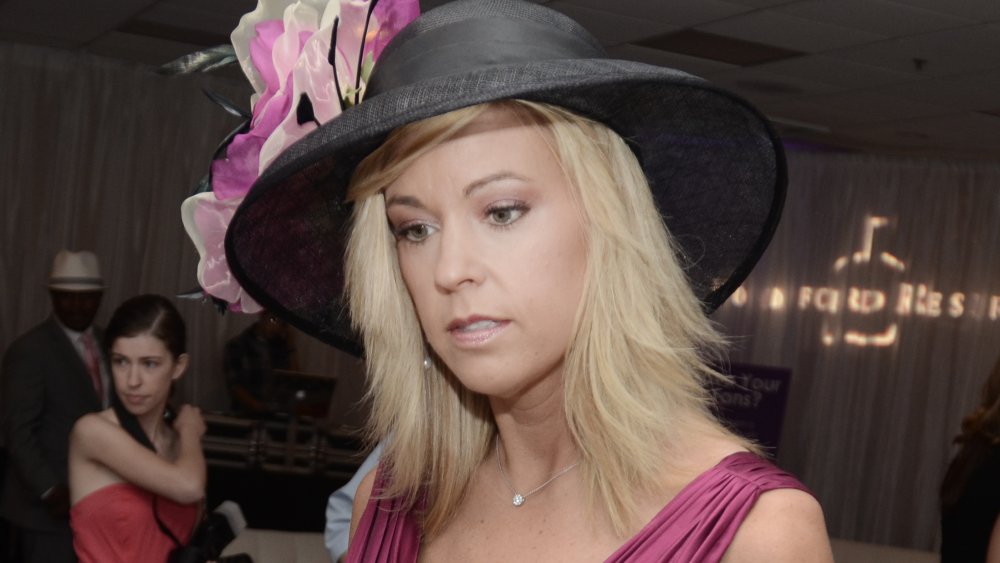 Jeff Gentner/Getty Images
In 2014, Kate Gosselin's sister, Kendra Weber, and an anonymous friend told the Daily Mail that Kate had essentially cut herself off from the family and church members who'd chipped in to help the family make ends meet before hitting it big on TLC.
"There's a trail of a lot of hurt people in her wake," the friend said. "I don't know if Kate even cares about that. There were older women in the community who were at her house for three, four, five hours every day for two years. Their lives revolved around the children and now they have no contact with them. We don't even know whether the kids know about us and realize what we did for them."
In Kate's defense, she may have good reason to keep her distance from her family. Her brother, Kevin Kreider, and his wife Jodi, who often appeared on episodes of the show, testified against Kate during a state investigation to determine if Jon and Kate Plus 8 violated child labor laws, which it did not, according to Us Weekly. Months later, Radar Online reported that Kate's mother accused Jodi of trying to sabotage the show because she was jealous and upset about being let go by producers. 
Considering all this went down after her divorce from Jon, it's easy to understand why Kate might have tightened her inner circle. 
Kate Gosselin can't trust the kids' nannies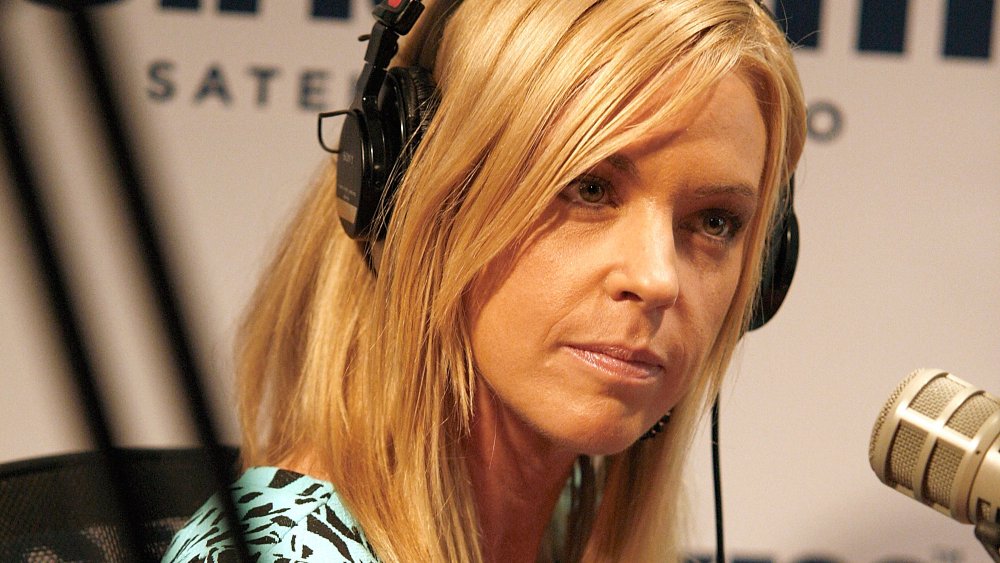 Andy Kropa/Getty Images
Not long after Kate Gosselin's family started spilling family secrets, a former nanny provided Radar Online with a copy of the "Gosselin Manual," an intense rulebook written by Kate for her team of nannies. Guidelines included "cooking, laundry, landscaping, pool maintenance, trash duty, and even caring for her flock of chickens." Yeesh. There was even a section on "Pet Peeves," threatening meltdowns if Kate's instructions were ignored.
"The kitchen is my baby," Kate reportedly wrote. "I have an exact way of caring for it. There is definitely a right and wrong in the kitchen. Knives are very expensive and ONLY get washed BY HAND...I have meltdowns about my knives and improper use regularly, FYI!"
Kate also apparently had strict demands about keeping the kids looking clean at all times. "Each day, twice a day, each room in the house, including bathrooms, should be straightened, returning ALL items to their proper places," the manual states. "It is stressful to come home to clutter! Very important! [As a] general rule, the house should never look like it is lived in by the end of the day."
Again, with eight kids under her roof, is it that unreasonable to learn that Kate runs a tight ship? Sure, it might be make her seem a bit overbearing, but if it helps her be a better mom in a highly unusual situation, who are we to judge?
The tabloids are taking their toll
While appearing on The Dr. Oz Show in late 2016, Kate Gosselin opened up about her struggle to deal with negative tabloid stories.
"I'm a very visual person, so your emotional and psychological energy, like, I do actually, picture it as like a barrel of energy, this stuff just eats — it drags you down," she told Dr. Oz (via People). "It eats away at you. It drains your physical energy."
Kate became particularly incensed when she talked about how the bad press affected her children. "It's probably the most difficult part because I could sit here and do every talk show and every news show every day for the rest of my life and what's so upsetting is that there's still going to be a percentage of people that still can't tell the true me from the tabloid picture they've created. And that angers me and that angers me even more when it affects my children and it talks about them."
Things aren't so good with Kate Gosselin's son Collin
In 2016, Kate Gosselin told People that she'd made the difficult decision to enroll her son, Collin, in a program away from home. "Collin has special needs," she said. "[There's] a fairly fluid diagnosis of what those needs are, but he needs to learn certain strategies to help him deal with things. This has been a struggle we've had for a very long time, and it's one I've dealt with on my own. I've felt very alone in this. By the same token, it's not something that has only impacted me or him — our entire family has been impacted."
Things got ugly when Life & Style ran a report claiming Kate had been investigated for child abuse after Collin spoke to staffers at his treatment facility. In an interview with Good Morning America (via Us Weekly), she called the claims "absolutely" untrue. "I'm in the public eye," she said. "I've been investigated many times [by child services]. It's always unfounded, obviously." 
While Kate has never been charged with any form of child abuse, that didn't stop more allegations from coming out.
Jon Gosselin accused her of child abuse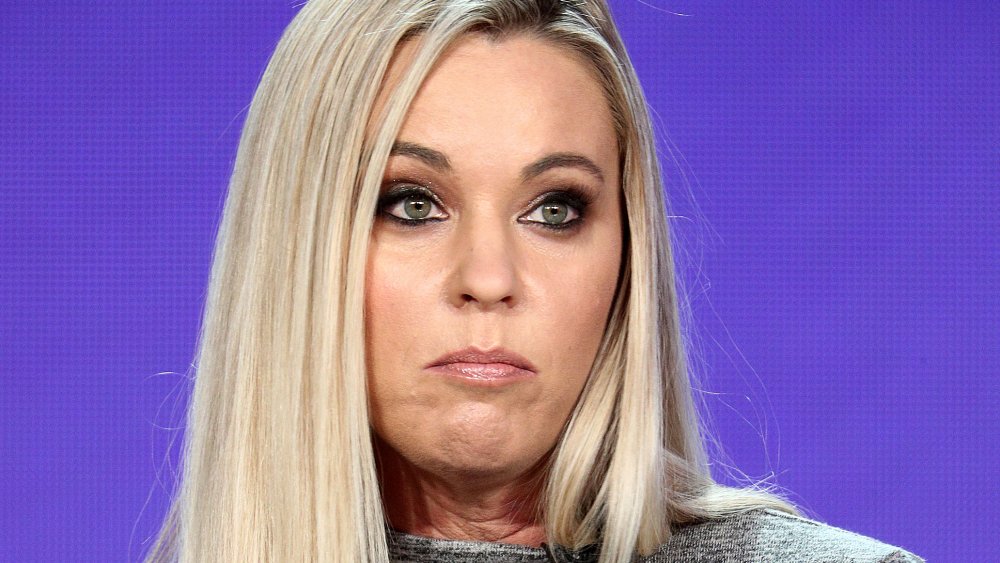 Frederick M. Brown/Getty Images
During a September 2019 interview with Daily Mail TV, Jon Gosselin alleged that ex-wife Kate mentally abused and tortured their son, Collin, before labeling him special needs and sending him away to an institution. Jon provided the outlet with some of the "50 to 60" letters he reportedly received from the Pennsylvania Department of Human Services, which had alerted him that Kate was allegedly under investigation of suspected child abuse. 
Most of those claims involved Collin. "Other than ADHD, which is extremely common, Collin has never been diagnosed with any known medical condition, there's nothing wrong with him," Jon explained. "But Kate sent him away; she couldn't deal with him. He was alone for three and a half years with no parents, all locked up. It was inhumane."
Jon didn't hold back throughout this interview, claiming that his children would one day tell their truth about growing up with the "militant" Kate. "I know my children have suffered abuse, and I know one day they're going to tell their own story," he said. "And sadly enough, I know what PTSD is. It's really upsetting."
He claims co-parenting won't ever exist with Kate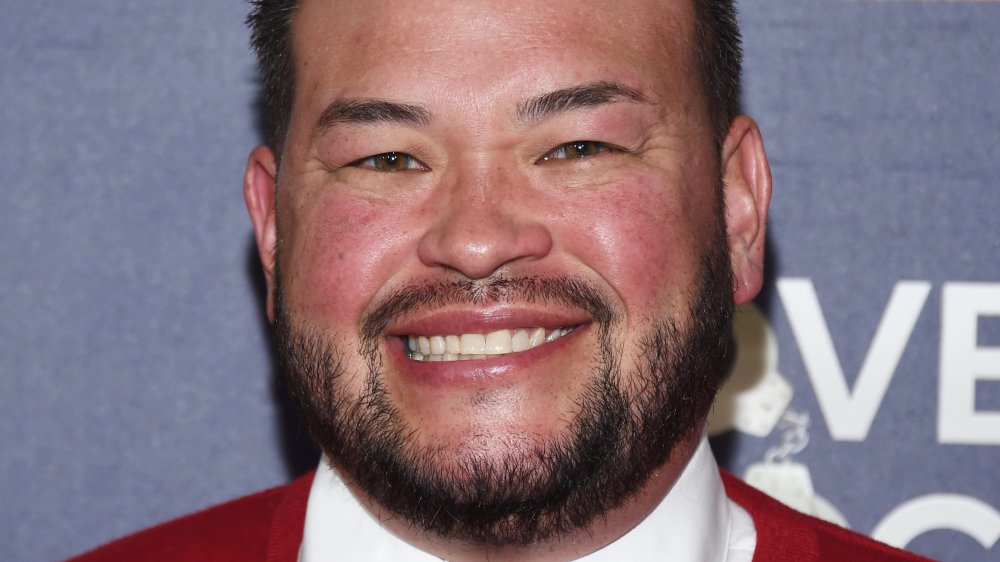 Amanda Edwards/Getty Images
Unfortunately for their children, the animosity between Kate Gosselin and her estranged ex-husband is alive and well. Speaking to Us Weekly in October 2019, Jon Gosselin revealed that the former couple being able to agree on how to raise their eight children is a near impossibility.
"I don't think co-parenting is ever going to exist between us because we are never going to see eye to eye," he said. "We have completely different parenting styles, and she still wants to film, but I'm never going to sign work permits." Referencing Kate and TLC's decision to allow their kids to appear on Kate Plus 8 despite a judge's ruling stating it would be harmful to the children, Jon added, "That already went to court, and I won, but she went against my legal rights."
Although Jon has had custody of Hannah and Collin since late 2018, he claimed that he had almost no contact with the other six kids because of Kate. "I agree [that they are my children], but their mother [Kate] puts roadblocks all the way," he alleged. "So, at this point, I've agreed that as long as Hannah and Collin still talk to their siblings and the kids can interact with each other, then that's fine with me. I'll go along. And I don't have no direct contact as of right now."
Does Kate Gosselin want custody of Collin and Hannah?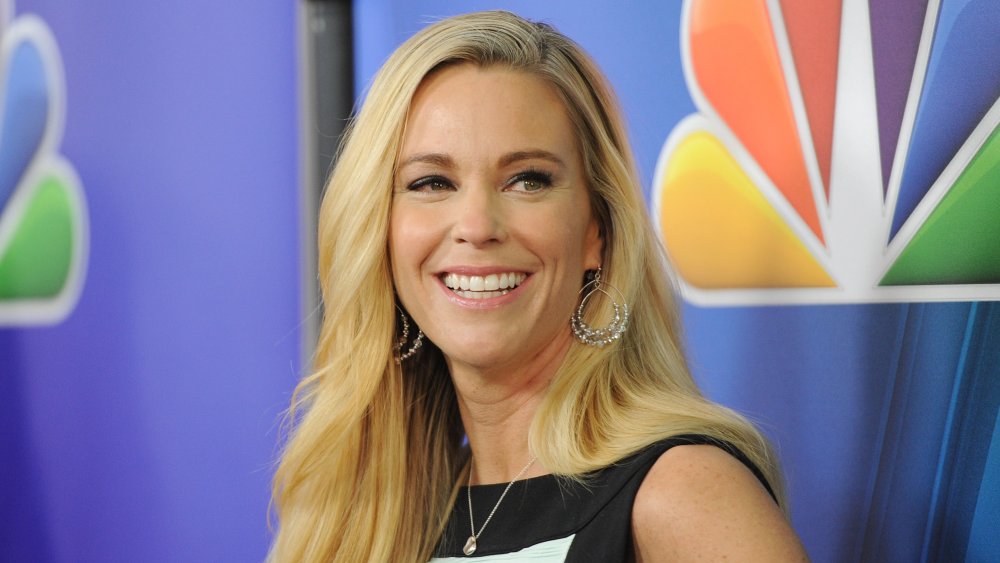 Angela Weiss/Getty Images
In December 2018, Jon Gosselin was awarded custody of son Collin, and according to People, claimed that Hannah also lived with him "full-time." This situation reportedly hasn't sat well with ex-wife Kate. 
"Kate is trying to be supportive of the situation, but the truth is, she hates that Hannah chose Jon over her," a source cited by Life & Style claimed the following October (via In Touch). So what exactly was she doing about it? According to another source who previously spoke with Radar Online, it didn't seem like much. In addition to not fighting to win back custody, Kate reportedly had little to no contact with her estranged children. "Kate has made no attempt to see or speak with Collin," the insider claimed. "Kate rarely sees or talks with Hannah, but they do have some contact."
The source went on to say that Kate has remained "relatively quiet" since the custody decision came down, but the door was open if she wanted to build that relationship. "Jon allows [Hannah] to go over anytime she wants," the insider explained. "But Kate never asks her to come."
Kate Gosselin tried to find love again ... on television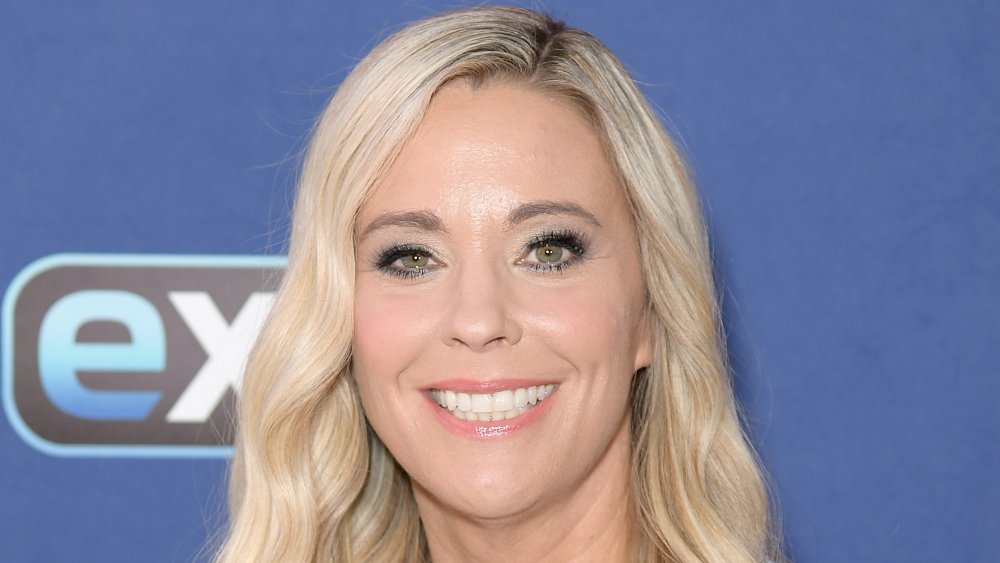 Michael Loccisano/Getty Images
Kate Gosselin returned to television in 2019 — this time to find love. In the trailer for TLC's Kate Plus Date, which premiered that June, the famous mom of eight revealed that she hadn't dated anyone since her divorce from Jon Gosselin in 2009. "Have you noticed I'm single for the last decade?" she said. "I don't even know, like, what the rules are. Like, can somebody help me out here?"
While the reality show was designed for Kate to find a new man in her life, a source told Rob Shuter's Straight Shuter podcast, "Don't hold your breath! Kate isn't easy. She is one tough cookie and really isn't interested in compromising or finding love. All she really cares about is Kate" (via Heavy).
The insider went on to reveal that starting a relationship wasn't necessarily Kate's goal for the TV series. "You have to remember that the main reason Kate did this new show wasn't romance," the source claimed, but supposedly rather "money and getting back on TV." The insider added: "Had Kate been offered a travel show or fashion show, we would be watching her traveling around the globe or doing makeovers, but 'dating' was all that producers offered and that is why we are seeing Kate with a bunch of possible love interests."
She's doing the best she can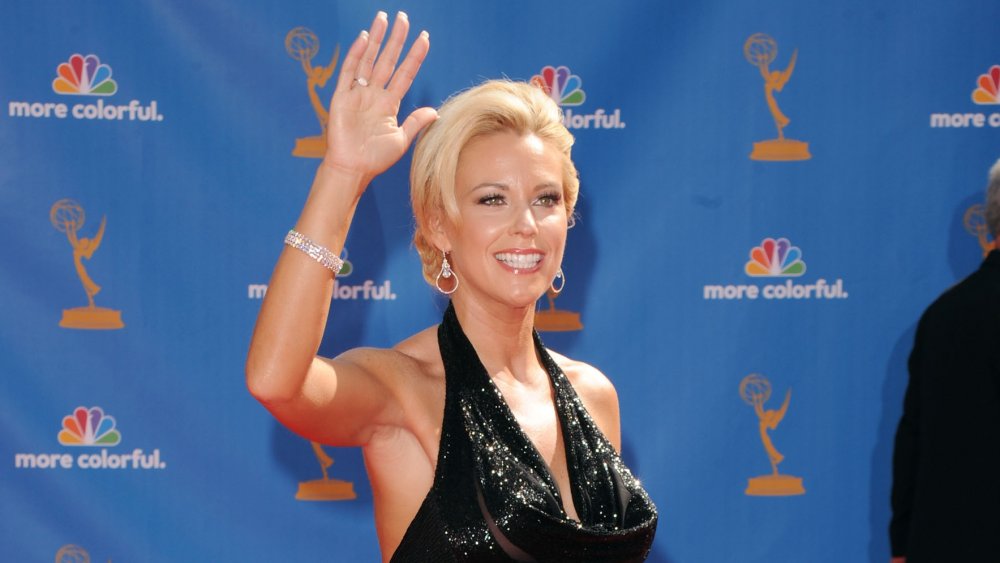 Jason Merritt/Getty Images
Kate Gosselin would be the first to tell you that she's not perfect and has definitely made mistakes while raising her eight children in front of TV cameras. The show itself might even be one of them, but at the end of the day, she has undoubtedly provided a future for her kids that she wouldn't have been able to afford without their reality fame. 
Whether or not it was worth the price is too early to tell, but like any mom or dad, Kate is doing the best she can. Has it gotten messy along the way? Absolutely. But, hey, that's parenting.