Who Is Happy Days Star Anson Williams' Third Wife Sharon MaHarry?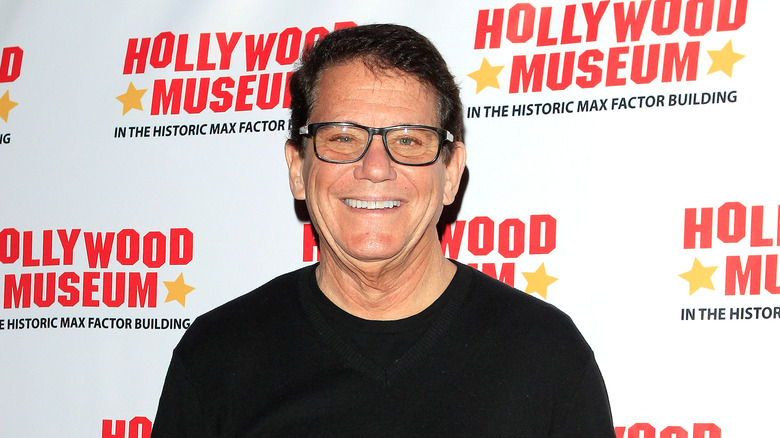 Joe Seer/Shutterstock
Anson Williams has tied the knot for the third time. In September 1978, People reported that the "Happy Days" actor and fellow performer Lorrie Mahaffey were planning to get hitched later that year. After nearly a decade as spouses, the two divorced in 1986, as Extra wrote. From 1988 to 2020, Williams was married to his second wife, Jackie Gerken. Via TMZ, Williams first filed for divorce in 2019. He then cancelled this before again divorcing Gerken in 2020, the news outlet wrote. "When I canceled the divorce filing in September, we agreed for the sake of the children to remain apart and to lead separate lives. However, even that arrangement didn't work, and our status needed to be clarified with a decree of divorce," Williams said.
In May 2023, People revealed that Williams had wed Sharon MaHarry. The couple married in a backyard ceremony at their Ojai house which featured Williams' "Happy Days" costar Donny Most as best man. Williams opened up about what he and MaHarry wanted their nuptials to be like. "Let's make it a wedding just where it's about togetherness with our friends," Williams said. "It's not over the top, but at the same time, it's memorable and special." MaHarry has a career outside of the entertainment industry. 
Sharon MaHarry is a realtor and broker associate
Anson Williams' wife, Sharon MaHarry, is a real estate agent of Ojai, California. According to her website, MaHarry earned her bachelor's degree in English from Roanoke College in Salem, Virginia. She worked in a senior-level position for a New York advertising company before going on to gain two decades of experience in the Ojai real estate business. MaHarry states on the site, "I believe that if you're not left with an amazing experience, I haven't done my job. I don't measure success through achievements or awards, but through the satisfaction of my clients." Additionally, MaHarry is an author and says that she currently has "two novels in progress."
Via her LinkedIn page, MaHarry has been an associate broker at Berkshire Hathaway since March 2023. Prior to this, she was with Keller Williams Realty for more than a decade. On her Realtor.com about page, MaHarry noted her long-standing desire to live in California. "During my career in the advertising business in New York, I often came to California to shoot television commercials or produce music, and it was always difficult to get back on the plane," MaHarry said. As a result, she, her then-husband, and their daughter moved to the West Coast in 2003. Over 15 years later, she and Williams would go through a fated love story.
Anson Williams and Sharon MaHarry met through MaHarry's work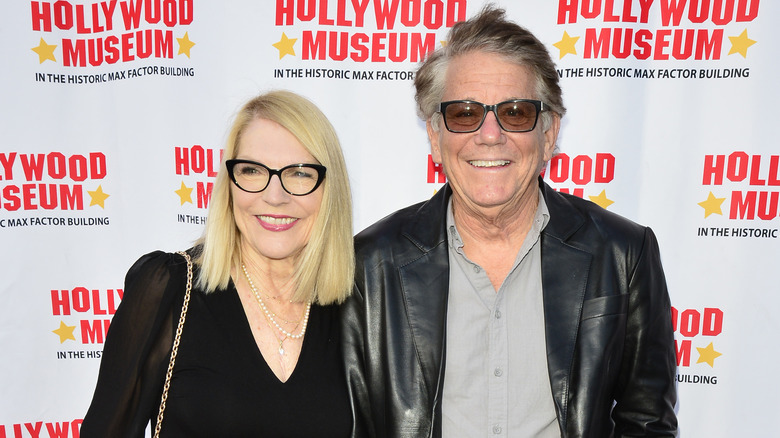 Jerod Harris/Getty Images
Anson Williams and Sharon MaHarry crossed paths years before they became romantically linked. When People reported on Williams and MaHarry's 2023 wedding ceremony, the news site detailed that MaHarry was Williams' realtor for his Ojai residence, which is how the pair fist encountered one another. As Williams was married to his second wife, Jackie Gerken, at the time, Williams and MaHarry didn't connect until after he and Gerken had divorced. MaHarry's previous husband had sadly died leading up to this. Once Williams asked his now-wife out for lunch, the relationship blossomed.
The actor, director and producer spoke to People about experiencing true love. "At this age, to be able to find that kind of full connection for the first time, and what that means — it's a miracle," Williams said. MaHarry has taken to Instagram to document fun memories with Williams. In April 2022, she posted a photo on social media of herself and Williams smiling following a brunch together. She also shared a July 2022 image of her and her significant other sitting for a meal with Donny Most and George Hamilton. In addition, in May 2023 MaHarry posted a series of pictures from her and Williams' nuptials via Instagram, including a photo of the two holding hands at the altar. In a joint May 2023 statement to Ojai Valley News, the happy couple said, "It's never too late to get it right."