Did Beyoncé Shade Lizzo Over Bombshell Lawsuit? Mama Tina Sets The Record Straight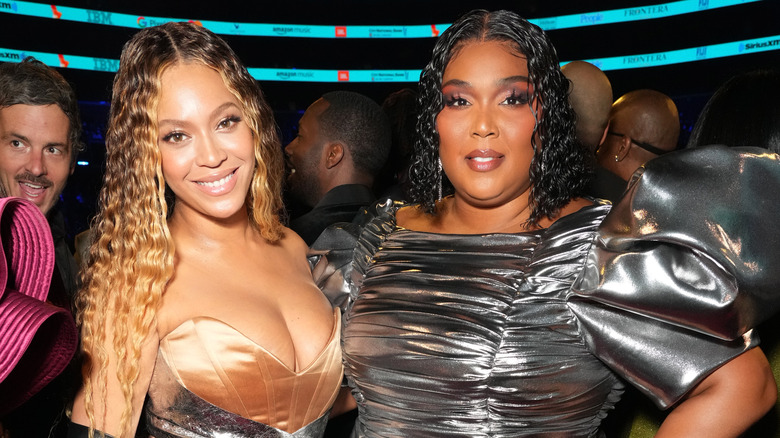 Kevin Mazur/Getty Images
Social media has been rushing to figure out if Beyoncé shaded Lizzo  during a recent performance, as Lizzo battles some pretty serious sexual harassment lawsuits from her former dancers. Fortunately, Beyoncé's mom — known also as Mama Tina — has addressed the chatter. If any of this has caught you off guard, then join the club. In recent days, basically the whole world was shocked to learn that several of Lizzo's former dancers accused her of sexual harassment and other serious crimes. According to TMZ, three of Lizzo's former dancers filed a lawsuit accusing her, among other things, of forcing them to make physical contact with adult performers at a live nude show in Amsterdam in order for them to make a good impression on her. 
Parties who are not seeking legal action have also come forward to suggest that Lizzo isn't actually the personable, body-positive person she claims to be. This includes director Sophia Nahli Allison, who tweeted that she refused to work with Lizzo in 2019 after she found her to be "arrogant, self-centered, and unkind." Basically, Lizzo is in the middle of a legal and PR nightmare, although she denied all of the accusations on Instagram. She's also sought legal representation from Marty Singer, a big-time lawyer who's represented some of Hollywood's most powerful entertainers, including Bill Cosby and Jonah Hill, per Forbes. So what did Mama Tina have to say about Beyoncé getting dragged into Lizzo's drama?
Mama Tina says social media is off base
Beyoncé seemingly skips over Lizzo's name during the Queens Remix performance of 'Break My Soul' tonight at the Renaissance World Tour.

She instead repeats Erykah Badu's name four times.

pic.twitter.com/KhCC3TBbLF

— Pop Base (@PopBase) August 2, 2023
Beyoncé, who's currently in the middle of the North American leg of her "Renaissance" tour, used the remix to "Break My Soul" to honor some of her fave musical peers. And while Beyoncé had steadily been name-dropping Lizzo during the song (which also included nods to Rihanna, Aretha Franklin, Whitney Houston, and more), she definitely didn't mention her in this Pop Base video from August 1 — the same day Lizzo's lawsuit made the news. Instead Beyoncé sang "Badu" four times, referencing Erykah Badu, where Lizzo and others' names would've landed in the song.
Given the timing, fans were quick to assume that Beyoncé purposely skipped over Lizzo to avoid any negative backlash. Of course, it's rare to find Beyoncé addressing rumors and gossip, but her mom, Tina Knowles Lawson (who might go back to being Tina Knowles once her divorce from actor Richard Lawson is finalized) is always quick to defend her oldest daughter. So what's the verdict? Well, it seems like the hive definitely missed the mark this time. In an Instagram comment obtained by The Jasmine Brand, Ms. Tina denied that Beyoncé intentionally erased Lizzo from the track. 
"She also didn't say her own sisters name yal should really stop," she wrote. However, as The Jasmine Brand pointed out, Beyoncé did actually sing her sister, Solange Knowles' name, before the start of the video (above). So it's likely the "sister" Ms. Tina was referring to was Beyoncé's former Destiny's Child band member and friend Kelly Rowland.